After Developing the First Freeride Ski 30 Years Ago, Mike Hattrup is Still Working Towards Perfection
In 1991, Mike Hattrup tested the original K2 Extreme at Squaw Valley. Now, Hattrup returns to California to develop the next Fischer Ranger ski.
Heading out the door? Read this article on the new Outside+ app available now on iOS devices for members! Download the app.
This is part one of a series of stories written by legendary skier Mike Hattrup about his current day job of traveling the American West and creating the next generation of ski equipment. Want to read his dispatches from the road? Join Outside+ and keep your eyes on "Out of Office with Mike Hattrup" for a semi-weekly dose of tales from the road throughout the month of June.
It's daybreak in late April as I drive up the access road to Alpine Meadows in a Sprinter Van full of 2022-'23 Fischer Ranger ski prototypes. As I roll into the empty parking lot and ease the vehicle between the faded lines of paint that designate parking spots, I have a flash of déjà vu: Thirty years ago, I pulled into the Squaw Valley parking lot with a collection of the first K2 Extreme prototypes.
Meeting me on that particular spring day in 1991 was Kim Reichhelm, Scot Schmidt, and Glen Plake. This was before the ski revolution that brought skiers width, shape, rocker, and taper. Back then, everything was long, straight, and skinny.
If you wanted a high-performance ski, you had a choice between slalom or GS skis. We liked the stability and hard snow performance that race skis offered but wanted a ski that would excel in the powder, junk, and moguls. After all, that was where we skied most of the time.
Because the Extreme was the first freeride ski developed solely by non-race athletes, you could consider that day in Squaw Valley as the start of the freeride ski movement. Never in my wildest dreams did I imagine that, 30 years later, there would be an entire industry of skis designed by skiers like that original crew.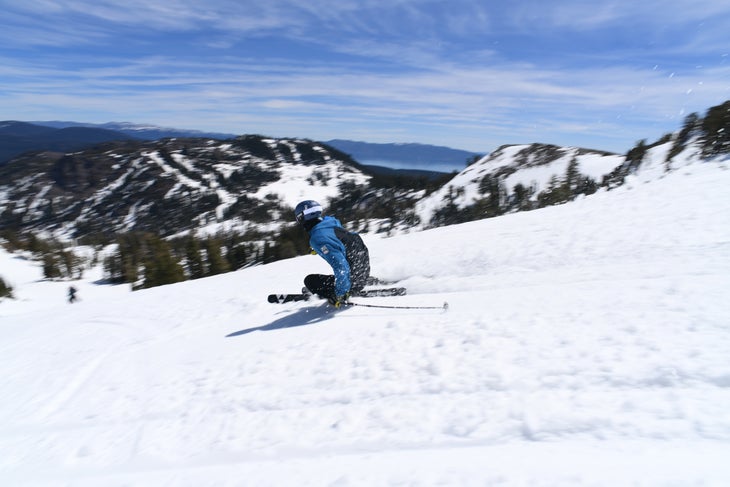 In fact, the majority of the skis sold in North America today are freeride-oriented all-mountain skis. They may look and ski a hell of a lot different than those 207cm, 65mm-waisted straight skis we tested in the '90s, but the design brief hasn't changed. We still want a smooth, stable ski with good accuracy and forgiveness that excels in a variety of turn shapes and handles firm snow, cut-up crud, and powder.
Though my roles in the ski industry have morphed over the years to include varying amounts of sales, marketing, and product development, testing skis has always been part of my job description. And in light of how far the world has come in terms of computer modeling and engineering, you'd think that the need for testing would be reduced. Instead, it's the opposite.
Thirty years ago, the engineers weren't playing with that many parameters. They had construction, flex, torsion, and minor sidecut tweaks to adjust (like going from a 30-meter radius to a 28-meter one!). Now they have all of those plus shape, width, rocker, and taper. The design possibilities are endless, and the modern era is a ski designer's dream.
One of the things I've learned over the last 30 years about developing skis is that you need to have a laser-sharp vision of your target consumer to be successful. From there, the effectiveness of your testing hinges on assembling a diverse team of testers with a mix of abilities, weights, ages, and skiing styles that all match your skier profile.
Related: Everything You Need to Know to Become a SKI Tester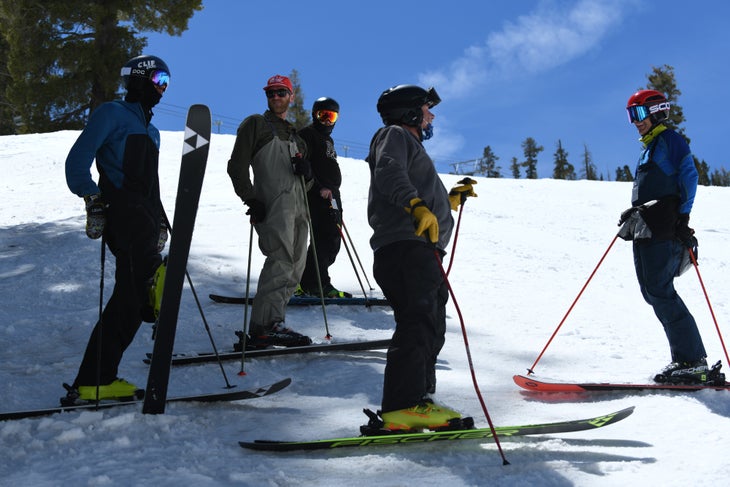 Just like that crew 30 years ago, today I have an all-star group meeting me at Alpine Meadows to create the next generation of Fischer Ranger skis.
My test team starts with local Tahoe legend and current US Ski Team downhiller Bryce Bennett. With a 6-foot, 7-inch frame, Bennett looks lanky at first glance, but he tips the scales at over 220 pounds, so he has tons of power and creates huge angles when skiing. He ranks in the top 10 on the World Cup downhill circuit and clearly knows how to go fast on hard snow. As a Tahoe native, he's been skiing trees, hucking cliffs, and ripping through difficult Sierra cement since he was a Mighty Mite.
He's joined by Barry Thys, another born-and-bred North Tahoe native who was on the US downhill team in the '80s. As you can imagine, Barry also knows how to bend a ski, but now he skis off-piste more than on the racecourse.
Next up on today's roster is Kyle Smaine, who grew up racing in South Lake Tahoe, won gold in the 2015 Half Pipe World Championships, and recently retired from the US Freestyle Team. Kyle has a fluid, flowy style that blends his race foundation with freeride creativity. He has been an integral part of Fischer's Ranger project from day one.
Dany Huberman, Fischer's California sales rep, is also at Alpine Meadows. Dany spends more time skinning than riding chairlifts and more days telemarking than locking his heels. He has great touch and on-snow feel.
Rounding out the team is a has-been mogul skier and ski film star: Me. This lineup of athletes is stacked, diverse, and itching to get on the new prototypes.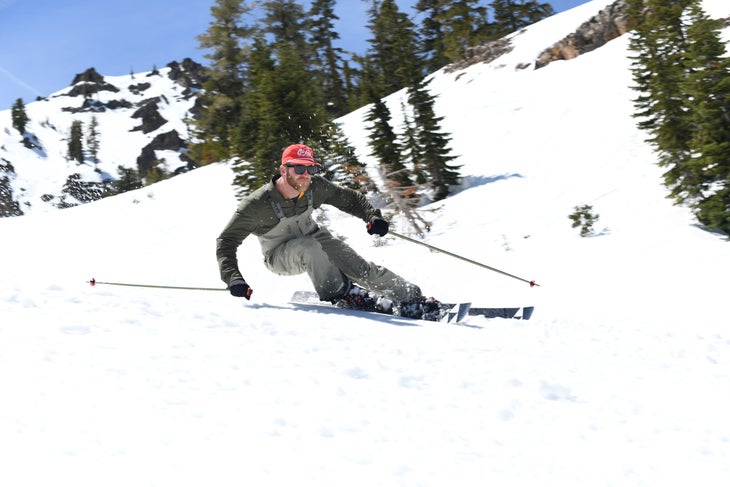 Before I meet the test team—and the reason I pulled into the empty lot at dawn—is because I have a Zoom call with Fischer Headquarters in Austria that I conduct from the back seat of the Sprinter Van. This van will serve as my mobile office for the next two weeks while I travel the American West developing a number of future products.
We're in the final stages of the test cycle, but we've still got some tweaking to do. Our test fleet consists of our previous prototype winner, a new prototype, the current Ranger 99 Ti, and two competitor's skis that serve as benchmarks.
It's a beautiful sunny day in California, but it didn't freeze last night and the sun has softened an already soft base. There's a lot of water in the snow and it sucks at your skis like glue. I worry about some of the deep trenches Bennett is leaving. Like a beginning water skier trying to cross the wake, some of these will be dicey for novice skiers to navigate.
Difficult conditions teach you a lot about a ski, and the best ski usually prevails. Sometimes test results are all over the board and everyone selects a different ski as their favorite. That's not a concern early in the cycle, but problematic this late in the game. Today, however, the latest prototype was the winner on everyone's card. Ranger 96: Check.
As I load the test skis back in the van and prepare to email Austria with the results, I wish I'd had the foresight to track down an old pair of 207cm K2 Extremes for this test. It would have been cool to see how far we've come.
That thought makes me wonder what Plake, Schmidt, Reichhelm, and myself would have thought if a pair of modern ski prototypes were dropped into that test at Squaw Valley 30 years ago. I'd like to think we would have been open-minded, but I suspect we all would have laughed them off as too freakish to even try.