These Skiers Traded the Home Office For the Base Lodge
Remote work has blossomed at Colorado's Eldora Mountain Resort. Will other ski towns follow?
Heading out the door? Read this article on the new Outside+ app available now on iOS devices for members! Download the app.
Remote work is having its moment. A post-pandemic world gives many the flexibility to work anywhere they desire without the pressures of an office environment. But, work is still work, right? Meetings that should be emails, nagging to-do lists, and any number of messaging apps still keep our fingers busy at the keyboard and eyes glued to our screens. The ability to steal away for a few laps between meetings or during lunch would provide liberty from the shackles of the home office. 
At least that's my internal thought sequence as I stroll up the steps to the Eldora Mountain Resort's West Wing lodge on a recent Thursday, skis deposited on the rack below and laptop bag on my back. I swing open the doors expecting to be hit with the usual ski lodge hustle and bustle. Instead, I'm introduced to what may be the ultimate slopeside remote office.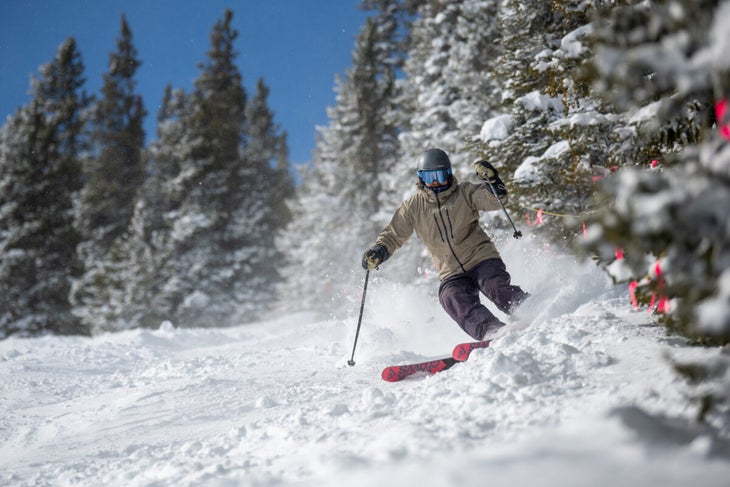 Dotting the benches and tables inside the West Wing are 10 or 12 people in their mid-layers, snow pants, and ski boots, stationed at laptops pouring over projects and taking video calls. A sign on one of the tables advertises partitioned wi-fi, a dedicated space for remote work, and free Eldora swag for showing up. I was just hoping to snag some wi-fi and make some turns when I could, but I hit the jackpot. 
A woman named Amanda informs me the resort offers this dedicated remote workspace on Thursdays and the first Friday of each month, and hands me a Work From Eldora punchcard—the more you attend, the sweeter the Eldora gear. Good deal. She points out a sheet with half-hour time blocks used to sign up to watch each other's laptops and bags. No need for those luggage locks after all!
And while I may have thought my idea was somewhat novel, the program was unofficially started back in 2017, way back even before the pandemic-induced emergence of remote work.
Adam Kroll, a skier and entrepreneur from Boulder, began working from Eldora's base lodge with friends in similar remote employment situations. Eventually, he saw the opportunity to build community through a more official program. Kroll linked up with the resort's marketing department prior to the 2019-20 season and offered to run the program himself with a few amenities—partitioned wi-fi, giveaway gear, and dedicated space in the West Wing.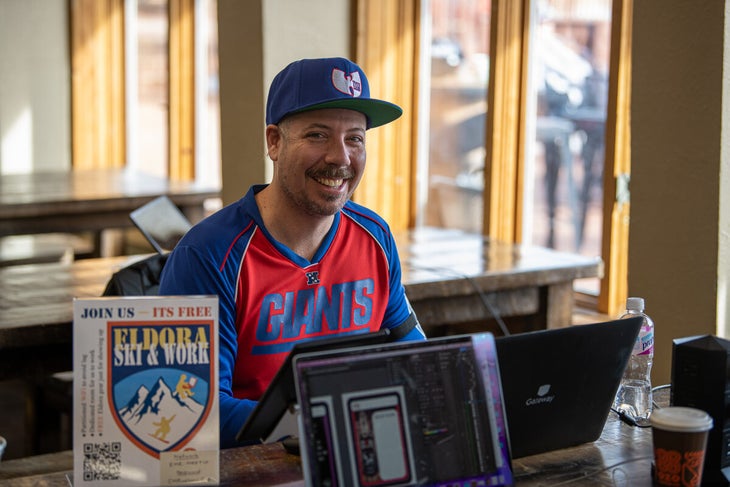 Without dedicated lodging, Eldora was always looking for new ways to draw skiers to the mountain midweek. A comfortable place to answer emails with reliable wi-fi with other remote workers sounded promising. 
"We're always trying to find ways to increase visitation during the week when it's typically quiet. One of the ways we could do that is by being very welcoming to remote workers," says Sam Bass, Eldora's Marketing Director. "And if someone wants to help us organize this group and it's going to get people up here to ski during the week that's a great benefit, too."
The group took a hiatus during the end of its inaugural season as well as the 2020-21 season due to COVID-19, but roared back last winter and is currently organizing weekly, up from every other week previously. Kroll organizes the remote workers via the Meetup platform where there are currently 243 members of the Eldora Ski/Board & Work Group. He says attendance usually tips the scales at 20 on Thursdays and a bit more on Fridays. In addition to the obvious slopeside perks, Kroll adds that the community environment does wonders for attendees.
"I have a friend who's coming up today, for example. She works from home but lives in the mountains and is super secluded. She needs the community," says Kroll. "I'm a solo entrepreneur and have been for a long time. So I get that. There is a lot of value to just being around people when you're trying to work."
There are surprisingly few examples of dedicated remote working space at ski lodges in the United States. Mammoth Mountain offers a co-working space called The Fort on the third floor of its base lodge with six seats available to reserve. The Tahoe Mountain Lab has a co-working space at Heavenly's mid-mountain Lakeview Lodge. And co-working spaces that suit the needs of the remote worker exist in many ski towns if you're willing to be a short car ride from the lifts. While you can pull this off at any ski area with half-decent internet, the details—partitioned wi-fi, free coffee, Eldora swag, a chance to socialize—actually promote productivity in the same way a standard office environment would. At least in my opinion. 
Bass could see an expansion of the program in the future—a business center with meeting rooms and lockers for laptops is the dream. But, in its current stage, the program is thriving in the West Wing. 
"It's really low-key and not a very heavy lift for us, but it's a great way to welcome weekday business," says Bass. "We're just trying to meet the needs of our guests, the modern guest who wants to devise a flexible schedule and be able to do some work from Eldora… and takes some runs."
Now if you'll excuse me, I've got to wrap this up and catch last chair.