The Best Women's All-Mountain Skis of 2022: 4FRNT MSP CC
This women's-specific all-mountain ski is much more than just a pretty top sheet.
Brand:

4FRNT

Model: MSP CC
Overall Ranking: #7
Overall Score: 3.85 / 5
---
---
Specs
Tip / Waist / Tail (mm)
132-99-121
Lengths (cm)
159, 165, 171
Radius (m)
16 (165cm length)
Core Material
Poplar, Titanal
Stability at Speed
4.31 / 5
Quickness / Maneuverability
3.75 / 5
Hard Snow Performance
3.56 / 5
Crud Performance
4.06 / 5
The graphics sold this ski to our testers before they even hopped on it. But the 4FRNT MSP CC is more than just a pretty topsheet. Year after year, this ski continues to surprise our testers with its performance, even though it's become a staple in the women's all-mountain category.
Featuring a deep sidecut and gradual tip rocker, the 4FRNT MSP CC was designed to carve on edge as well as bop through bumps, and testers praised its versatility accordingly.
Related: After testing 200 pairs of skis, I keep coming back to the 4FRNT MSP CC
"Fun and playful," notes tester Abby Ghent. "More responsive than I thought they'd be. Got me through crud with ease and whipped off arcs on the groomers." Most testers called out the MSP CC's knack for busting through crud, so the ski earned its highest scores in that department.
A handful of testers noted the 4FRNT MSP CC feels a little heavy underfoot, but it's the good kind of heavy: It's reassuringly damp and stable in crud, yet is still quick to initiate turns. But its core construction of poplar sandwiched between Titanal laminates and more modest rocker profile means the 4FRNT MSP CC is on the beefier side and not the most accommodating. Testers ranked it lower in Forgiveness because the ski's flex is a little stiff and can be unpredictable unless you're perfectly balanced over the ski.
Related: This is what gear testers look for when reviewing and ranking skis
Nevertheless, testers agreed that the 4FRNT MSP CC would be a great choice for strong intermediates and above on the hunt for an all-mountain ski with a knack for bashing bumps and carving. They added that this ski might be more at home on the soft snow of the Rockies, but agreed that technically precise skiers could also have a blast on this wider waisted all-mountain ski out East.
"These skis feel like a beast when you're carrying them to the lift, but once they are on your feet, any strong intermediate or expert skier will know they can do no wrong dancing down the mountain," notes tester Erika Northrop.
Strengths: Stability at Speed (2nd in category), Crud Performance (5th)
Weaknesses: Forgiveness (10th), Hard-Snow Integrity (12th)
Learn More
Compare the best women's all-mountain skis of the year
Explore the 4FRNT brand and ski lineup
What you should know before buying your next pair of skis
4FRNT MSP CC – 2021 Women's All-Mountain Ski Review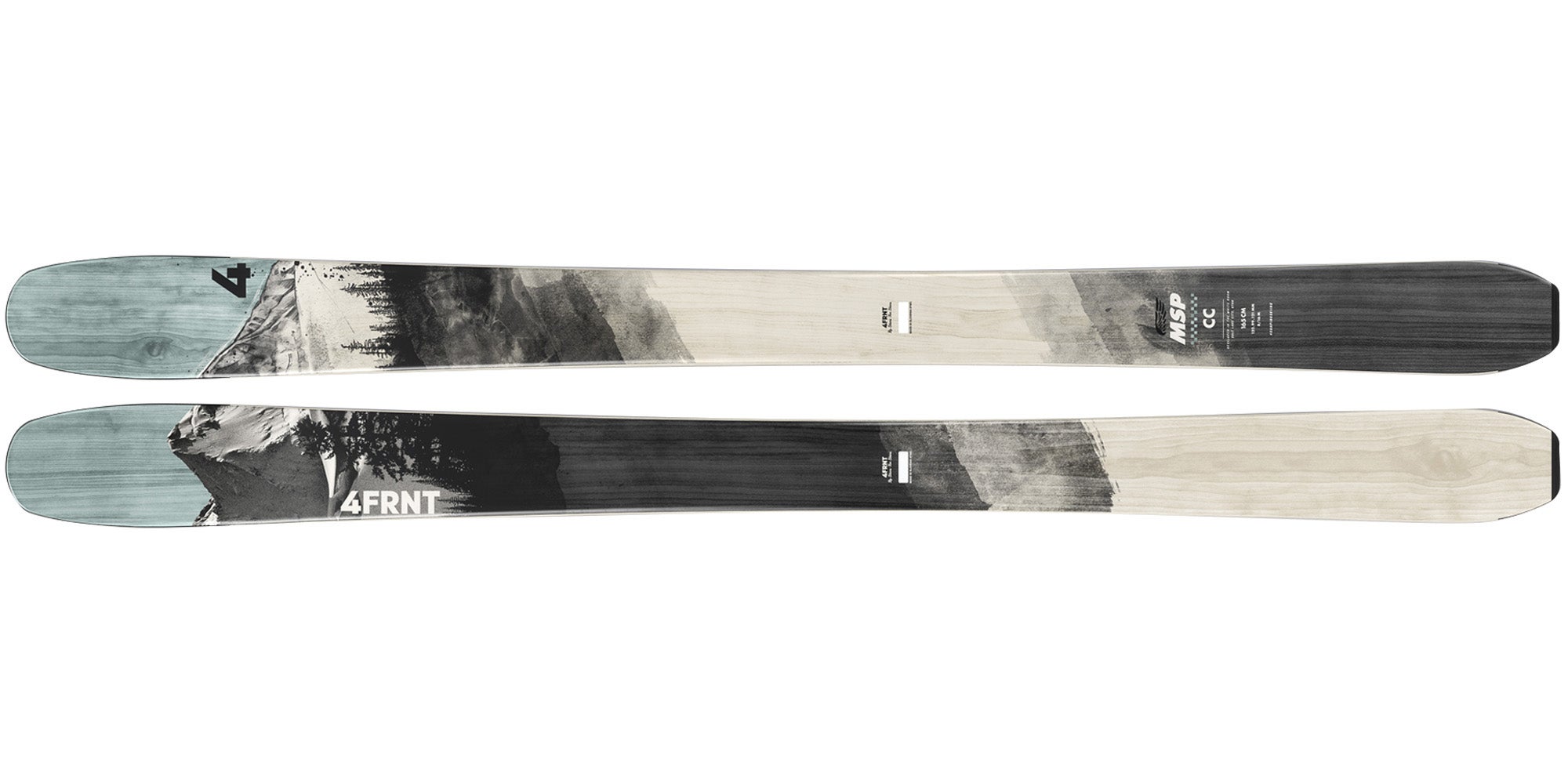 The MSP CC has been around long enough now (and won enough awards) that our testers are acutely aware of how awesome this indy-turned-mainstream ski is. Unchanged from last year, the MSP CC ranked No. 1 in Crud Performance and No. 2 in Quickness. Its crud-crushing tendencies can be attributed to the Titanal laminate that surrounds a poplar core and a gradual rocker rise, which allow the ski to plow through chunky snow while smoothing out the ride. Testers also love this ski outside of the crud, praising its stability and versatility. Says tester Courtney Krause: "Both lively and stable."
Strengths: Quickness, Crud Performance
Weaknesses: Hard-Snow Integrity, Flotation
| | |
| --- | --- |
| 2021 4FRNT MSP CC Scores | Score out of 5 |
| Flotation | 3.61 |
| Quickness | 4.28 |
| Playfulness | 3.94 |
| Forgiveness | 4 |
| Hard-Snow Performance | 3.67 |
| Crud Performance | 4.05 |
| Versatility | 4.05 |
WATCH: SKI Reviews the 4FRNT MSP CC