The Best Women's All-Mountain Skis of 2022: Blizzard Black Pearl 97
Big surprise: This Blizzard carves up a storm despite its wider waist width.
Brand:

Blizzard

Model: Black Pearl 97
Overall Ranking: #5
Overall Score: 3.92 / 5
---
---
Specs
Tip / Waist / Tail (mm)
136.5-97-118.5
Lengths (cm)
153, 159, 165, 171, 177
Radius (m)
14 (165cm length)
Level
Intermediate to Expert
Core Material
TruBlend Wood Core, Carbon
Stability at Speed
4.3 / 5
Quickness / Maneuverability
3.8 / 5
Hard Snow Performance
3.95 / 5
Crud Performance
4.05 / 5
This is an Outside+ member-exclusive gear review in which we give you ALL the SKI Test data—more tester feedback, more scores, and more analysis. Normally, you'd need to join Outside+ to access these goods. But because we're ski bums at heart who love a good freebie, this one's on us. If you want to read more of SKI's Gear Guide coverage exclusively for Outside+ members, that's on you. Get the low-down on Outside+ here.  

Testers usually claim to love all of Blizzard's Black Pearl skis equally, but this year they let slip that the Blizzard Black Pearl 97 is their favorite. It's just slightly more versatile than the slimmer 88mm-version in crud, bumps, and soft snow, and yet handles groomers and frontside conditions just as well as the narrower Black Pearl.
"Wow, love this ski all-around," notes tester Marina Knight. "It performs well in bumps and chop and rips on groomers—like, rips."
Big surprise: the Black Pearl 97, like all Blizzard skis, carves up a storm despite its wider waist width and earned high scores in Stability at Speed and Hard-Snow Integrity accordingly. It's also not surprising that testers applauded the ski's performance in crud. Blizzard's no-nonsense TruBlend Flipcore women's-specific design (W.S.D.) gives the Black Pearl 97 some serious backbone, which allows this ski to cruise through crud and manky snow like it's not even there.
While this construction makes the Blizzard Black Pearl 97 damp and stable no matter what, it makes it heavy and stiff, which translates to low Forgiveness, Quickness, and Playfulness scores.
"A little damp and heavy," concedes tester Abby Ghent. "It didn't make skiing bumps easy by any means. More for someone who likes the feel of a heavy ski that will cut through stuff, but not for someone who likes to play all over the mountain."
Related: What's great (and what's less great) about the Blizzard Black Pearl 88
"The Black Pearl 97 is stable almost to a fault," adds tester Robin Barnes. "I'd just love the tail to be a tick more forgiving. As is, put the athletic, powerful gal on these skis."
As testers point out, there's pros and cons to a stiff ski like the Blizzard Black Pearl 97. It makes for a sturdy, confidence-inspiring ride for intermediates who just want and need a solid platform to stand on as they begin to explore beyond the groomers. But the same intermediates may not be able to tap into the ski's full potential until they learn how to harness its energy.
Experts, on the other hand, will rejoice in this ski's knack for carving up the frontside while also tackling tough snow conditions on steep terrain.
"This ski is so balanced and predictable," sums up tester Tracy Gibbons. "Requires being just a bit active in the turn initiation, but fun and responsive once you get there. A nice balance between float in soft snow and edge control on the groomers."
Strengths: Crud Performance (7th in category), Hard-Snow Integrity (5th)
Weaknesses: Quickness (5th), Playfulness (8th)
Shop for the Blizzard Black Pearl 97 online: evo
Compare the best women's all-mountain skis of the year
Check out the rest of Blizzard's award-winning skis
Blizzard Black Pearl 97 – 2021 Women's All-Mountain Ski Review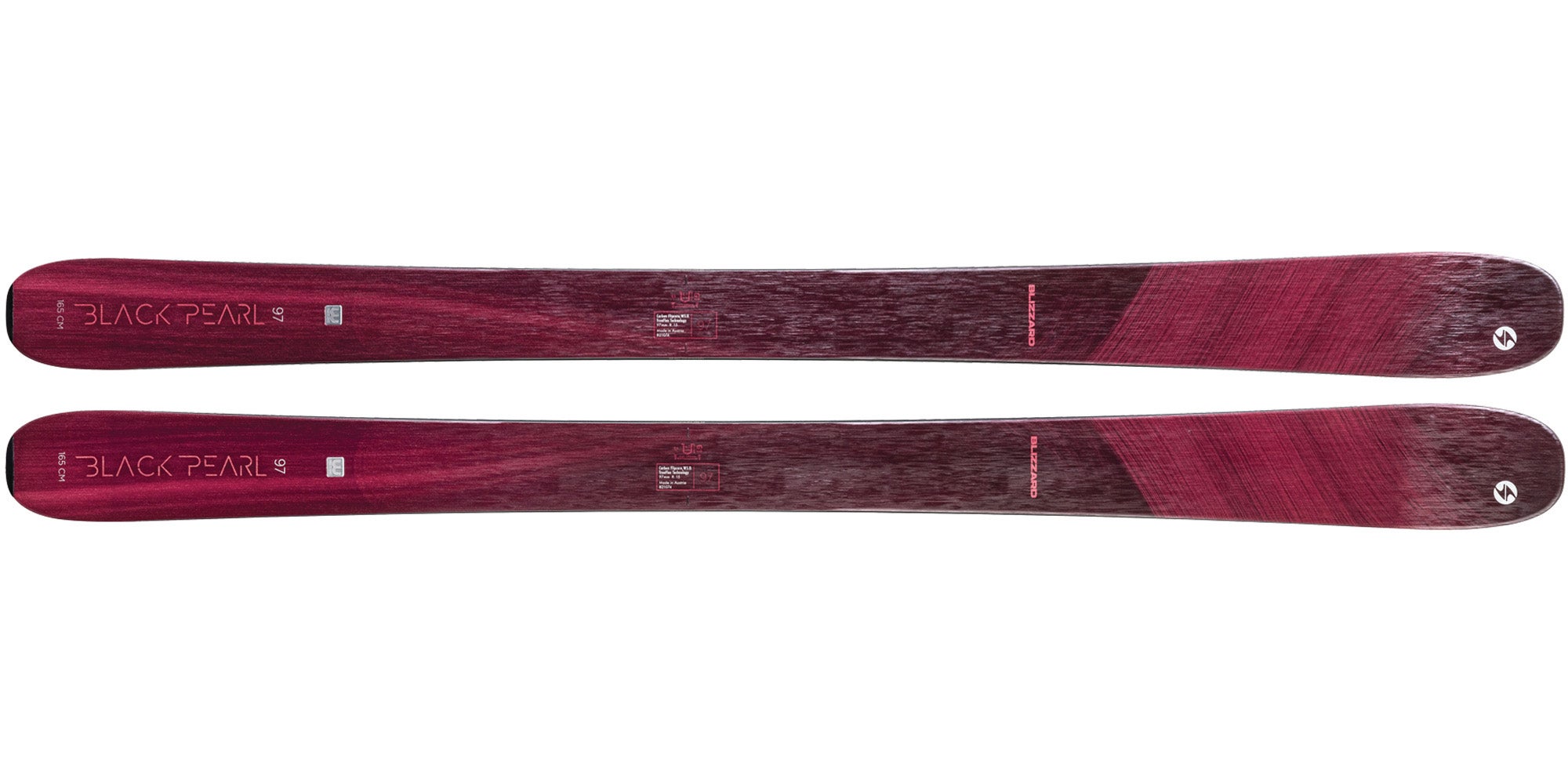 Tester confession: Over the years, this wider-waisted Black Pearl has been a smooth and dependable ride, especially on groomers, but, TBH, somewhat of a one-trick pony. But this year, Blizzard updates her core with its new TrueBlend technology to optimize her flex so she adjusts and responds better to variable snow conditions. The result? A more energetic Black Pearl than we've seen in the past, though she still prefers athletic skiers inclined to let her rip. Says tester Kelli Gleason: "Hits all the senses like a full-bodied red wine: well-rounded from the beginning of the turn through the finish."
Strengths: Hard-Snow Integrity, Stability at Speed
Weaknesses: Forgiveness, Playfulness
| | |
| --- | --- |
| 2021 Blizzard Black Pearl Scores | Score out of 5 |
| Flotation | 3.44 |
| Quickness | 3.94 |
| Playfulness | 3.78 |
| Forgiveness | 3.67 |
| Hard-Snow Performance | 4.44 |
| Crud Performance | 3.94 |
| Versatility | 3.94 |