Elan Ripstick 106 (2021)
2021 Men's All-Mountain Wide Ski Review
Brand:

Elan

Model: Ripstick 106
---
---
Specs
Tip / Waist / Tail (mm)
143-106-120
Lengths (cm)
164, 172, 180, 188
Quickness / Maneuverability
3.91 / 5
Hard Snow Performance
3.36 / 5
Crud Performance
3.14 / 5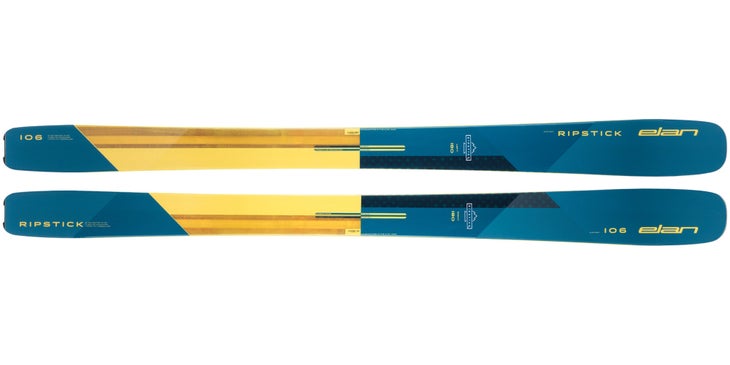 Testers were very happy with the all-new Ripstick 106, especially on softer snow or more playful terrain. The new tip shape and carbon laminate kept the ski lively at moderate speeds, and it can handle going fast as well as any non-metal ski in this category. The Ripstick's feathery weight is a double-edged sword, however, as it makes the ski springy, versatile, and backcountry friendly, but is chattery when going very fast.
STRENGTHS: Quickness, Versatility
WEAKNESSES: Crud Performance, Stability at Speed
WATCH: SKI Review – Elan Ripstick 96 and 106
Video not displaying correctly? Watch it here.
Know you want it? Buy the Elan Ripstick 106: REI | Skis.com | Amazon

See the best men's all-mountain wide skis of 2021