The Best Women's All-Mountain Skis of 2022: Kästle FX96 W
If you like skiing the soft stuff and cruising at speed, this ski is for you.
Brand:

Kastle

Model: FX96 W
Overall Ranking: #11
Overall Score: 3.69 / 5
---
---
Specs
Tip / Waist / Tail (mm)
133-96-119
Lengths (cm)
156, 164, 172
Radius (m)
14 (164cm lengtht)
Core Material
Multiwood Core
Stability at Speed
4.28 / 5
Quickness / Maneuverability
3.22 / 5
Hard Snow Performance
3.94 / 5

Trust an Austrian-made ski to excel in stability and flotation, two skills that don't usually go hand-in-hand. The Kästle FX96 W, a perennial all-mountain fave specifically for ladies, took home the top scores in the Flotation department and tied for second in Stability at Speed in Solitude, Utah.
The Kästle FX96 W's float comes from the ski's low camber and progressive, dual rise profile, which reduces the ski's effective edge to help the ski stay above the fray and on top of the white stuff. What's surprising is that, despite its shorter effective edge, the FX96 W holds steady at speed and offers such a rock-solid platform for strong skiers to stand against when they're whipping off turns.
"These ski like a fighter jet, they absolutely nuke big turns," notes tester Courtney Harkins, who knows a thing or two about nuking turns.
Most testers found that the Kästle FX96 W prefers large radius turns, and the ski can be a little difficult to command when you try to persuade it do some short-swing turns for you.
"You better be comfortable at speed if you choose these skis," advises tester and former U.S. Ski Team athlete Abby Ghent. "If you aren't careful, they might throw you around."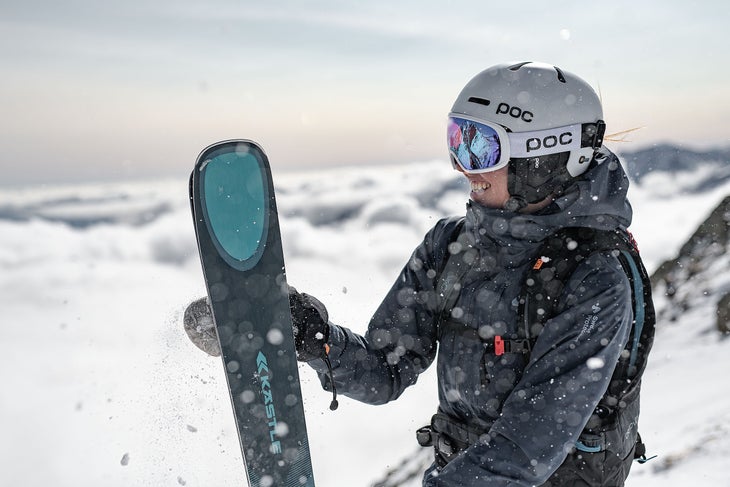 And Ghent wasn't the only one to point out that the Kästle FX96 W is one beefy pair of skis that's best left to expert skiers who can drive a stiff ski and can adapt their skiing to a ski, instead of vice versa. Testers quickly realized that the Kästle FX96 W isn't at home in moguls, and steered clear of terrain that required quick turns and agility—this ski is just a little too much work there to make that type of skiing fun.
Related: How to master the fundamentals of a short-swing turn
"It's a lot of ski even in a shorter length, and it has a tendency to kick you into the backseat if you aren't on the front of the ski," notes Harkins. "More advanced skiers who like to ski bowls would love it. Beginners would get rocked."
As solid as this ski is at speed and on groomers, testers gave it the lowest scores in Quickness and Playfulness because it takes a lot of effort to get this ski to play along. But testers note that athletic ladies might just find their do-it-all ski in the Kästle FX96 W because it's a more serious ski that you can depend on regardless of the snow conditions—be it firm, crusty, or fluffy out there.
"Knew that what was under my feet would hold me and keep it real," says tester Georgie Bremner. ""This ski is for your aggressive and athletic woman who wants a ski to keep her technically on point. When you're balanced over the ski, these babies are a piece of cake. But the moment you get a little lazy, you get a serious wake up call and it's time to fight for your form."
Strengths: Flotation (1st in category), Stability at Speed (5th)
Weaknesses: Quickness (14th), Playfulness (14th)
Learn More
Compare the best women's all-mountain skis of the season
Learn more about Kästle skis
What you should know before buying your next pair of skis
Kästle FX96 W – 2021 Women's All-Mountain Ski Review

In the FX96 W, Austrian engineering magic has produced a ski that's light yet supremely damp, with reduced weight in the shovel and sides of the ski to make turn initiation easier, but with a core made of three types of wood for added stability. Testers found the ski chatters at high speeds and skis short due to a low-camber profile with less effective edge. If you want your skis to shut up and arc supersized turns, size up. Says tester Kelli Gleason: "This ski could save the day for a gal who's looking to advance to the next level."
Strengths: Quickness, Versatility
Weakness: Hard Snow
| | |
| --- | --- |
| 2021 Kästle FX96 W Scores | Score out of 5 |
| Flotation | 3.79 |
| Quickness | 4.36 |
| Playfulness | 4.07 |
| Forgiveness | 4 |
| Hard-Snow Performance | 3.64 |
| Versatility | 4.36 |
| Crud Performance | 4.14 |