The Best Women's All-Mountain Skis of 2022: Völkl Secret 96
It's everything you love about the wider Secret 102, but in a slimmer, more playful package.
---
Specs
Tip / Waist / Tail (mm)
135-96-119
Lengths (cm)
149, 156, 163, 170
Radius (m)
14 (163cm length)
Level
Advanced Intermediate to Expert
Core Material
Multiwood Core, Tailored Titanal Frame
Stability at Speed
4.28 / 5
Quickness / Maneuverability
3.89 / 5
Hard Snow Performance
4.17 / 5
Crud Performance
4.06 / 5
This is an Outside+ member-exclusive gear review in which we give you ALL the SKI Test data—more tester feedback, more scores, and more analysis. Normally, you'd need to join Outside+ to access these goods. But because we're ski bums at heart who love a good freebie, this one's on us. If you want to read more of SKI's Gear Guide coverage exclusively for Outside+ members, that's on you. Get the low-down on Outside+ here.  

Coming in at No. 3 in the women's All-Mountain category is a brand-new, all-mountain tool from German brand Völkl. The new Völkl Secret 96 gives skiers everything they love about the wider Secret 102, like stability at speed and hard-snow integrity, in a smaller package. This makes the Secret 96 better suited to skiing the frontside and tight, technical terrain.
What's great about this new Secret model is that it's a tad more playful and maneuverable than the wider Secret 102. That's courtesy of Völkl's Tailored Titanal Frame, which reduces the amount of metal in the ski depending on ski length. This technology makes the Völkl Secret 96 more approachable to intermediates while still giving it enough backbone to impress experts and take on hardpack and crud.
"These are fun on anything," notes tester Courtney Harkins. "They're nimble, bouncy, and playful enough in the crud, but would also rip groomers all day long. Totally solid, and would recommend for anyone."
The Völkl Secret 96 didn't earn the highest scores in any skill department, but it scored high marks across the board, especially in Stability at Speed, Hard-Snow Integrity, and Crud-Performance. Its lowest scores came in the Flotation department, where testers felt that Völkl's traditional camber and slight rocker don't do the Secret 96 any favors when it comes to float.
Related: Understanding rocker vs. camber ski technology
And while the Secret 96 has more personality than the Secret 102, it's still a Völkl, which means it leans towards stiff and damp rather than soft and poppy. But that makes it a great choice for skiers looking for an all-mountain tool that still excels on hard snow. As testers put it, this ski speaks Eastern fluently. "A great ski for the ex-racer who is hard on her hedges all the time or skis on icier terrain regularly," says tester Marina Knight.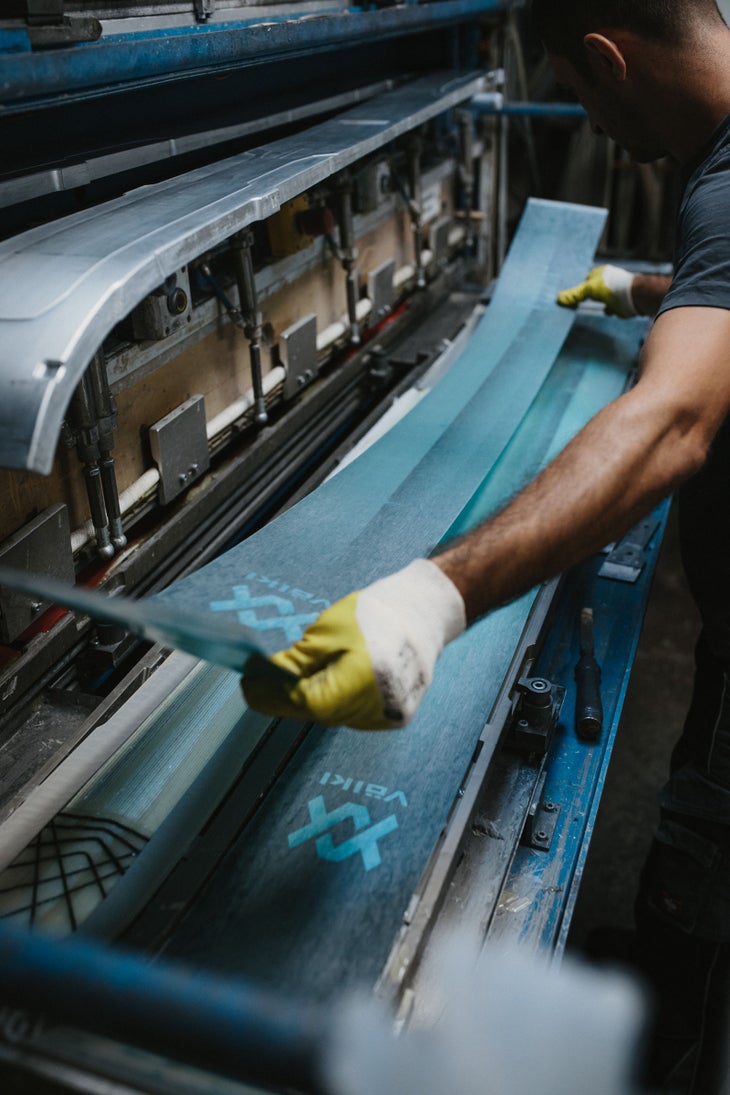 (Photo: Dario Suppan Photography/Völkl Ski)
At the end of the day, the new Völkl Secret 96 is an incredibly solid and dependable all-mountain ride that shines on piste, but doesn't shy away from exploring the whole mountain. It's an approachable all-mountain tool that many intermediates could learn from and grow with. And as for experts, well, experts know they will have fun on a Völkl.
"This is a Secret I want to share with all the ladies who want an easy maneuvering ski that they can take off-piste to challenge themselves on a variety of terrain," sums up tester Erika Notrhop.
Strengths:

Stability at Speed (4th in category), Hard-Snow Integrity (3rd)

Weaknesses:

Flotation (12th), Playfulness (7th)
Find the new Völkl Secret 96 online: evo | Backcountry.com 
Learn More
See how this ski stacks up against the best women's all-mountain skis of the year
Explore all of Völkl's award-winning products
What you need to know before buying your next pair of skis