An Original Take on Custom Skis
Original+ uses artificial intelligence to make a perfect pair of skis, exclusively for you.
Heading out the door? Read this article on the new Outside+ app available now on iOS devices for members! Download the app.
Sigi Rumpfhuber knows a lot about making great skis. After working as the International Product Manager at Fischer Skis, the Austrian ex-racer helped relaunch Kästle in 2007 as the brand's CEO, creating a solid foundation for a once-defunct ski company that now dominates parts of the North American market in places like Aspen and Vail.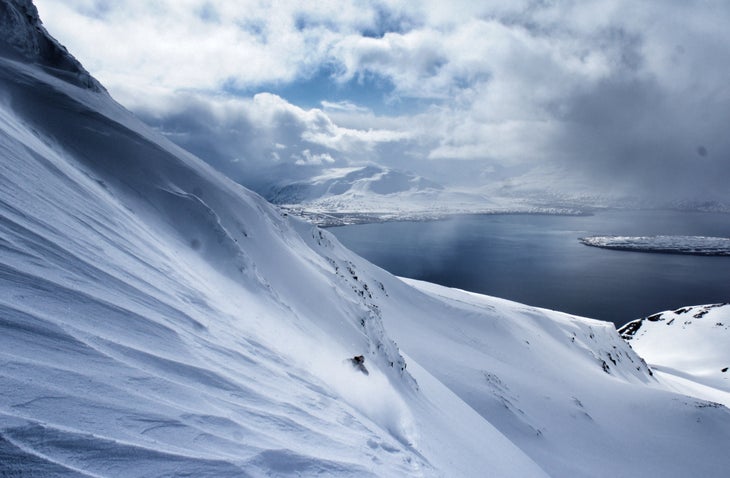 Rumpfhuber's new project is creating skis with a focus on the end user's specific skiing style and preference. Based in Salzburg, Austria, Rumpfhuber's latest venture, Original+,  uses proprietary artificial intelligence (AI) to design custom skis. The AI was developed by people who understand skiing (it was designed in-house in Salzburg), and has been through stringent testing to get everything dialed before going public.
Starting with two different base styles, the MOD.7 for carving and the MOD.8 for all-mountain, the factory uses the AI-driven software to record your biometrics, skiing style, preferred skiing location, and more. After plugging these critical factors into a unique algorithm, the AI will determine aspects for the ski construction process to adjust specifically for you, including the flex pattern, core materials, and other internal factors best suited for your individual skiing style. The end result is a hand-built pair of slippery sticks just as unique as you are. 
"By precisely adapting ski flex, torsion, and ski dynamics, a custom-fitted ski has the ideal sweet spot for you, just like a custom-fitted golf iron or tennis racket," says Rumpfhuber in a press release. "And a better sweet-spot results in fewer technical 'forced errors' and more fun every day on snow."
After three years of development and over 400 days of testing the AI software with both pros and recreational skiers, the MOD.7 won gold at this year's ISPO Tradeshow in Europe, impressing industry reps and consumers alike. Plus, as more people use the AI, the software continues to become even more precise at custom ski designs.
"I come from a ski racing background, and I clearly saw the benefits of custom fitting ski setups to individual racers. You're just faster, safer and better," says Rumpfhuber. "From there I thought: 'Okay, let's develop a technology where we can deliver that race process to normal consumers and normal skis.'"
Thanks to AI, Original+ can keep prices lower than most North American custom ski brands. The MOD.7 and MOD.8 will be available globally this autumn in the $750-$950 price range for skis without bindings. For the time being, however, Original+ has launched a Kickstarter Campaign for its first full round of production and is offering their custom skis (with options that include bindings) at substantial discounts—lower prices than any custom ski company we've come across in the recent past. When the Kickstarter ends, you'll be able to find Original+ skis on the brand's website.
AI might be invading every aspect of our lives, but if it helps make cool custom skis at a low cost, it's certainly hard to complain.