How to Choose the Best Climbing Skins for Your Backcountry Skiing Adventures
You've got options in the climbing skin department. Here's how to choose the right pair for you.
Heading out the door? Read this article on the new Outside+ app available now on iOS devices for members! Download the app.
If you're a resort skier looking to dip a toe into ski touring or backcountry skiing, you'll first need to pick up some specialty equipment. At the top of that gear list (after avalanche beacon, shovel, probe) is climbing skins. If you're planning to earn your turns, you'll need to get up to get down, and the only way to "ski" uphill is with skins attached to your skis.  
Related: Get the skinny on skinning—ski touring basics for beginners
These days, you'll find a variety of climbing skins on the market, and while they'll all get you to the top of the hill in some fashion or another, they're not all created equal. Different materials and blends of plush, glue, and backing materials create a wide range of climbing skin options tailored to how much grip, glide, packability, and durability you're looking for.  
"Skins should be the silent hero of your day," says skin manufacturer Pomoca's Ross Herr. "When they're working well you never think about them, but when they don't, it can really risk your safety (and fun)."
Shopping for climbing skins may not be as exciting as hunting for your backcountry skis or boots, but take it from those of us who have learned the hard way—the right pair of climbing skins can make a huge difference in your backcountry ski day, and it's worth taking the time to figure out which skins are right for your ski touring ambitions. 
Pro tip: Unless you're buying pre-cut skins, it's worth noting that you'll want to order the skin width that corresponds to the widest part of your ski (almost always the shovel) so that you can cut them down for a precise fit. 
3 Types of Climbing Skins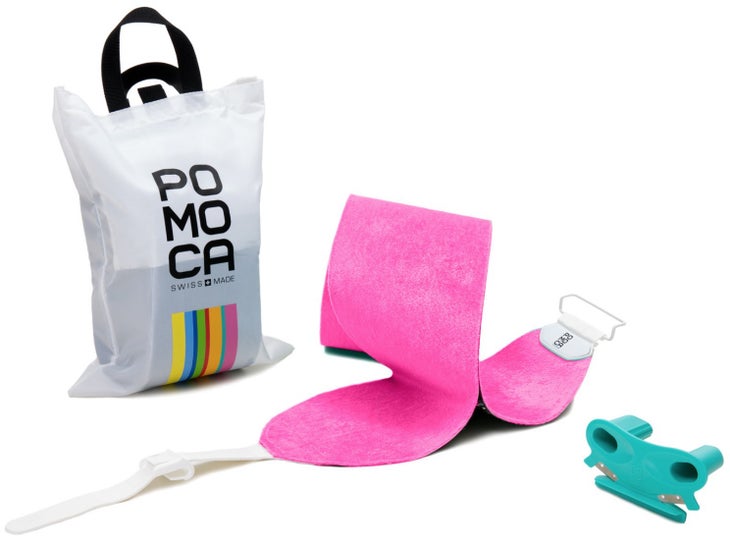 Nylon 
Nylon skins are the grippiest and most durable, if not the heaviest and bulkiest skins out there. If you're less confident on your feet in the backcountry, nylon underfoot will provide the most reliable grip on steep, challenging skintracks. Plus, nylon skins last forever. You'll sacrifice a little bit in terms of weight and packability (it's harder to fold up nylon skins and stuff them into your jacket), but many skiers find the grip and durability benefits outweigh the added bulk. 
Our pick: We love the Black Diamond Ascension Nylon Skins for a full nylon option, a bombproof design that's been left largely unchanged over the years.  
Mohair
If glide and efficiency is all you're after, mohair is king of the hill. Made from the hair of Angora goats, mohair consists of long, smooth fibers that far outweigh the glide from nylon. You'll sacrifice durability and a little bit of grip compared to skins with nylon in them, but for certain scenarios, the tradeoff can be worth it. 
Full mohair skins are popular with skimo racers looking to shed grams and up their speed, but they also function well for long tours in cold, midwinter conditions. A full mohair skin can work well with a wider powder ski since the overall surface area will allow for more grip in general, so you can get away with a lighter skin as long as you don't encounter truly firm conditions.
The downside to mohair: It tends to get beat up on spring ski tours, since the firm, refrozen snow can chew up the fragile mohair. "I'd say the full mohair customer is going to be someone who lives in the central Rockies, maybe the Tetons or Colorado or Utah, where the snow is dry and the approaches can be long," says Herr. "You'll get really good glide on a dry snow surface, which is where mohair does best."
Our pick: The Pomoca Climb Pro Mohair Skins are a favorite for speed demons because they're lightweight, packable, and quick on the uptrack, though you do sacrifice durability. 
Mohair/Nylon Blend
Unsurprisingly, skins that blend mohair and nylon are the top choice for most backcountry skiers out there because they combine the efficiency and glide of mohair with the grip and durability of nylon. These skins are still quite packable, last multiple seasons without compromising the plush, and feel solid underfoot while climbing—an ideal compromise for most. 
Our picks:
The 70 percent mohair and 30 percent nylon Pomoca Free Pro 2.0 Skins are the go-to for diehard backcountry skiers like Hoji and Cody Townsend for their balance of grip/glide performance, packability, and durability (though they're not as durable as the Pomoca Climb 2.0, which has a thicker backing and slightly lower price point). But if you're primarily hunting for powder in the backcountry, looking for skins that fold up nice and small, and not worried about scratching around on melt-freeze crusts, the Free Pro 2.0 is hard to beat.
The Black Diamond Glidelite Mix, which is 65 percent mohair and 35 percent nylon, is another great option in the mohair/nylon blend department. These skins are slightly more durable because of their higher nylon content, and still offer an excellent balance between grip and glide. 
More Gear Advice
How to find your perfect ski boot in 5 easy steps
How wide is too wide for all-mountain skis?
How tight should new ski boots be?