Reality Check: There's No Such Thing As a One-Ski Quiver for Rocky Mountain Conditions
Skiing in the Rockies isn't all blue skies and powder days—a quiver of skis will suit the different snow conditions you'll encounter throughout the season.
Heading out the door? Read this article on the new Outside+ app available now on iOS devices for members! Download the app.
The Rocky Mountain region is famous for low-moisture-content snow. Combined with high elevation, cold temps, and dry air, the result is light, fluffy, blower pow that's a blast to ski. Relatively light skis with waist widths around 100mm are the boards of choice for optimizing flotation in the fluff. The reality, however, is that you can often count the number of significant dumps per season on both hands.
"In Colorado, we can break the season up into three seasons," says Riley Boone, owner and hardgoods buyer for Boone Mountain Sports in Evergreen, Colorado. "We buy our skis according to these three defined seasons: Early-season manmade snow; mid-winter natural snow; and late-season spring snow. We don't believe in a one-ski quiver. Just like you take a multitude of clubs to a golf course, in Colorado and the Rockies, you can have all three seasons in one day."
The trick to picking the best ski for the conditions, explains Boone, has to do with considering the time of year, as well as ski design elements like waist width, core construction, and turning radius.
How wide of a ski do I need for the Rocky Mountain region?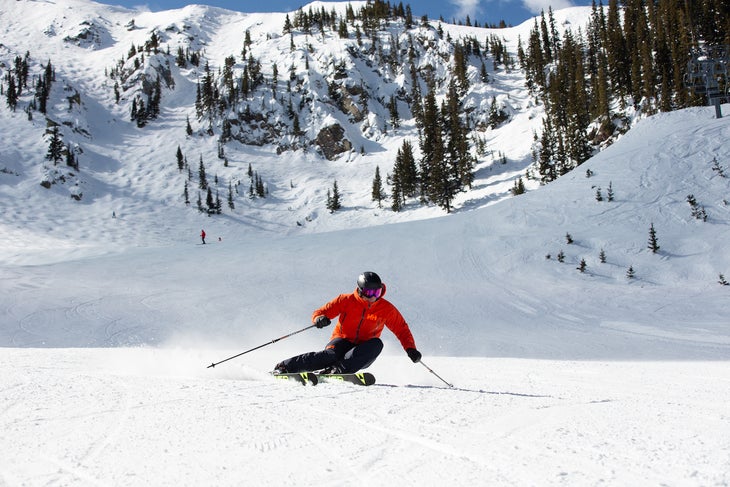 In the early season (December and early January), ski runs in the Rockies are likely to be covered with firm snow without a lot of moisture content. For this type of snow, Boone recommends skis with waist widths below 85mm, ideally in the range of 68-88mm.
Check it out: The best frontside skis of 2023 
Narrow skis don't get as much marketing hype as all-mountain and powder skis, because skiers want to believe they'll need something fatter for those epic Rocky Mountain days that are surely just around the corner. "The reality is, I probably ski a 78mm ski about 70 percent of the time," says Boone.
Among the skiing public, aspirations seem to have evened out with the day-to-day reality that a narrow-waisted ski is much easier to turn on a base that comes primarily from snowmaking. Shop sales over the past few seasons reflect a national trend of skiers purchasing narrower skis—this trend is reflected in the Rocky Mountain region as well.
In the midwinter months of January and February, the Rockies start to get more natural snow, but as any longtime local will tell you, it's not like the old days. "People have a misunderstanding that they need something 110mm and up for every day when you're only skiing 3 inches of snow," says Boone. "In Colorado, we're lucky if we get 15 days of powder on the hill." Those three-inch storms do add up over time and soften the snow, which is why Boone recommends all-mountain skis for this time of year, with waist widths ranging between 85-100mm.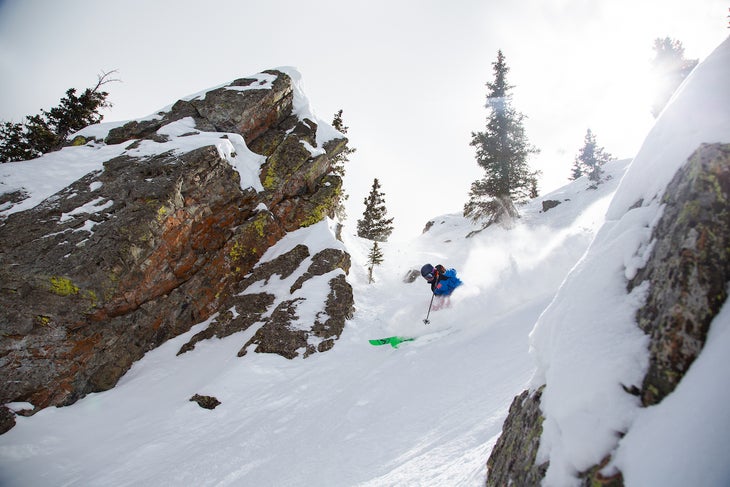 More: The best all-mountain skis of 2023 
"March and April make up our third season," says Boone. "We can ski bulletproof snow in the morning and slush in the afternoon. Or we're skiing 3 feet of pow. That's when you should have a few pairs of skis in your truck so you can ski the pow until it gets tracked up, then get out the all-mountain ski. On a bulletproof spring morning, you'd want a narrower frontside ski, then an all-mountain ski that won't be so hooky in the slush."
Amassing a quiver of skis tailored to all conditions you're likely to encounter in the Rocky Mountains is the ideal, but not a reality for every skier, especially those who only make one or two annual trips to the region. If a full quiver isn't likely, your best bet is to settle on a narrower all-mountain ski—something around 90mm underfoot.
What ski construction elements are best for the Rockies?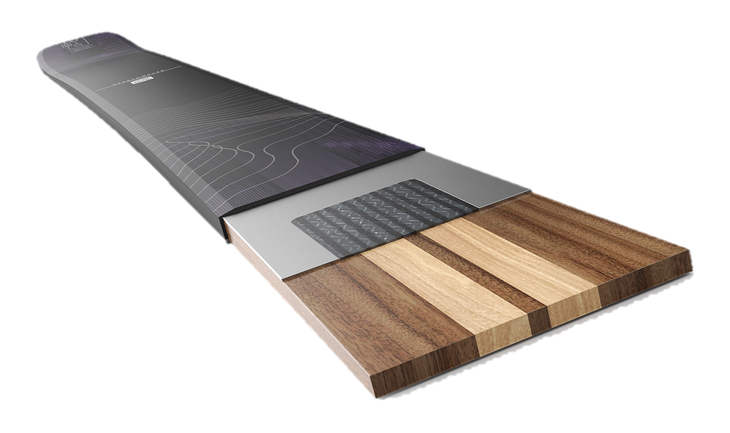 When it comes to construction and materials, Boone favors metal. "There's nothing like metal," he says. "Some woods share some characteristics of Titanal, but not a lot. Everyone in the shop [Boone Mountain Sports] skis metal skis everywhere because we believe it performs the best."
Boone's rule of thumb goes like this:
Harder woods and thicker metals for hardpack conditions
Softer woods like ash, poplar, caruba, and thinner sheets of metal for all-mountain skis
A combination of a high strength-to-weight ratio material like carbon and a softer wood like caruba to create a dynamic flex pattern for powder skis
"There are a lot of skis that share similar cores, but the differences are shapes and tapers of early rise," says Boone. To find what works best for you, it may be worth demoing or renting skis based on your ability. Once you get on a couple of different skis and talk to knowledgable shop employees, you'll start to recognize how different skis perform differently based on their shapes and constructions.
Learn more: Not all ski cores are created equal
Another of Boone's pro tips is to pay attention to the turning radius on your favorite pair of skis by looking at the topsheet and noting what the manufacturer lists as the optimum turning radius. Combine that with your preferred length, and you'll most likely be happy on a variety of skis by a variety of brands.
Boone recommends that if you prefer short, controlled turns, look for a ski with a turn radius between 10-13m. If you prefer medium turns, look for a turning radius between 14-16m. If you relish long, GS-style turns, look for 17m and up. "Newer skis are so maneuverable, with a lot of sidecut and early rise taper, that you can still make short turns on a ski with a longer radius."
Read on: How to choose between Vail and Aspen for your Colorado ski trip
If you're traveling to the Rockies from other zones, watch the forecast and consider the time of year. If you're coming from the East, you might be able to bring your frontside skis for groomers with the option of demoing a wider ski if it snows. If you're coming from the West Coast, where snow has a higher moisture content and can be condensed or concrete, you might bring your wider ski if you visit during mid-winter or spring. Like golf, however, it's always good to have multiple options.
More Content for Gearheads
Peruse the 2023 Winter Gear Guide
Understanding the difference between rocker and camber ski technology
Frontside vs. all-mountain skis—what's the difference?