The Best Women's Powder Skis of 2024
These wide, rockered planks will help you milk those powder days for all they are worth
Heading out the door? Read this article on the new Outside+ app available now on iOS devices for members! Download the app.
Long gone are the days of flimsy powder skis. Today's powder boards don't just surf, they also turn on a dime and rail at speed. If you ski mostly soft snow, are a dedicated powder chaser, and generally find yourself in deep powder more often than not, check out these big sticks that feature wider waists and generous rocker profiles to help you stay afloat. And if—or rather, when—you need to ride groomers and bust through chop in order to get to the good stuff, you can count on these skis to have your back.
Looking for the best unisex powder skis of the year? You'll find those here. 
Section divider
How We Test
Number of powder skis tested: 11
Number of testers: 11
Testing date: March 1, 2023
Testing location: Sun Valley, Idaho
Testing conditions: 14" of fresh powder
Average age of tester: 38
Average weight of tester: 137 lbs
Average height of tester: 5'6"
We invited a crew of seasoned industry professionals—ski instructors, ski shop employees, coaches, and former World Cup racers—to join us for a week-long gear test in Sun Valley, Idaho, a resort known for its steep and manicured groomers, legendary bumps, perfectly gladed tree runs, and of course, "the Burn," sidecountry terrain that powder dreams are made of.
Sun Valley can sometimes get skunked when big storms dump on surrounding mountain ranges, so when it comes to testing powder skis at our annual gear test at the end of February, we always just hold our breath and hope for the best. This year, our prayers to Ullr were answered. One morning during the test week we woke up to more than 14 inches of fresh blanketing the base of the resort; in some of the bowls on the backside of the mountain, testers swore they were surfing through 20-plus inches thanks to wind effect.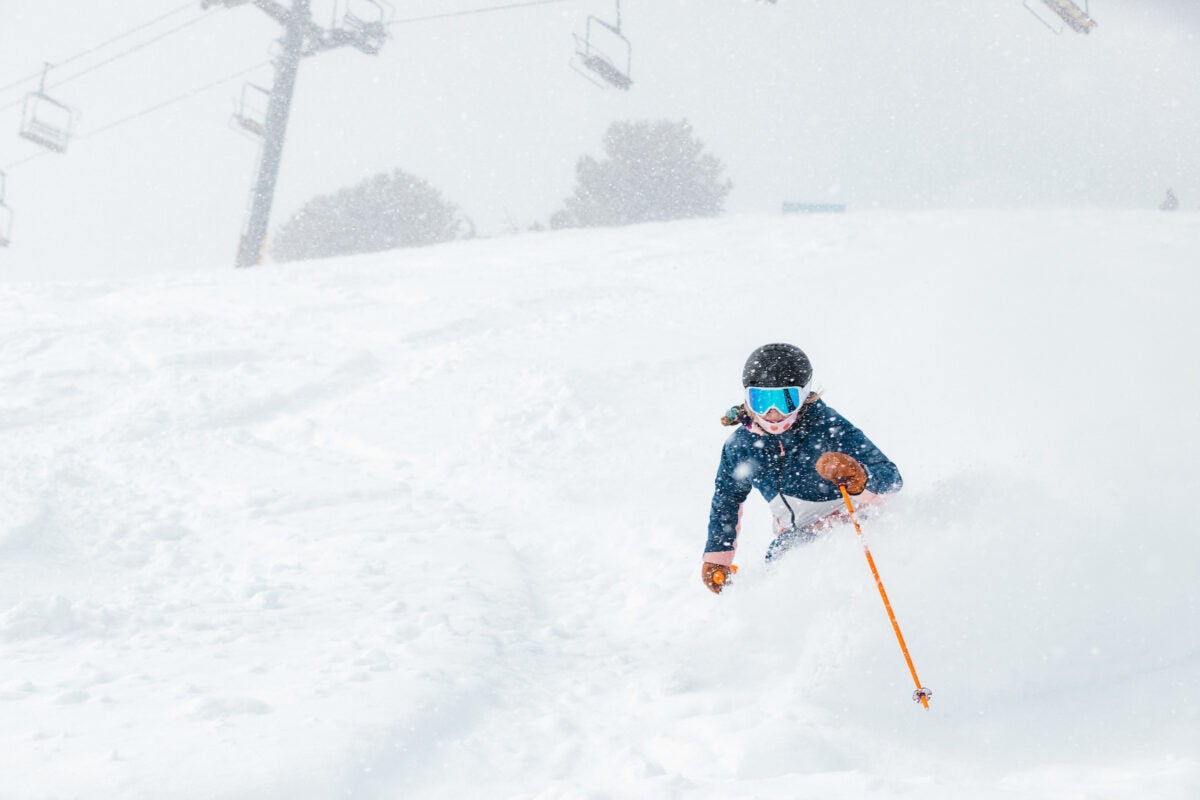 Suffice it to say, we had ideal powder ski testing conditions. Our group of 11 female testers didn't need much motivation to jump on the 11 planks entered into the women's powder category and let 'em rip. At the end of each lap (or four), testers filled out digital scorecards with comments and impressions of how each pair of planks performed across various skill categories—from flotation and crud performance to stability at speed and responsiveness.
We asked them to identify each ski's primary strengths, its weaknesses, who it's designed for, and in what terrain and snow conditions it excelled most. By the end of one epic day, we had enough hard data on the 11 pairs of skis tested to make your head spin, and we used it all to bring you these reviews of the eight best women's powder skis of the year.
Section divider
Women's Skis vs. Unisex Skis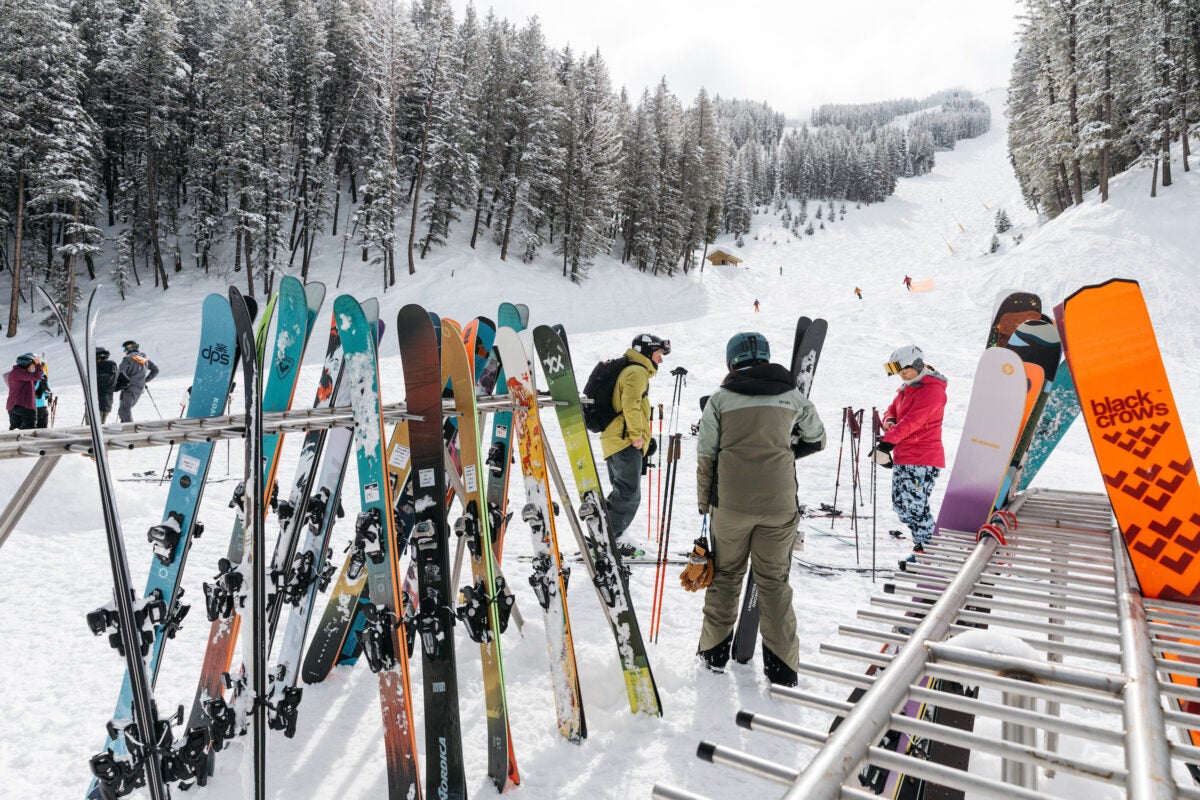 The idea of women's-specific skis is still a contentious one today. Some brands don't make anything but unisex skis because they argue that gender doesn't factor into how a ski performs—only weight, height, strength, and skier ability counts. They therefore only produce unisex skis, but make them in shorter lengths (sometimes down to 162 centimeters or even 158 centimeters) to be more inclusive towards women.
Other brands have invested a lot of time and money into developing truly women's-specific skis—skis that feature construction modifications from their unisex counterparts to account for a woman's physique and body mechanics. Finally, some brands appear to offer women's-specific skis, though often those skis are exactly the same as their unisex counterparts and just feature a different top sheet and model name.
This makes the whole idea of testing "women's" skis a little complicated. Because many of the skis we've covered on our "best women's skis of the year" lists in the past are, in fact, unisex skis that female testers loved, we decided to change things up this year. This season, we allowed brands to enter their unisex skis into our women's category provided the ski comes in an approachable length for women (in the 170-centimeter range or below), and the brand doesn't offer a women's-specific alternative.
So some of the skis on this list (including the two top performers) are unisex skis that our lady testers concluded were the cream of the crop and would not hesitate to recommend to other ladies. If you, like many of our female testers, prefer a longer ski that has some heft to it, don't be scared off by the "unisex" designation. Rest assured that all the skis on this year's list (whether unisex or women's-specific) are tested by women and recommended for women.
Section divider
Meet the Testers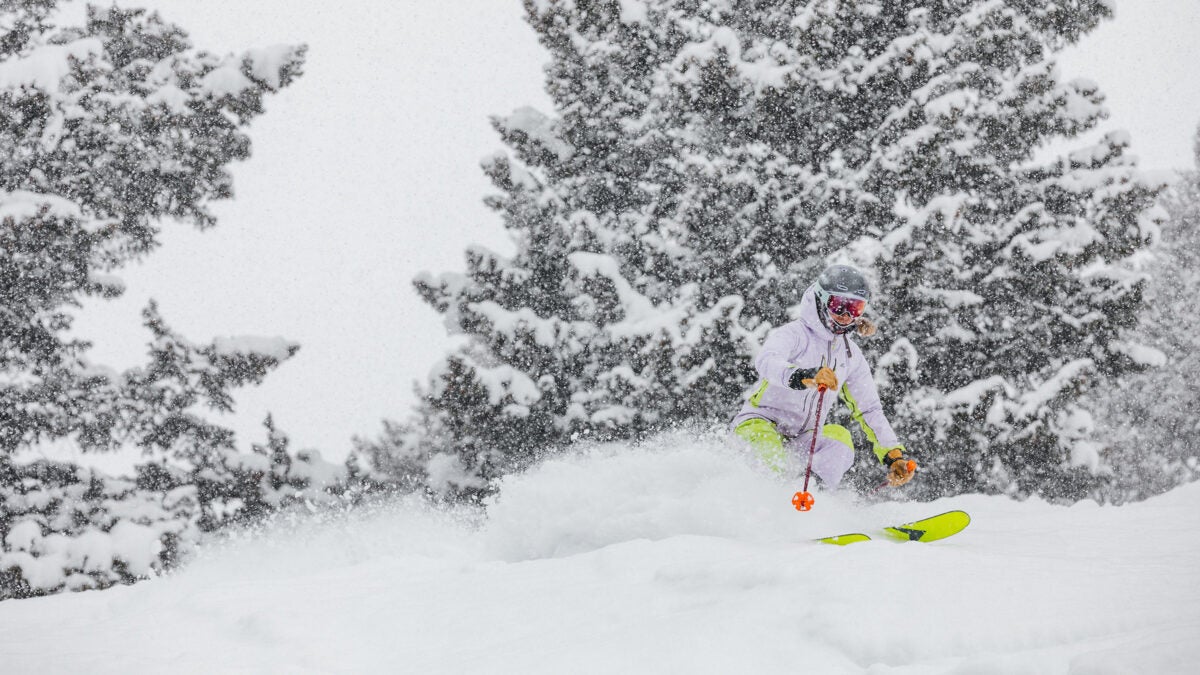 Age: 27 | Height: 5′8″ | Weight: 120 lbs
Krass is a freelance ski journalist based in Jackson, Wyoming with work featured in SKI, Powder Magazine, Freeskier, Teton Gravity Research, and Ascent Backcountry Snow Journal. She spends winters backcountry skiing in Grand Teton National Park and riding lifts at Jackson Hole Mountain Resort, with the occasional trip to the Alps (for the food, obviously).
Age: 47 | Height: 5′4″ | Weight: 112 lbs
Beekman has been testing skis and writing gear reviews for longer than she'd like to admit. She's a former editor of SKI and freelance contributor to both SKI and Outside. She lives in Steamboat Springs with her wonderful daughter and terrible cat.
Avery Pesce
Age: 40 | Height: 5′6″ | Weight: 138 lbs
Pesce lives in Whitman, Massachusetts, and calls the ski areas of Vermont and New Hampshire home. She's an expert skier with an aggressive style that she applies to any and all types of terrain and snow conditions. Safe to say that as the head ski buyer for Boston Ski & Tennis in Newton, Mass., she knows a thing or two about skis—how they're built, and how they perform.
The Reviews: The Best Women's Powder Skis of the Year
Section divider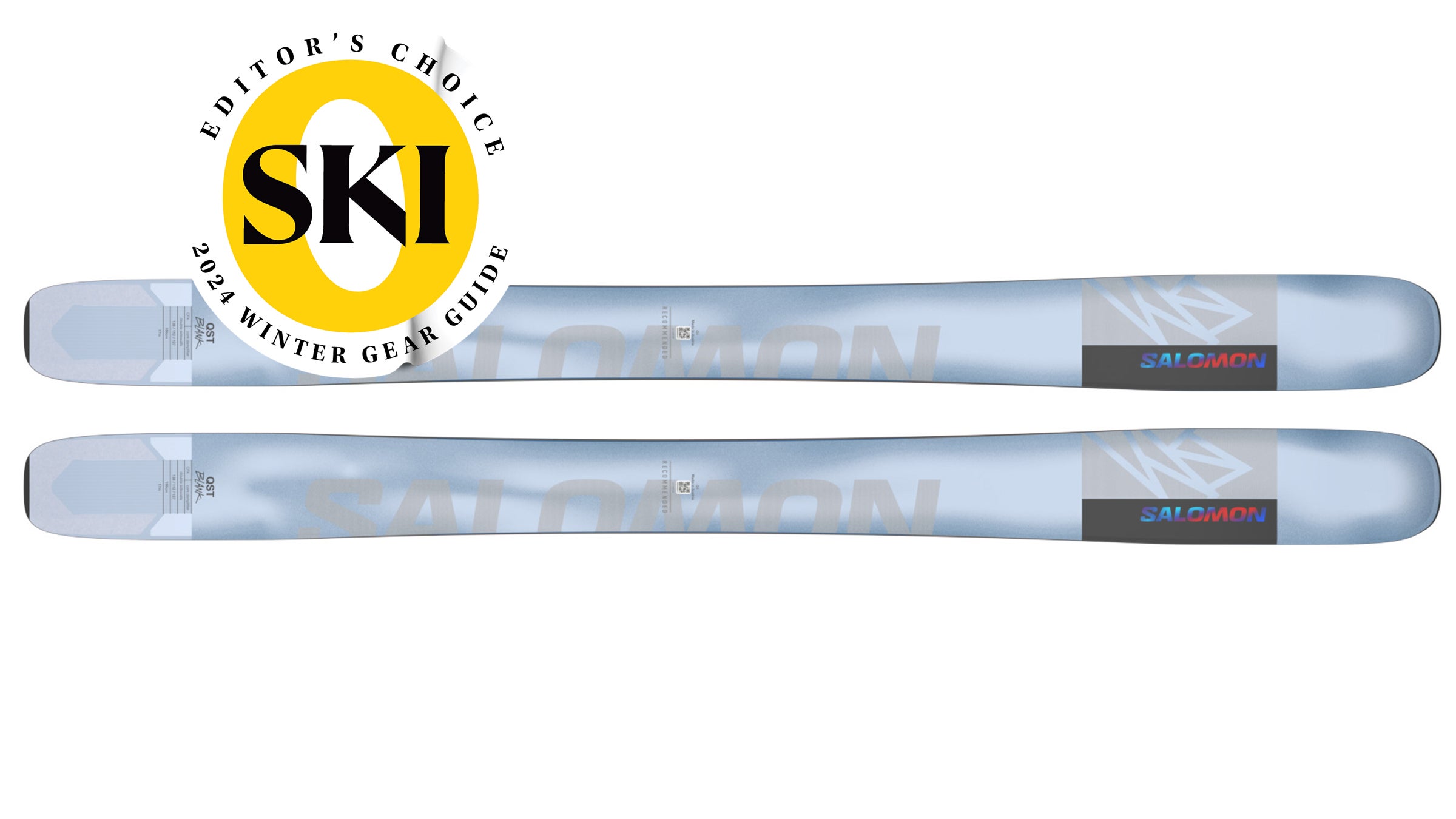 Overall score: 8.52/10
Lengths (cm): 178, 186, 194
Dimensions (mm): 137-112-126
Radius (m): 15 (178)
Weight (per ski in grams): 2,220 (186)
Price: $800
Pros: Playfulness, Flotation
Cons: Quickness, Stability at Speed
For the second year in a row, the QST Blank won our hearts for its effortless performance in deep snow and chop alike, defending its position at the top of the Women's Powder lineup. With fresh new topsheets and the same award-winning construction under the hood, the 112-millimeter-underfoot ski topped the field in Playfulness and Flotation, surfing seamlessly through the soft stuff and smoothing out bumps in between. A full poplar core rides the line of stability and energy, proving that you don't always need metal for power. Salomon's signature cork damplifier contributes to the consistent and composed feel on chunder and hardpack, alongside double sidewalls that gave testers the go-ahead to drop into anything they set their sights on. "I skied it on my last run of the day, when everything was skied out, and I was hooting and hollering and whooping with joy," said East Coast-based tester Caitlin Kelly. "The ski was so nimble, cut through everything, turned on a dime, held an edge on hardpack, and floated on top of it all."
Read the full review for category scores, strengths, weaknesses, and tester feedback.
Section divider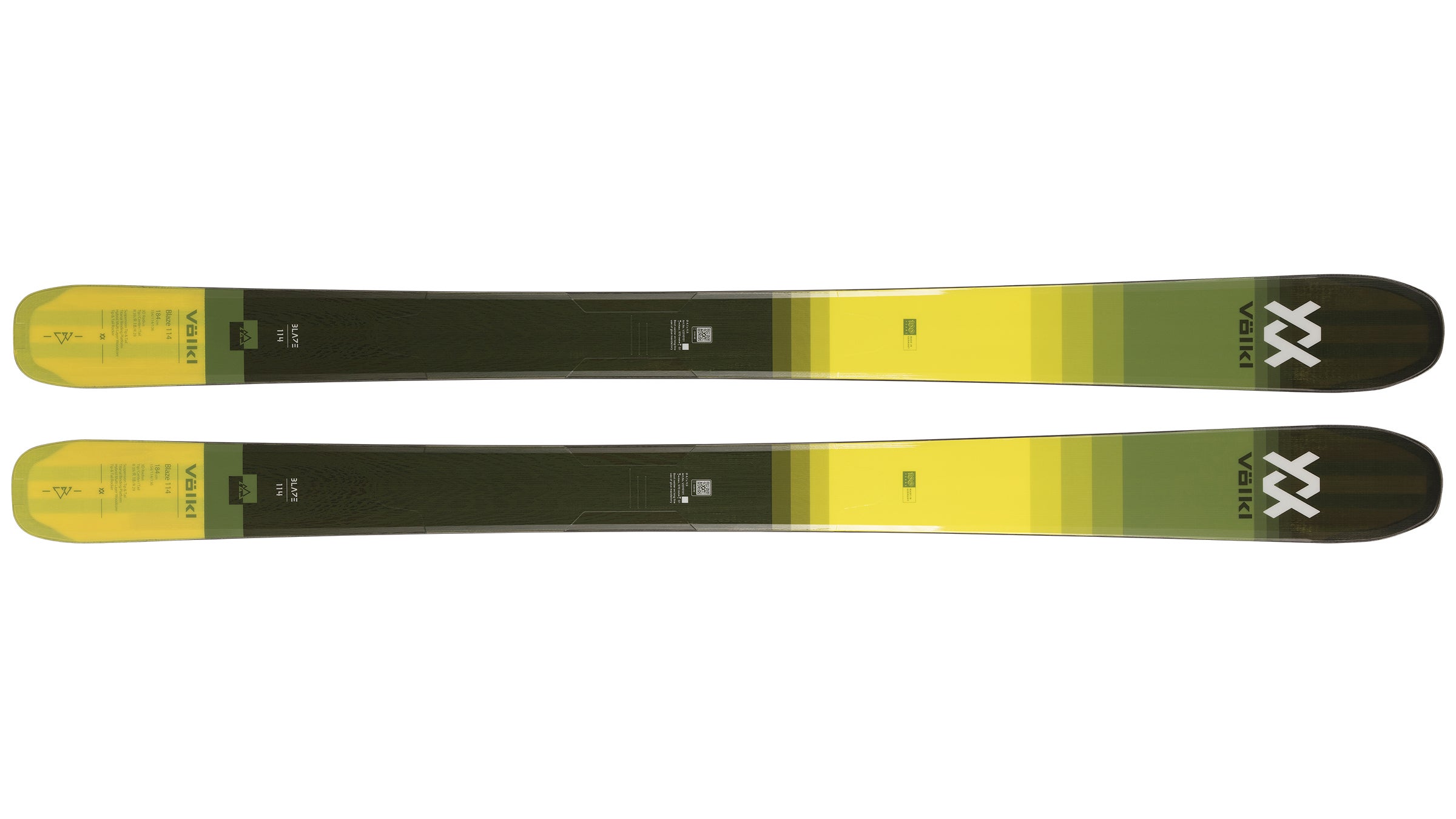 Overall score: 8.13/10
Lengths (cm): 176, 184, 192
Dimensions (mm): 154-114-136
Radius (m): 17 (176)
Weight (per ski in grams): 1,995 (184)
Price: $750
Pros: Responsiveness, Crud Performance
Cons: Forgiveness, Flotation
Völkl's all-new freeride powder ski, the Blaze 114, proved to be a powerful yet approachable tool that held its own arcing fast turns down wide-open slopes as well as surprising testers with its agility in tight trees. It took home high marks for Responsiveness and Crud Performance, weaving its way through glades and narrow chutes while plowing through chunder at the end of a powder day. Testers cautioned that if you get in the back seat, though, the Blaze 114 could trend toward less forgiving; it's still a ski that demands a strong stance and tuned-in style to access its full potential. "Very powerful, but easy to manage at a variety of speeds and in a variety of conditions," said tester Tracy Gibbons, who calls Crystal Mountain, Washington, her home terrain. "I started in the open space thinking I was gonna need some speed and muscle to get this ski turning, but it turns out it behaved like a tamed lion."
Read the full review for category scores, strengths, weaknesses, and tester feedback.
Section divider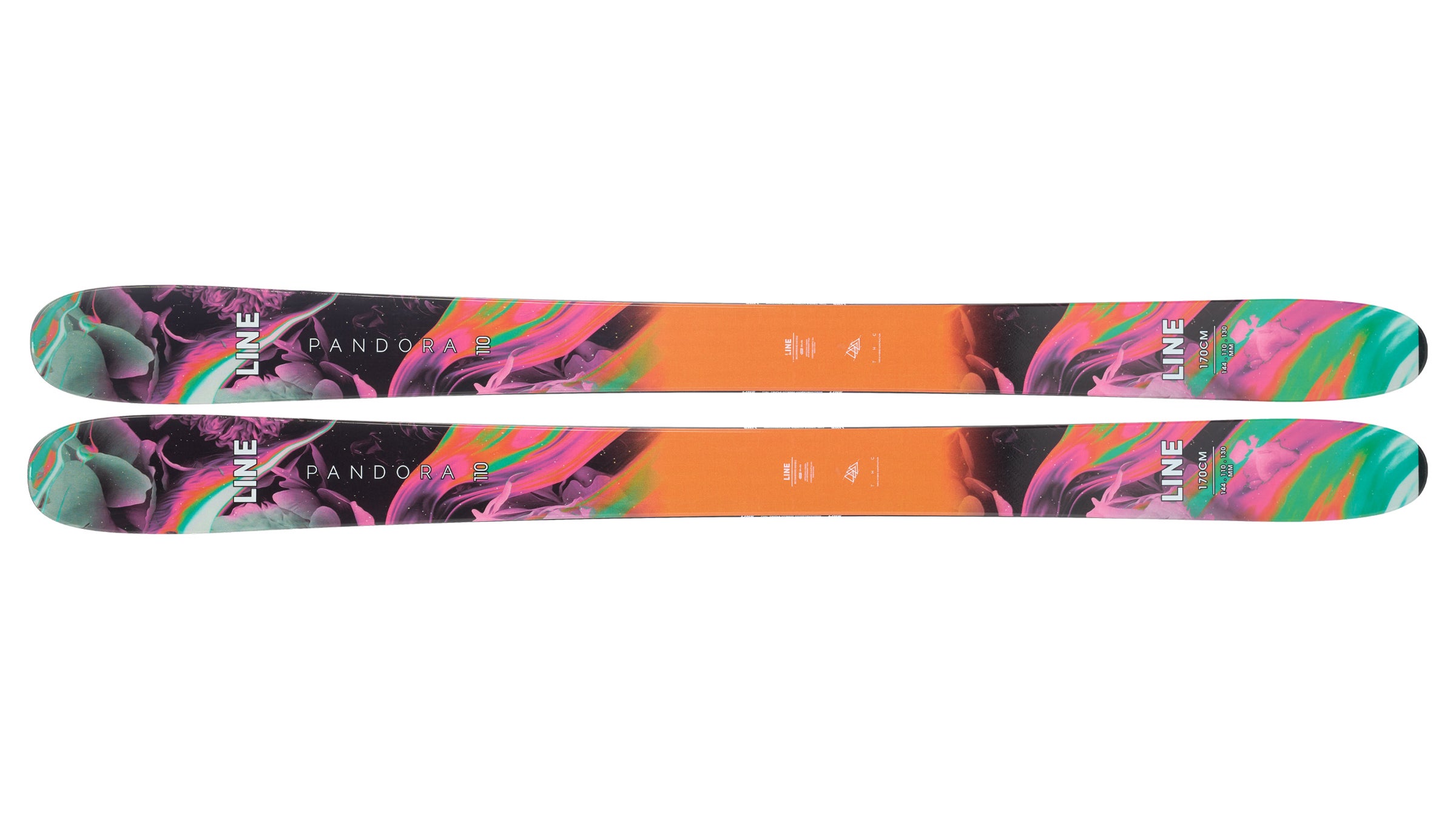 Overall score: 8.06/10
Lengths (cm): 162, 170, 178
Dimensions (mm): 144-110-130
Radius (m): 16.5 (170)
Weight (per ski in grams): 1,500 (170)
Price: $950
Pros: Playfulness, Responsiveness
Cons: Crud Performance, Stability at Speed
A fun-loving ski with a can-do attitude, the Line Pandora 110 never failed to put a smile on our faces. This model ranked high in Playfulness and Responsiveness thanks to its soft flex pattern at the front and slightly stiffer tail, which maintains stability through high-speed turns. An updated aspen-and-paulownia core keeps the ski feeling light and springy, and a layup of aramid, carbon, and fiberglass layered on top of the core is the reason for its composure on firm groomers. It's forgiving, which is why testers agreed that it could be really approachable for an intermediate skier or even a powder novice. But don't let that deter more aggressive skiers: This playful powder machine held up to steep big-mountain terrain, was rock solid while ripping wide-open faces of fresh, and stayed playful enough to encourage testers to pop off cliffs and boost cat tracks. "Pleasantly surprised by the energy and ease," reported Gibbons. "It doesn't require hard charging, but hard chargers should still find that this ski has lots of upper-end capabilities."
Read the full review for category scores, strengths, weaknesses, and tester feedback.
Section divider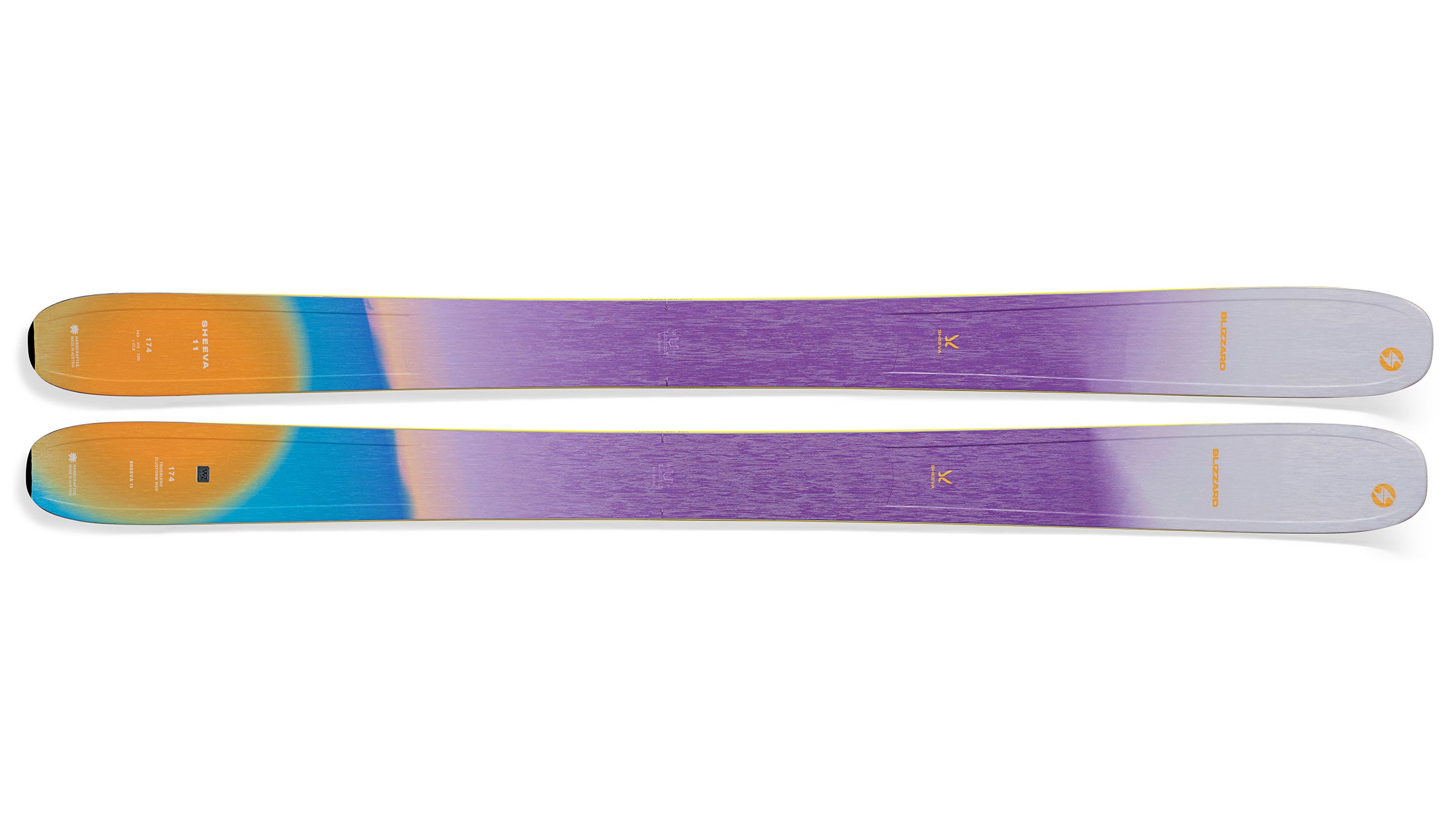 Overall score: 7.99/10
Lengths (cm): 168, 174, 180
Dimensions (mm): 140-112-130
Radius (m): 17.5 (174)
Weight (per ski in grams): 1,825 (174)
Price: $850
Pros: Playfulness, Responsiveness
Cons: Stability at Speed, Forgiveness
There's been a lot of hype around the fully redesigned Sheeva collection, and after floating through powder, charging through chop, and blasting through just about every snow surface imaginable in Sun Valley, Idaho, last season, we can confirm that it was well worth the wait. Ranking it high in Playfulness and Responsiveness, testers found the new Sheeva 11 all it's cracked up to be (and more)—beefy enough for the ladies who put their skis through the wringer, yet merciful enough for intermediates looking to push themselves. "The new construction is just more fun," said tester Kimberly Beekman, who bases out of Steamboat Springs, Colorado. "I loved the old Sheeva, too, but I feel like this was just so much more forgiving." Reviewers agreed that the shorter lengths make for a really inviting ski for intermediates to progress into bigger terrain, while the pros will have fun sinking their teeth into the behemoth 180-centimeter option.
Read the full review for category scores, strengths, weaknesses, and tester feedback.
Section divider
Overall score: 7.92/10
Lengths (cm): 176, 184
Dimensions (mm): 143-114-131
Radius (m): 22 (184)
Weight (per ski in grams): 2,090 (184)
Price: $899
Pros: Crud Performance, Stability at Speed
Cons: Forgiveness, Versatility
A powerful tool for advanced skiers, the RMU North Shore 114 thrives while charging hard through deep snow and chop. It's a beast of a powder ski that can handle the heat, one that testers concurred rewards experienced rippers who have the energy to really drive it. Crud Performance and Stability at Speed were major highlights for this model, which smoothed out bumps, chopped up powder, and then begged for more at the end of each lap. With a 22-meter turn radius, it felt harder to whip around at slower speeds, but when we took things up a notch, testers were able to access a more playful feel from this ski. "Mows through everything like a tank," noted Beekman. "It has a pow-day-frenzy attitude that I share." For women who demand a ski that can keep up with a more aggressive ski style, the North Shore 114 is a must-have—just don't let off the gas.
Read the full review for category scores, strengths, weaknesses, and tester feedback.
Section divider
No. 6: Peak 110 by Bode (Unisex)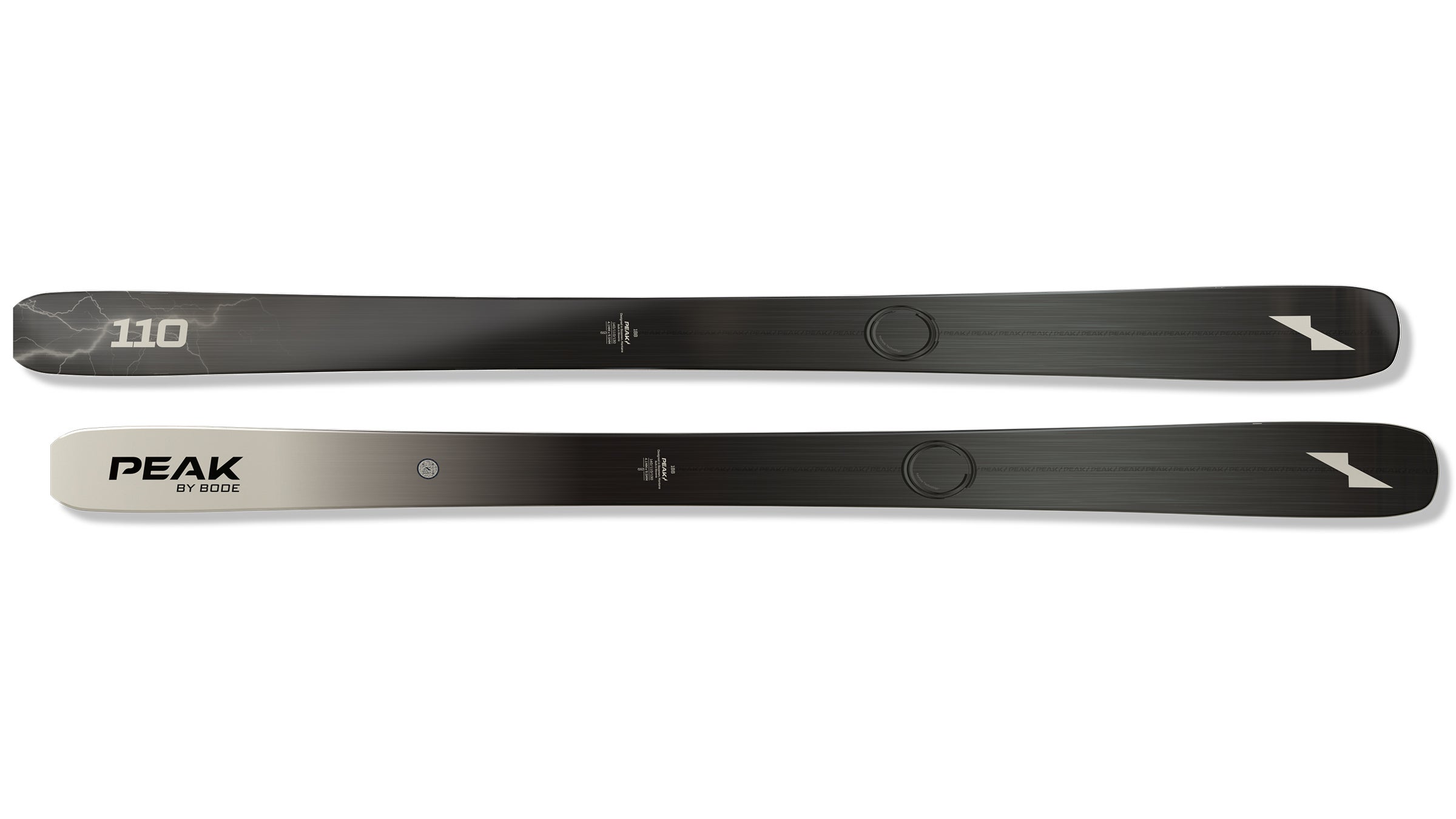 Overall score: 7.7/10
Lengths (cm): 168, 178, 188
Dimensions (mm): 137-110-128
Radius (m): 22.4 (168)
Weight (per ski in grams): 1,804 (168)
Price: $1,090
Pros: Stability at Speed, Crud Performance
Cons: Quickness, Forgiveness
It's hard to imagine that what Bode Miller demands out of a ski is applicable to mere mortals, but that's part of what made Peak so intriguing at this year's SKI Test. All of the new brand's offerings utilize its signature KeyHole Technology, an oval-shaped cutaway that creates a stiffness inflection point to allow the ski to feel forgiving at the entry of the turn as well as powerful while edging, blending power and accessibility for a variety of skiers. The Peak 110 has less metal than the rest of its siblings, with a lively poplar-and-paulownia core and polyurethane stringers that keep the ski a little lighter and more playful than the narrower models and quiet in choppy snow and on firm slopes. As a result, it scored high in Crud Performance and Stability at Speed. "Super stable underfoot, and I could trust it to bust up anything in front of me," said Outside's associate gear director, Jenny Wiegand. "I was skiing faster than I normally would because of the fresh snow, and this ski definitely rewarded that."
Section divider
No. 7: K2 Mindbender 116C W (Unisex)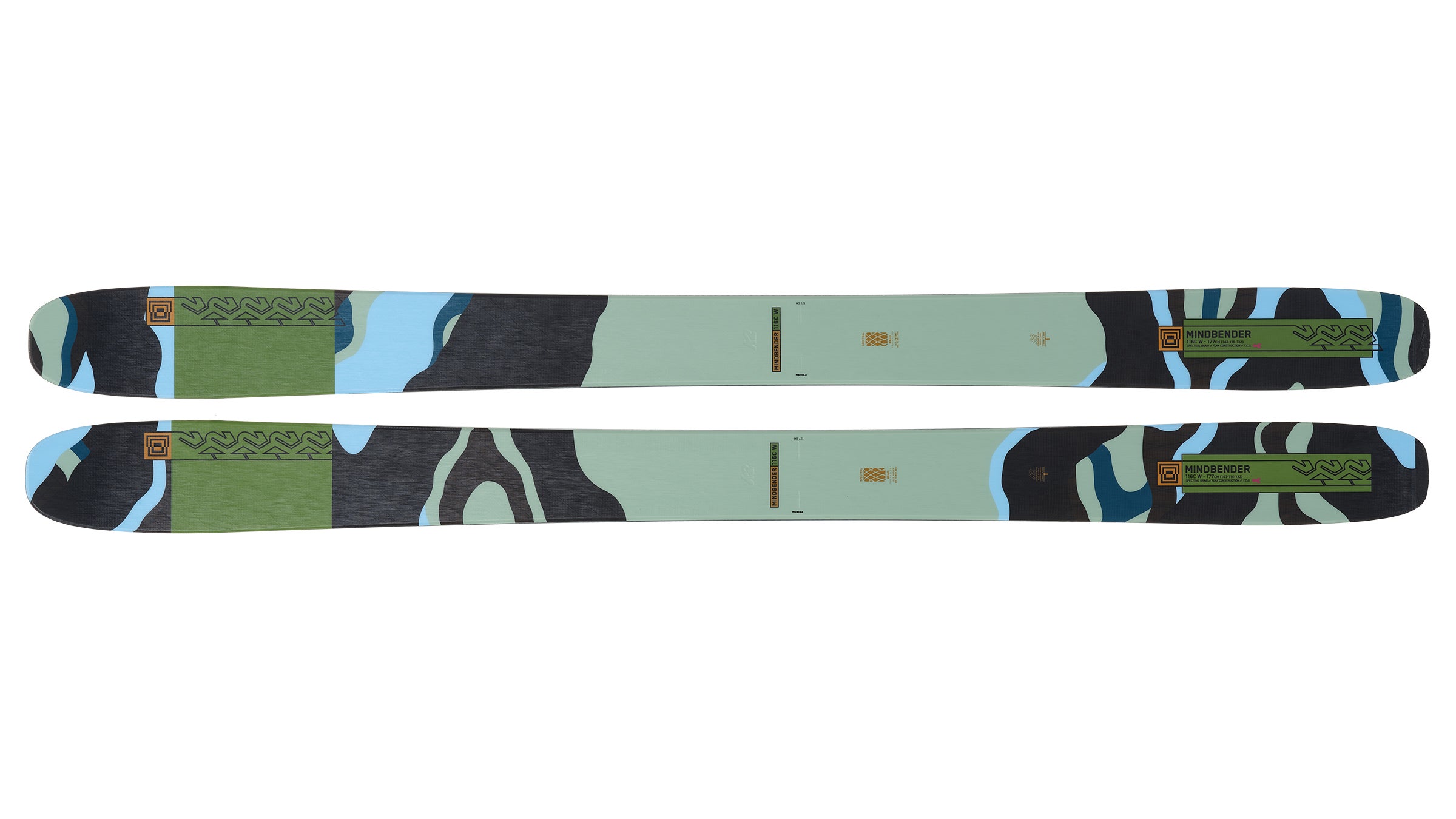 Overall score: 7.68/10
Lengths (cm): 163, 170, 177
Dimensions (mm): 143-116-132
Radius (m): 18 (170)
Weight (per ski in grams): 1,985 (170)
Price: $900
Pros: Flotation, Crud Performance
Cons: Quickness, Versatility
Lively and ready for a good time, K2's Mindbender 116C W is a ski that seriously ups the fun factor on deep days. This model saw a redesign for 2023-24, including a slightly wider shape, new construction, and updated sizing. The aspen veneer core created a smooth and consistent flex throughout the ski, while the brand's Spectral Braid technology boosted stiffness and power without the use of metal. "Fun and capable, like an old pair of sneakers that fit perfectly," declared Beekman, who stands 5-foot-4. "It's just there for you without you having to think too much about it." While the Mindbender 116C W surfed effortlessly through soft snow and bulldozed crud, a few testers felt it struggled a bit while navigating gladed terrain, resulting in a slightly lower score in the Quickness/Maneuverability department. Our crew gave a unanimous thumbs-up for Flotation and Crud Performance, agreeing that this offering would be high on their list of skis to reach for when the skies open up and fresh powder awaits.
Section divider
No. 8: Armada ARW VJJ 116 UL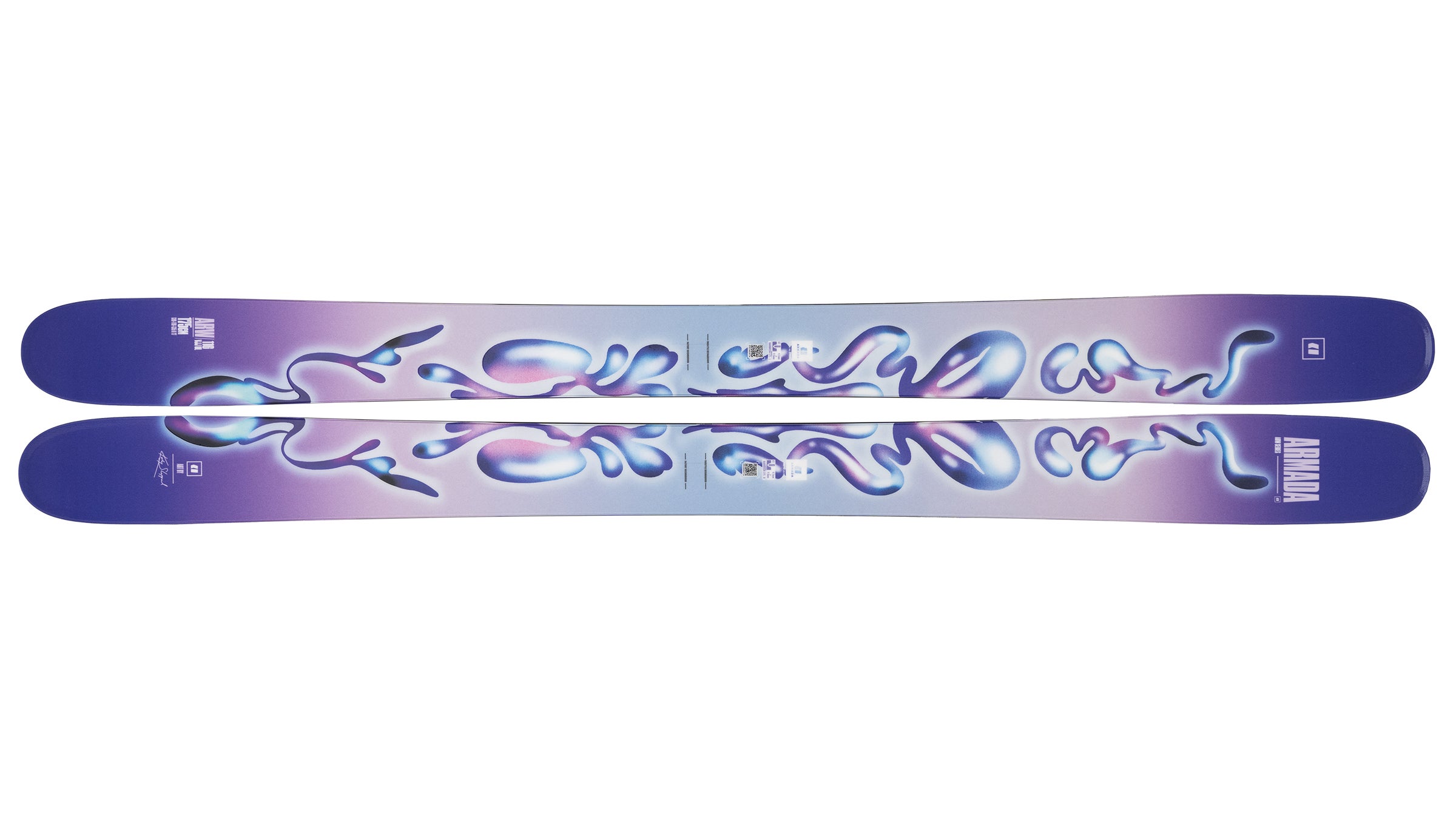 Overall score: 7.44/10
Lengths (cm): 165, 175, 185
Dimensions (mm): 139-116-135
Radius (m): 17 (175)
Weight (per ski in grams): 1,725 (175)
Price: $975
Pros: Flotation, Playfulness
Cons: Crud Performance, Stability at Speed
The ARW VJJ 116 UL is the crown jewel of lightweight powder skis, a friendly model that proves you don't always have to work harder to have more fun. For full-on dump days, testers raved about its Flotation and Playfulness; it's a smeary, surfy ski that pivots on a dime and encourages a creative mindset while exploring new terrain. "It floats beautifully and effortlessly in deep snow and was easy to maneuver through the trees," shared Boston, Massachusetts-based tester Avery Pesce. "This is a super-approachable ski even for an intermediate looking to test their skills in some deep fresh snow." In chop and firm conditions, reviewers were not impressed by the ARW VJJ 116 UL's performance, deeming this offering far less versatile than some of the meatier pow skis in the group, but if deep snow is in the forecast and you're looking for an option that will automatically put a smile on your face, there's no question that this is the one.
Section divider
Frequently Asked Questions
What are the best powder skis for women?
Peak 110 by Bode (Unisex)
K2 Mindbender 116C W (Unisex)
Armada ARW VJJ 116 UL
What are powder skis?
Generally speaking, powder skis (or deep snow skis) are fat. They tend to have 110mm-plus waist widths, generous rocker profiles, and very large turn radii. While they float like a dream in soft snow, many powder skis can perform well in choppy snow as well, and a very special few—most notably the Nordica Enforcer 110—can actually hold an edge quite well on groomed terrain. For the most part, however, these skis are rarely defined as one-ski quiver options and are instead used only when conditions warrant, e.g. powder days.
Who are powder skis for?
Any ski wider than 105mm underfoot is best suited to a skier who gets to ski soft and deep snow more often than not. These wide skis are typically made of lighter materials, feature less metal in the core, and less effective edge, meaning they are not the best tools to handle hard snow, groomers, or bumps. Big boards will enhance any real powder day, but may feel cumbersome in anything less than five inches of fresh snow.
What length powder ski should I buy?
Because of the increased amount of rocker built into most powder skis, it's suitable to have longer skis for deep snow to increase the amount of usable edge on hard and variable snow. Shorter powder skis will likely float and feel more nimble than longer versions, but can also sometimes feel like riding a pogo stick due to the increased floppiness that is caused by generous rocker in the tip and tails. Learn more about rocker profile and how it affects performance.
How wide is too wide for a resort ski?
Skilled skiers will be able to manage a wide ski (100mm-plus) in most conditions and will still be able to make these skis carve. But intermediate skiers still working on their skills may find wide all-mountain skis to be more work in the types of conditions you are likely to encounter at the resort. Learn more here.
What's the difference between men's and women's skis?
In truth, most skis are unisex and not gender-specific. Many brands produce the ski with the exact same construction technologies for both genders, but often create two different top sheets to appeal to men vs. women. A handful of brands are making truly women's-specific skis, where the ski takes a woman's physique into account when building the ski. Men and women can ski on the same ski but may want to choose different lengths depending on their height and their skiing ability.