Bode Miller's New Boot
No joke, he's on Full Tilt—and that isn't as crazy as it sounds.
Heading out the door? Read this article on the new Outside+ app available now on iOS devices for members! Download the app.
Bode Miller has given his fans so many memorable Bode Moments in his career, he hardly owes them another. But what he's scheming now might be the best yet.
Miller, the winningest male U.S. Team racer ever, though oft-injured of late, not only appears to be serious about making a return to the World Cup speed-event circuit at age 39. He appears to be planning to do it on a boot that, as far as anyone can remember, hasn't seen a World Cup course in at least two decades.
When word leaked out last winter that Miller had visited a Vermont shop—Race Stock Sports, owned by former World Cup race tech PJ Dewey—to get his Full Tilt First Chair boots modified for racing, it sounded like an April Fool's joke. Then, sure enough, came pictures out of U.S. Ski Team training camp in Portillo in September, showing Miller training downhill on Full Tilt boots and Bomber skis.
Crazy? After all, Full Tilt is known as a freeride brand, longtime sponsor of guys like Seth Morrison and Tom Wallisch. Its boots come in boxes that are humorously styled to look like takeout pizza. Its cables-dangling-everywhere closure system is notoriously mad-scientist—or just plain maddening to skiers in a hurry.
But as legions of fans know, Full Tilts are built using the same injection molds as the old Raichle Flexon Comp, once the preferred boot of many downhillers. Its unique flex feel and three-piece shell design—consisting of a lower, a cuff, and flex-managing shell-tongue—made it a good fit for speed guys, who liked a soft-flexing boot that allowed the ski to glide and find its own path. The Raichle brand, once a major player, failed in 1999, but Bill Johnson used the Flexon to win his famous Sarajevo gold in 1984, and Austria's Patrick Ortlieb used it to win the Albertville downhill in 1992.
And consider this: If Miller thinks it'll work, no one is laughing. He's known in the race world for his equipment acumen—always thinking, always tinkering, and  always uncharacteristically animated when talking gear.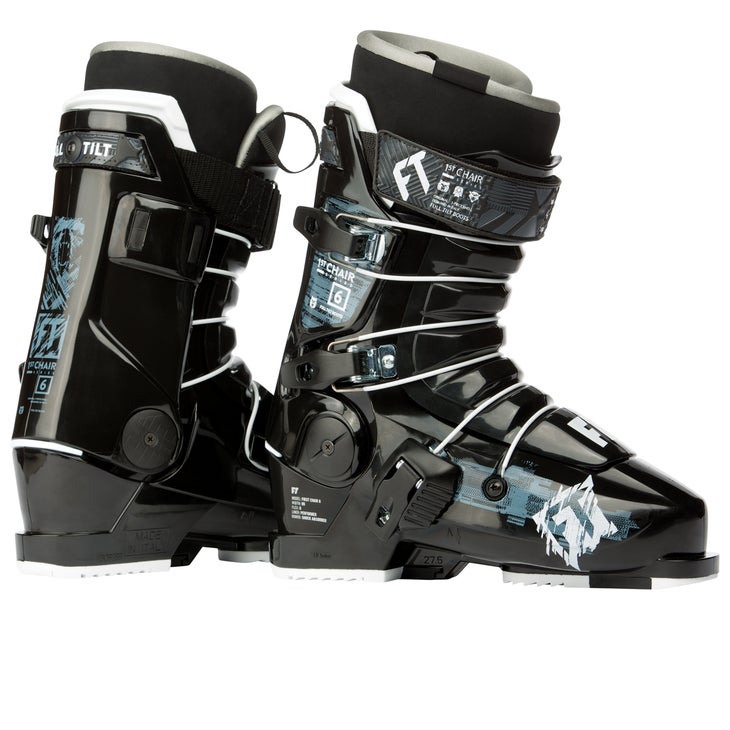 Miller hasn't confirmed that he plans to race this year, but plenty of signs suggest that's his intention. His name is on the U.S. Ski Team roster for the coming season. He was training with the team in Chile. And in September he filed suit in California, seeking to be released from a non-compete clause in his contract with his former equipment supplier, Head, so that he could legally race on skis made by his own company, Bomber (which calls itself an Official Supplier of the U.S. Ski Team on its website). Then in October he hired his former World Cup serviceman, the highly regarded Chris Krause, away from Head.
Head, which paid Miller $1.15 million per year, plus bonuses tied to performance, to represent its brand, does not plan to release Miller. The Austrian brand filed for dismissal of his suit in California, saying Austrian law applies.
Full Tilt's brand manager, Josh Malczyk, who readily admits he has no experience in the racing world, recalls the first he heard of Miller's interest in his boot. It was February. "He called customer service," Malczyk laughs. "He just looked us up on the web I guess. I was in my car, late for work, when our customer service guy calls me and says, 'Bode Miller wants some boots.'"
Miller, by then, had already been experimenting, and had already visited Race Stock Sports with Full Tilts in the fall of 2015. "When he comes in we pretty much close the shop and try not to make it a circus," says Race Stock tech Ryan Daniel, "so he can have some peace while he gets his boots worked on. … He's just positive and pleasant, and he's got some great ideas. The guy is smart, that's for sure."
After having a laugh about working on boots for Bode Miller that come in pizza boxes, Daniel says he and Dewey got to work. "It comes with a rubber traction sole, so we removed that and bolted on a pretty-serious full-length lifter to give it torsional rigidity and a little more stiffness. Then we screwed on a regular replaceable 5-mm lifter. Then we did some work inside to get back to FIS stand-height norm and replaced the toe buckle with a slimmer one so it wouldn't boot out. That's about it."
Daniel and others agree that compared to a traditional two-piece four-buckle overlap-shell boot, with its edge power and accuracy, the Full Tilt, which is less precise and offers less command of the ski's edges, will be a liability on the turnier, more technical sections of a track like the Hahnenkamm. (Miller has never won there, and has suggested in the past that if he did make a comeback, it'd be to cherry-pick the marquee events on the World Cup speed calendar.) But that very looseness on edge will be the Full Tilt's strength on the flat, straight sections.
"The gliding sections will be where he can make up some time," Daniel says. "Then he can just fight his way through and survive the technical sections in classic Bode Miller style, knowing he can always pull it out."
Malczyk, who says Miller is "telling me stuff about my boot that I didn't even know," says Full Tilt is now working with Miller to help him get his boots dialed.
He also says this: "If he's in the start at Kitzbuhel with Full Tilt boots, I'm gonna die."
Photo Credit. Main: Jonathan Selkowitz/Selkophoto; Courtesy of Full Tilt
***
Here is Head's official statement regarding the Bode Miller lawsuit, released on September 19. 
HEAD has been sued by Bode Miller, whereby Bode Miller is contesting his obligations pursuant to the termination of his endorsement agreement with HEAD in 2015. Bode Miller told HEAD he would finally retire from ski racing but asked a personal favour that his contract would be terminated a year early such that he could enter into an endorsement contract with another ski company for his personal gain. HEAD agreed with his manager to release him from his contract based on his unequivocal intention to stop ski racing, and on the condition that in the event that he changed his mind he agreed not to compete in World Cup or World Championship racing until the end of the 2016/17 season on any other equipment than HEAD skis, boots and bindings. Bode Miller agreed to this as is stipulated in the termination agreement. Notwithstanding the terms of the termination agreement, Bode Miller recently announced that he would breach this agreement. HEAD will be seeking to have Bode honour his contractual commitments and is fully behind him skiing competitively this season, on Head skis, as he is obligated to do.
Johan Eliasch, chairman and CEO of HEAD stated: 'I am truly very disappointed to see that Bode has no intention to honour his word and that he intends to breach our agreement to that effect. We will take every action to enforce our rights against Bode. That said, HEAD would welcome Bode's return to World Cup racing, but it has to be on HEAD equipment.'
Rainer Salzgeber, director of the HEAD Ski Race Team added: 'Of course I would like to see Bode racing again, but it has to be on HEAD equipment.