Chris Davenport Has It All
He has cultivated a beautiful family, a rad ski record, and a partnership with SPYDER where he helps design the gear he wears.
Heading out the door? Read this article on the new Outside+ app available now on iOS devices for members! Download the app.
Chris Davenport kicks another step into the unrelentingly steep boot pack of the Super C. 3000 feet below sits the indigo water of Laguna Del Inca and the famous yellow building of Ski Portillo, Chile. Two massive condors circle high above the top of the ski line in the thin cold air of the Andes mountains. The Super C is one of the most legendary couloirs in the world and rightly so, it's almost 5000 feet of consistent steep pitch between towering granite walls. Davenport has climbed this boot pack hundreds of times in every condition since he began coming to Portillo 18 years ago. It is a beautiful experience every time, but this trip holds a special first. Just behind him is Stian Davenport, the eldest of his three sons, kicking strong steps, just like his dad.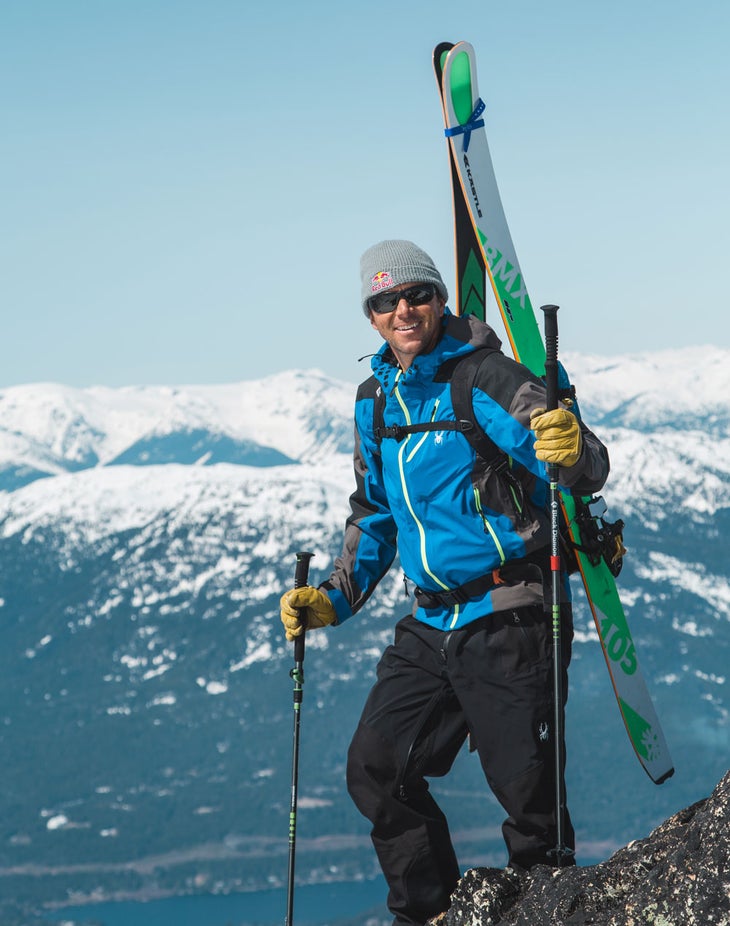 Davenport has built his life around his deep passion for skiing. His list of accomplishments is lengthy and legendary. From winning the World Extremes in 1996 to climbing and skiing some the world's most impressive mountains from the Eiger to Mt. Everest. Through a career spanning two decades, he has amassed a ridiculous list of movie parts, photos, and interviews. His Superstars camp facilitates a yearly pilgrimage to Portillo. His guiding gigs have brought him to the summit of Mt. Everest, the fjords of northern Norway, and down to Antarctica. And his announcing and speaking engagements have taken him to the Olympics, World Cups, and X Games, where he represents skiing with his knowledgeable, passionate, and thoughtful voice.
Though Chris's skiing resume includes dozens of film segments, hundreds of published photos, and nearly every accolade in the sport, ranging from Powder Readers Poll awards to an X Games medal, his real accomplishment is crafting a daring, ambitious, and extraordinary life while sustaining an equally beautiful family to share it with. He has three precocious sons with his wife Jesse, all who share both his love and talent for sliding on snow.
When Davenport isn't actually skiing or speaking about skiing, he's using his lifetime of experience to help sponsors elevate the development of their gear to keep up with his adventures. When your job requires climbing and skiing in some of the most formidable places on earth, it's critical your gear can hold its own and then some. Davenport puts his skis and apparel through real-world stress tests higher than anything a brand can concoct in a lab, and his sponsors embrace him for it. He spent the last decade developing and refining the Whyte SPYDER line and his signature Eiger jacket. If it holds up to Davenport's exploits, it'll outlast your day on the mountain. Spyder's new partnership with GORE-TEX has opened a whole new range of opportunities for Davenport in helping SPYDER develop some of the most technical performance pieces for the snow.
One day Davenport might be in the Boulder SPYDER office helping lay out pocket, venting, and zipper placements. The next he might be about to drop in to a puckeringly steep line thousands of feet above the ocean or kicking the last agonizing and exhilarating steps to the summit of a Himalayan peak. Wherever he finds himself, he is always spreading the ski gospel and passing down a deep and abiding love for the next generation of Davenports. Out of all his myriad accomplishments, watching Stian rip the Super C Couloir with the signature Davenport style, grace, and power, is the most rewarding.