You Can Keep Your Gloves on To Use These Wireless Headphones
This value-minded, helmet-compatible wireless headphone lets you effortlessly add tunes to your ski day.
Heading out the door? Read this article on the new Outside+ app available now on iOS devices for members! Download the app.
Gear 360 gives consumers the best available product information all in one place, through independent editorial and reader reviews, and verified consumer ratings. Brands pay a fee to be included in the Gear 360 program but have no influence over the reviews or scores we publish. We may earn a commission on purchases made through our site.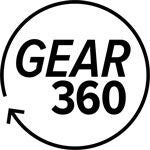 Outdoor Master Wireless Drop-In Helmet Headphones, MSRP: $70 [BUY NOW]
SKI Gear 360 Review
If you ski with tunes you know the benefit of using a dedicated set of wireless headphones designed to tuck into your helmet's ear pads. Perhaps you're like me and arrived at the helmet headphone option after losing an Airpod in the snow, never to be seen again (along with the $70 I had to shell out to replace it). Or perhaps you've gotten tangled in the thin cords of your wired headphones. You may not lose them, but you might lose your cool trying to untangle them. If you're just dipping a toe into riding with tunes, skip straight to the wireless drop-in helmet options and save yourself a bunch of hassle.
There are many options for drop-in wireless headphones that fit into your helmet's ear pads, ranging from Outdoor Master's value-minded option reviewed here all the way up into the $100s. If you're looking for good audio and a headphone that's compatible with several different helmet brands, you should consider the Outdoor Master Wireless Drop-In Helmet Headphones.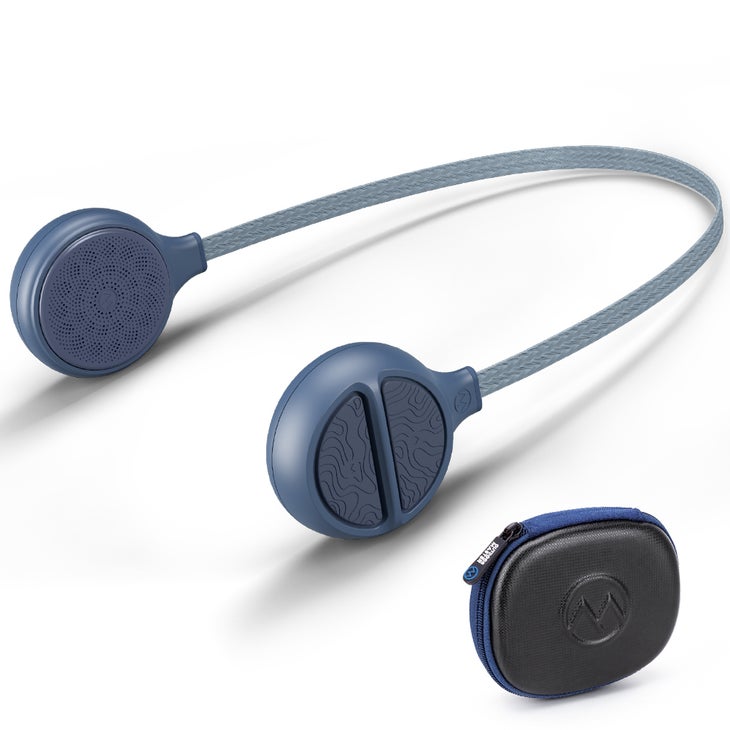 First, let's talk about compatibility. Outdoor Master claims that the Wireless Drop-In Headphones fit most audio-ready helmets, but specifically lists Giro, Smith, POC, K2, Anon, and Burton brands. I tried them with my Smith helmet, in which they fit, and also a Sweet Protection helmet, with which they did not, so do call to confirm compatibility if you're aiming to use them in a helmet brand not listed. 
Getting them to fit inside the helmet's ear pads took a bit of wrangling. My Smith helmet has a tiny zipper along the cushioning at the base of the head—one that I'd never tried to open before—that gave me a bit of a fight, but once I got it unzipped, I was able to align the Drop-In Headphones with each ear pad somewhat easily. A 12.2-inch cord sits at the base of the helmet and connects the individual headphones. The fit was a bit bulky in my helmet, but not so much that it bothered me while skiing.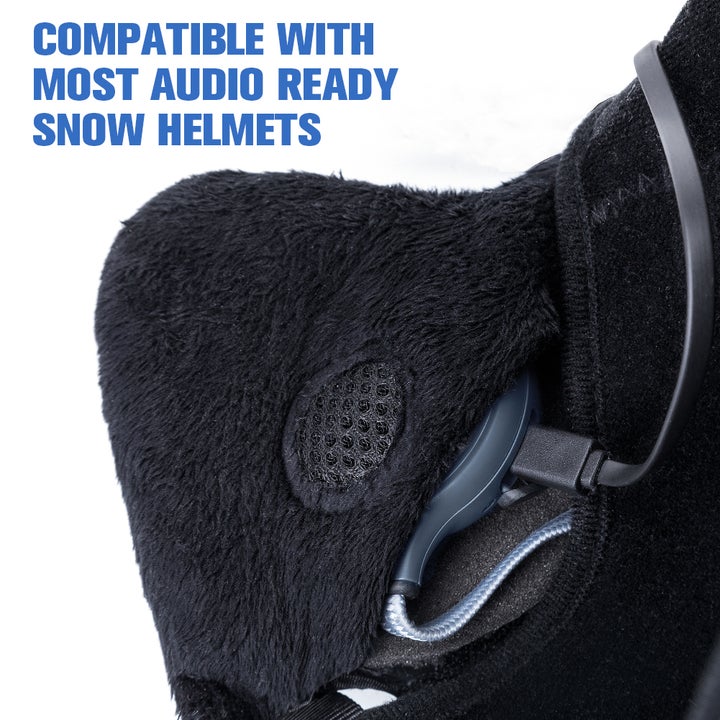 The sound is very good—I was amazed by how much better I could hear my music than I could through my Airpods, and without having to stick anything inside my ear, it was also more comfortable. The headphones are chips equipped with optimally tuned 40mm drivers and Bluetooth, which is a fancy way to say that the sound is crisp and clear and the connection is reliable.
What I liked best about the Drop-In Headphones, though, is how easy the large buttons are to manipulate. As long as you align the headphones correctly inside the ear pads, you can start and stop your music, skip tracks, adjust volume, and answer phone calls with a gloved finger. I was also impressed by the battery life. I skied with them for two days in a row and completely forgot to charge them in between, and it was no problem. This is also a good place to note that you don't have to remove the headphones from your helmet to charge, which is especially nice if it took some time to wrangle them into place. According to Outdoor Master, the headphone will last for 15 hours between charging, and my experience aligns with that claim.
Overall, I was pleased with the fit and performance of Outdoor Master's headphones, and would recommend them to skiers looking for a value-minded drop-in helmet options. Just make sure your helmet is audio-compatible with room for headphones that are about 1 inche in diameter. If they fit, these headphone makes a day of skiing with tunes as effortless as can be.

Outdoor Master Wireless Drop-In Helmet Headphones, $MSRP: $70 [BUY NOW]