Heading out the door? Read this article on the new Outside+ app available now on iOS devices for members! Download the app.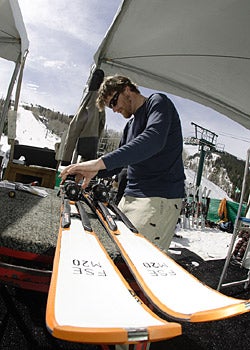 $110; markerusa.com
Killer Deal At 14 ounces, the M2 is so light you'll forget you're wearing it. The removable visor shades your eyes on bright days and helps deflect falling snow. Top vents angle forward to suck the breeze directly onto your gourd. Gripes: Vents aren't adjustable. Props: The helmet comes with two removable liners: thick and thin. Check the weather and take your pick.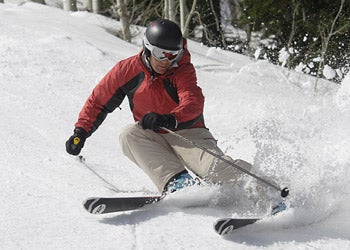 $155; salomonsports.com
The Patrol Ace comes with a removable knit beanie that doubles as its liner. Wear it underneath when you're skiing, and the beanie alone come après. The chin strap and removable ear pads are lined with soft faux fur, and a unique elastic-cord-and-hook strap holder keeps your goggles from wandering. Gripes: We don't like the huge logo on the side. Props: The low-profile, brimmed silhouette fits easily under a hood.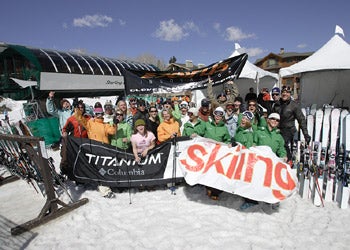 $120; carrerasportusa.com
The AirMatic offers a lightweight, low-profile fit with basic styling. Removable hardshell ear covers provide extra fortification (soft covers are also included), and a single slider on the top of the helmet allows for multiple-position vent adjustment on the fly. Gripes: Lacks any way to adjust the fit. Props: Subtle logo placement is rare these days. Thanks for not making us a Carrera ad.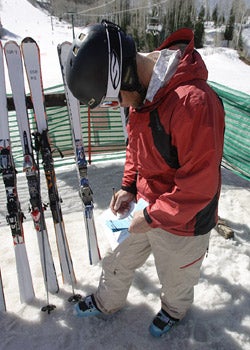 $90; bernunlimited.com
The Muse's clean, simple, integrated brim made it our favorite women-specific helmet. Like its male counterpart, the Baker (not shown), this helmet is certified to withstand multiple impacts—making it ideal for jibbing. The knit beanie-style liner is comfortable and warm. Gripes: Vents as well as a Glad garbage bag. Props: One liner is included, but you can buy a warmer furry liner ($20) for extra-cold days.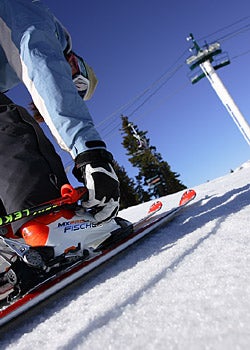 $199; sweetprotection.com
This carbon-fiber-reinforced lid, molded low in the rear for ample base-of-skull coverage, was one of the most protective in the test. Despite its toughness, it's remarkably lightweight and fits closely, enabling it to slide easily under most hoods. Gripes: Slim on vents and not great for hiking or spring skiing. Props: Customize the fit with the included foam pads.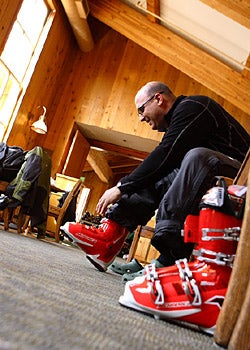 $70; smithoptics.com
BEST IN TEST: The Holt's smooth shell does a great job of shedding powder or wet precipitation. Despite a lack of obvious vents, you won't overheat in most situations: Subtle brow vents match up perfectly with Smith goggles, drawing air up and over your melon, sending it out the back and reducing lens fog. Gripes: The venting system works well with a steady breeze but isn't cool enough for hiking. Props: The sweat-wicking liner is removable and machine-washable.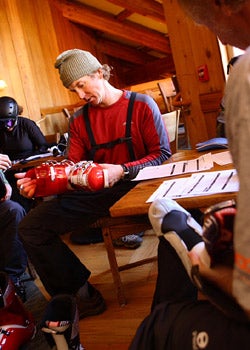 $110; leedomhelmets.com
If you drop huge cliffs and ski fast through trees and rocky terrain, a full-face rig can save you big dental and facial-reconstruction bills. If you don't ski like that, you'll look like a tool in this. Regardless, 14 vents keep your head dry and ventilated and an adjustable visor cuts glare and keeps falling snow out of your goggles. Gripes: Needs a goggle retention strap. Props: Lightweight and inexpensive, considering the amount of helmet you get.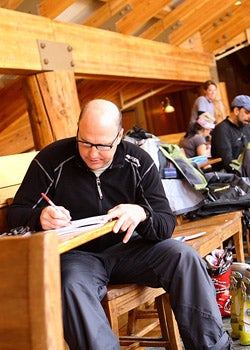 $200; giro.com
Thanks to an adjustable, skull-cradling cage and a rear-mounted dial, this is the most comfortable lid here. You can even adjust the forward rake to eliminate gaper gap between your goggles and helmet. (Please take advantage of this feature.) Gripes: Felt heavy, even with all the vents. Props: The optional Bluetooth speaker pods ($170) have the best sound quality of any helmet-phones we've tried, though that wasn't a formal criterion in this test.