J Skis and 4FRNT: If you can't beat 'em, join 'em.
Levinthal and Sterbenz say the acquisition is all about two brains—and two brands—being better than one.
Heading out the door? Read this article on the new Outside+ app available now on iOS devices for members! Download the app.
Striking a tone more of cooperation than competition, the two former rivals involved in the acquisition of 4FRNT by the founder of Line, and later J Skis, said both brands will continue independently, but also look to take advantage of what appears to be more of a merger than a buyout.
The announcement earlier this week that Jason Levinthal, owner and founder of J Skis, struck a deal with Matt Sterbenz to acquire 4FRNT, Sterbenz's company, took the ski industry by surprise. The surprises continue as the pair discuss their vision of the next steps.
"I'm not sure it's ever happened before that one independently owned ski company joins forces with another," said Levinthal. "Traditionally it's a big company that acquires a brand, but Matt and I kind of started the independent brand wave, so instead of trying to think how could we sell out, we decided to join forces."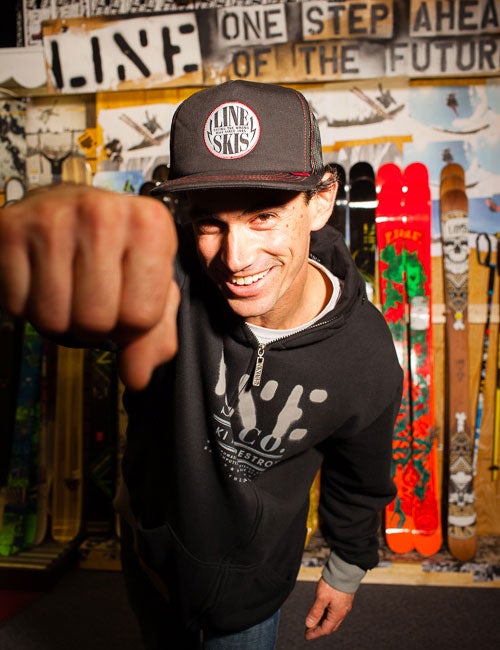 After starting his own brand Line in 1995, then selling it to K2 and working there for seven years, Levinthal has seen pretty much every angle of how a ski company can be owned and operated, and knows what kind of angle he wants to take from here on out. "From my experience, what's best for skiing is to have as many brands on the market as possible, so that skiers can get different perspectives and flavors," Levinthal said, recalling that when he started Line, there were only major ski manufacturers serving the market.
"It was very stale and stagnant, and there wasn't nearly as much energy in the market that you feel today thanks to the hundreds of different brands," Levinthal said. "I don't want any of the smaller brands to go away, I want them to thrive."
Levinthal had been 4FRNT's unofficial advisor for years, so the acquisition (which will look more like collaboration behind the scenes, according to Levinthal) was a logical move for Sterbenz's company.
"It was the right time for the brand," Sterbenz said. "Jason has four years of experience with J Skis now, and he's figured out all his methods and formulas for success. Up to this point, 4FRNT has retained a level of infancy, but working alongside Jason will put 4FRNT in the best possible position to continue innovating and reaching skiers worldwide."
Sterbenz will stick around with the company he founded, even as it continues under new leadership. "Matt will continue with product management, working with engineers and factories to make sure the product stays at the high level he got it to. He'll stay the face and voice, the heart and soul of the brand," Levinthal said.
As for Levinthal's role in his new acquisition? "I'm good at formulating ways of communicating to hundreds of thousands of people, so everything customer service and operational will be my responsibility. But we'll overlap a lot," he said.
Merging 4FRNT and J Skis will allow the two companies to share resources, while remaining independent brands with different customer bases. "Working with Jason, we'll be able to stay focused on the things we're really competent at and free ourselves of the stuff that has kept us distracted from our goals in the past," Sterbenz said. "4FRNT doesn't want to be everything to everyone. With the merger, we've been able to increase our economies of scale to where J Skis and 4FRNT can each focus on their own specific niches within the skiing world."
Of course, it's not easy doing what they do—Levinthal likens being a business owner to being a skier about to drop a challenging line where the run out is out of sight.
"We're in uncharted territory," Levinthal said. "I'm a small brand buying another small brand, but behind the scenes we're going to be doing a lot of working together. We're both good at different things so the sharing of experiences will be awesome."
For more information on the two brands, check out 4FRNT and J Skis.
********
Here's the press release courtesy of 4FRNT and Levinthal:
Jason Levinthal, based in Burlington, Vermont has entered into a definitive agreement to acquire 4FRNT, a designer and manufacturer of alpine skis, located in Salt Lake City, Utah. The transaction is expected to close in early July.
Levinthal's acquisition of 4FRNT is an unexpected, yet logical next chapter in his ongoing, two decade long, personal mission to rejuvenate the sport of skiing. The industry veteran is credited for building and bringing to market the first twin tip ski in 1995 while creating the ski brand "Line". He later sold Line to K2 Sports where he masterminded the launch of "Full Tilt" ski boots. Today he owns and operates the highly successful, first-of-it's-kind, direct to consumer, limited edition ski company, Jskis.com.
When asked, of all the ski brands, why 4FRNT, Jason responded, "Unlike today, in the late 90's and early 2000's there was only myself and a couple of other small startup ski companies. We were all skiers, focused on pioneering the modern day freeskiing movement, by developing progressive new products to counteract the stagnant sport of that time. Of those original brands, 4FRNT is the only one still privately owned. I truly believe it's in the best interest of the entire industry to keep it that way, to make sure it doesn't get into the wrong hands."
"I have immense respect for the 15 years of hard work and determination Matt Sterbenz, the brand's founder and his crew have put into building this great brand. Matt has a great vision for the brand and together we have a combined 37 years worth of proven entrepreneurial ski industry experience to leverage." Moving forward Matt will continue to be responsible for creating the athlete driven products the brand is known for, while keeping 4FRNT's unique position in the market, in-line with its authentic freeride and backcountry skiing roots. He will remain in Salt Lake City, Utah operating out of "The White Room", 4FRNT's state of the art R&D facility enabling Matt to continue to keep the brand's finger on the pulse of what's next, minutes away from "the greatest snow on earth".
Over the past 15 years, Matt Sterbenz has experienced it all, saying "I still recall the first SIA tradeshow booth I built at the Mandalay Bay, when Jason walked up to me with a nail gun and told me how much faster it was than screwing it all together, because let's face it, we'll be back here next year doing it again. I'll never forget how influential Jason's passion was for me early on with 4FRNT. Jason has been and remains to be a positive influence to me and I'm thrilled to now officially have the opportunity to work with him on growing 4FRNT."
As a serial entrepreneur in the ski industry, Jason understands the immense challenges that come with growing an independently owned winter sporting goods brand in such a competitive, seasonal, zero-growth industry of which the majority, is controlled by publicly traded corporate conglomerates. When it comes to 4FRNT's future, Jason said, "We've got a huge opportunity to introduce 4FRNT's unique brand position, heritage, and award winning products to a far broader audience of skiers. We'll immediately ramp up brand awareness to match the demand it's award winning product deserves. In the coming months we'll exponentially increase all promotions, fast tracking 4FRNT up to speed with today's most advanced digital marketing techniques. It will also be very important to quickly improve behind the scenes operational efficiencies. We'll gain immediate cost and time savings due to the now larger economies of scale by sharing proven operational systems between my two ski companies. I'll of course be sure to respectfully keep the two brand's identities, products and directions separate and unique as they currently are. I simply couldn't be more honored, and excited to have the opportunity to apply all of my experience and knowhow to helping make sure the 4FRNT brand continues to be a large contributor to skiing's future for decades to come. It's going to be a fun!"
About Jason Levinthal
Jason Levinthal, is a well known and respected 20 year veteran in the ski industry, credited for his creativity that has enabled him to stay years ahead of the competition. He got his start in 1995 building what many credit to be the first twin tip ski and grew it into the incredibly successful brand, "Line" which in 2006 he sold to K2 Sports. Jason continued as a K2 employee where he masterminded the launch and exponential growth of the globally respected ski boot brand, "Full Tilt". In 2013 Jason left to create a new ski company Jskis.com where he now develops at the speed of thought, award winning, innovative Limited Edition products backed by some of the most entertaining, unexpected and impactful marketing in the industry, selling exclusively on his website Jskis.com.
About 4FRNT
Founded in 2002 by then pro skier, Matt Sterbenz, 4FRNT is widely recognized as one the original, pioneering brands of today's modern freeskiing movement. 15 years later 4FRNT continues to work closely with the world's most progressive athletes to create innovative, award winning skis that support the ever-evolving needs of today's most dedicated skiers. They offer a broad line of skis, bindings, poles and accessories, sold worldwide.