Can the Right Apparel Encourage More Women to Ski?
From Olympians to beginners, direct-to-consumer women's apparel company Halfdays isn't sacrificing accessibility, functionality, or fashion.
Photo: Courtesy of Halfdays Apparel
Heading out the door? Read this article on the new Outside+ app available now on iOS devices for members! Download the app.
Being new to winter sports can be intimidating. The cold weather, the idea of strapping sticks to your feet and letting gravity take you down a mountain covered in snow, the chairlift, the lift ticket prices, the gear. It's a lot. And being a female on the slopes adds another daunting layer when more than 60 percent of the people on the mountain are men, and much of the gear is created and designed by male-led companies.
The newly founded women's brand Halfdays Apparel aims to take this intimidation out of ski gear and replace it with functionality and accessibility, without bidding farewell to fashion. Their mission is quite clear: create functional, affordable, direct-to-consumer (DTC) stylish outerwear and baselayers for women who like to ski bell to bell, women new to the sport, women who prefer to begin their après at noon, and all those in-between.
Founded by Freestyle Aerial Olympian Kiley McKinnon and entrepreneurs Ariana Ferwerda and Karelle Golda, the brand officially launched at the start of the 2020-'21 ski season. At its core, the brand doesn't just want to address the gear needs for women but hopes to help foster a culture that makes the slopes more accessible for everyone, while still having credibility in the outdoor gear space.
"I've worn an excessive amount of ski wear throughout my life as a professional skier," says McKinnon. "I've never found gear that I loved from a fit, fashion, and brand perspective. On the other hand, Ariana is a recreational skier, so while our ski backgrounds are quite polarizing, we couldn't be more aligned in the fact that a huge gap existed in this market for women."
Combining Kiley's experience as an Olympic skier, Ariana's time out on the mountain recreationally, and Karelle's ten years of experience in the fashion industry, the team began to survey women to better understand what was missing in the female outerwear market. They found that it wasn't just fit or fashion that women felt they were choosing between, but an overall lack of approachability.
Get more from SKI Magazine and many other titles: Join Active Pass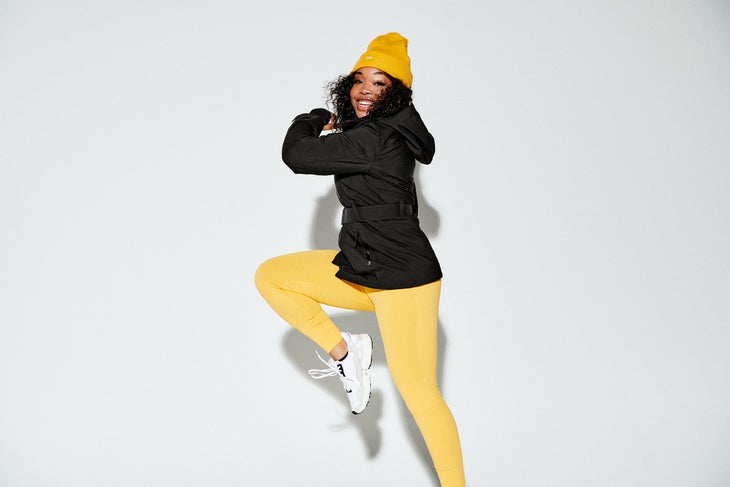 "Many women told us that they've experienced feeling 'not skilled enough' or lacking the proper experience to be a part of a certain activity or community in the outdoors," says Ferwerda. "Our goal is to break down this barrier and really make women feel empowered and comfortable approaching outdoor sports."
Marrying vintage-toned, bright colors and brand aesthetics with a clean, modern monochromatic theme, the outerwear is made 100-percent Recycled Polyester, which has a technical coating that is both waterproof & breathable and insulation that is PrimaLoft and also 100% Recycled. The initial product line included the Alessandra Pant ($215) and the Lawrence Jacket ($345). Halfdays recently released the Aston belted jacket ($425).
Being a DTC company, the founders knew the Halfdays' website needed to convey the modern motif of the brand. The founders started a "Halfdayer" blog, where consumers can read about everything from pop culture, local hikes to do in San Francisco, BIPOC women in the outdoors, and tips for learning to ski. Cheeky sentiments like "bye-bye Boys Club," or "sorry fellas, no more 'shrink it & pink it' over here" garnish each product page, and models of varying races and body sizes show off their apparel.
"We not only hope that Halfdays is the first brand women think of when they're looking for new ski or snowboard apparel, but we also want them to think of the brand as a larger community of women and a resource for information that they can leverage when they're looking to get into a new sport, wanting a recommendation for new skis, or just to connect with other women to get outdoors with," says Ferwerda.
They nearly sold out of everything during their initial launch in mid-November, restocked in January, and say they are starting to sell out again.
In years to come, the women plan to expand into strategic retail partnerships and potentially open their own brick and motar stores down the road. They kicked off the winter with a pop-up in Aspen, and will be hosting pop-ups in Breckenridge at the end of February and Denver later in the season.
"Our hope is that we'll be able to make a mark on the ski wear market in our first couple years, and eventually be an integral part of every outdoorsy-ish women's wardrobe," says Ferwerda. The term "outdoorsy-ish," meaning anyone and everyone who might enjoy some time outside.
Related Content
How we Après in the Age of COVID
Best Winter Boots for Women
Best Midlayers for Men and Women