The Best New Ski Boots of 2022
The key to being a better skier is your boots. These are the best resort-oriented options to help you step up your game.
Heading out the door? Read this article on the new Outside+ app available now on iOS devices for members! Download the app.
With more and more brands making the same boot model in both a men's and women's fit, we've combined them all here for easy access. Flex and fit may change between the gendered models, but the technology remains the same. The most important thing is to get a boot that fits your foot and ski style. The higher the flex, the stiffer the boot. LV stands for low volume, while MV and HV are mid- and high-volume boots. The last is measured by the width of your forefoot. Have more questions? Do what we do: Go see your local boot fitter. Looking for backcountry touring-specific boots? You'll find all of those here.
Tecnica Cochise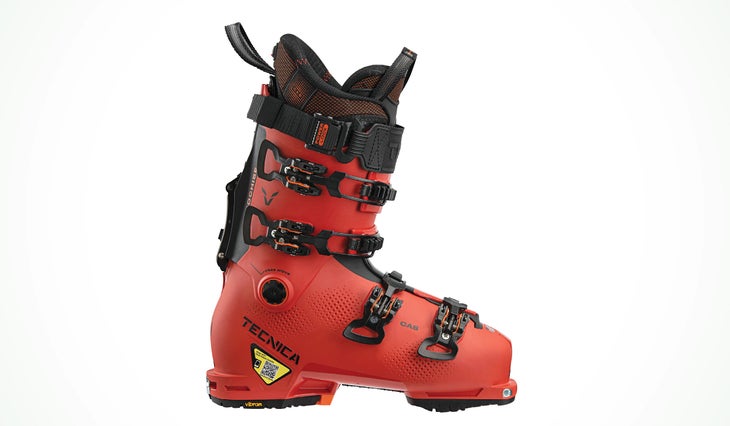 Buy now: $900
Men's flex: 130, 120, 100
Women's flex: 120
Last: 99mm
Volume: LV
The new generation of the Cochise is practically perfect for freeride skiers who want one boot for the resort, day trips in the backcountry, and everywhere in between. With a unique locking ski/walk switch and stable PU shell, the boot is extremely trustworthy in tight, technical terrain and offers efficient power transmission on firm snow and variable conditions. A 50-degree range of motion and GripWalk make going uphill—in the bootpack, skin track, and beyond—as comfortable as it can get. Read our extended review here.
K2 Mindbender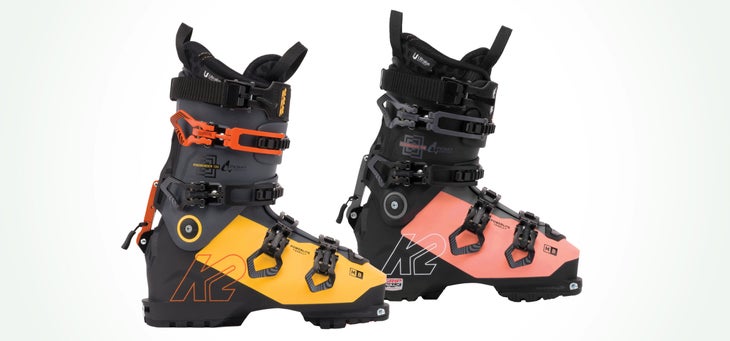 Buy now: $850 (130); $750 (110)
Men's flex: 130, 120, 100
Women's flex: 110, 90
Last: 98mm
Volume: LV
The Mindbender's recipe of lighter, more flexible material above the foot with stiff, dense material cradling the heel, arch, and lower calf was concocted for strong skiing and comfortable hiking. The fully heat-moldable ski boot accommodates a variety of foot shapes after a simple easy-bake process. With a Pebax cuff, the Mindbender isn't terribly heavy either, making it ideal for backcountry missions and full days lapping the chair. Read our extended review here.
Lange XT3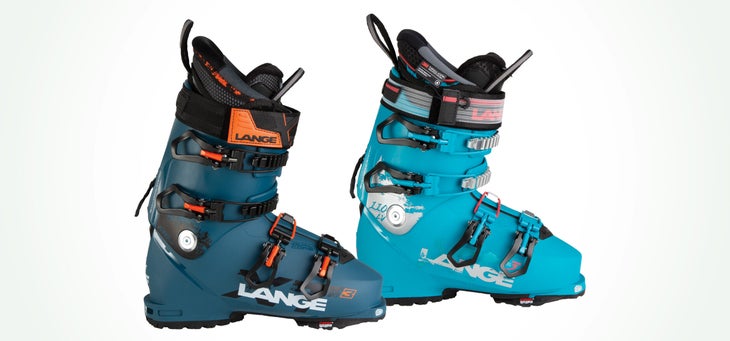 Buy now: $900 (XT3 130); $800 (XT3 110W)
Men's flex: 140, 130, 120, 110
Women's flex: 110, 90, 80
Last/volume: 97mm (LV), 100mm (MV)
Last season's Gear of the Year winner returns unchanged for this season because if it ain't broke, don't fix it. Lange's polyurethane Dual Core shell provides a high level of power transmission from leg to ski, but is still lightweight enough that you could be fooled into thinking the XT3 is a backcountry-specific boot. Instead, it's the whole package for resort skiers who like having a walk mode and expert skiers looking for one boot to seamlessly move beyond the gates and back again.
Fischer Ranger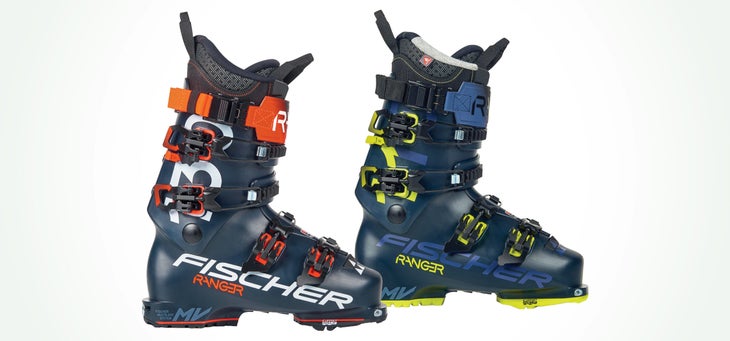 $850 (130), $750 (120, 115)
Men's flex: 130, 120
Women's flex: 115
Last: 99mm
Volume: MV
While most ski boots with walk modes put the ski/walk mechanism on the exterior of the boot, Fischer puts it inside the shell of the Ranger. A neat switch located under the top buckle locks or releases the cuff to make walking and touring more comfortable, as does Fischer's use of lightweight Grilamid. This boot's slick look is only bested by the Ranger's strong downhill performance, which is on par with many of the brand's alpine-specific, non-walk-mode boots.
Dalbello Krypton 130 T.I. ID/Chakra Elevate 115 T.I. ID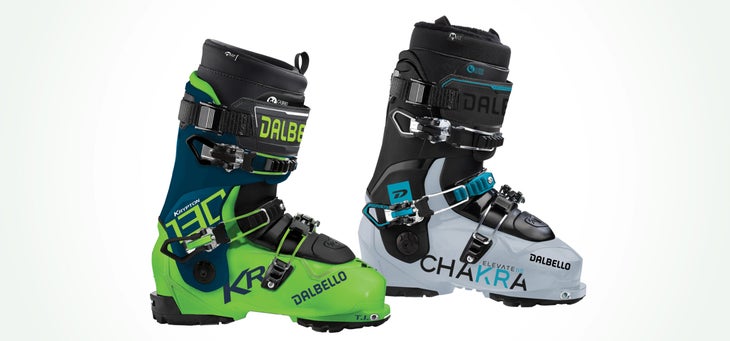 Buy now: $950
Men's Flex: 130
Women's flex: 115
Last: 98mm
Volume: LV
There is no walk mode, but the new Krypton 130 and Chakra 115 have tech inserts and GripWalk. So, while you can tour in them, these freeride-specific ski boots are beefy and primarily designed to be as sturdy as possible for charging hard inbounds. They are also ideal for getting to your ski resort's hike-to terrain quickly, or for firing off Hollywood hot laps under the chair. The full polyurethane shell and cuff indicate that these are some burly Cabrio boots, but the wrap ID liner with My Fit means they are still plenty comfortable.
Roxa R3 TI/R3W TI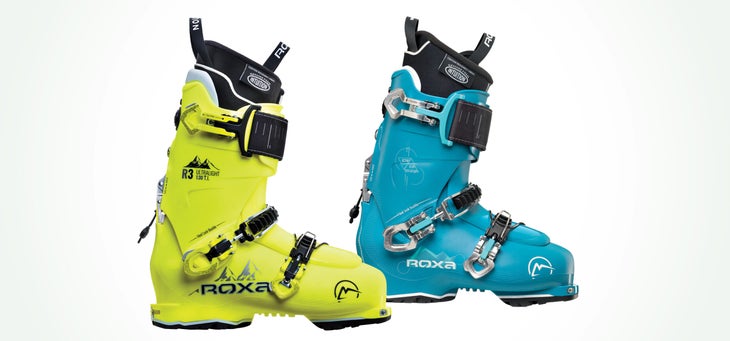 Buy now: $950 (120), $750 (105)
Men's flex: 130, 120, 110
Women's flex: 105, 95
Last: 99mm
Volume: MV
One of the biggest drawbacks to Cabrio boots when going uphill is that the tongue needs to be removed. Roxa fixes this with a purpose-built two-piece split tongue on the Freetour model that makes going uphill more comfortable but doesn't sacrifice downhill performance. Add in an Intuition liner, a Vibram rockered sole, an innovative heel lock, and a slew of customization features, and the R3 TI and R3W TI are great options for skiers who want a Cabrio boot that can do it all.
Head Formula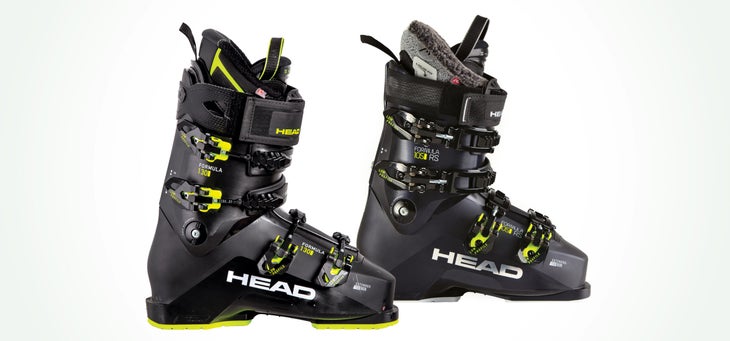 Buy now: $875 (130), $800 (105 W)
Men's flex: 130, 120, 110, 100
Women's flexes: 105, 95, 85
Last: 100mm
Volume: MV
Head's all-new Formula—and lower-volume Formula RS—mate the performance features of the Raptor World Cup race boots with the comfort features of the EDGE LYT boots. The result is an absolutely amazing high-performance resort boot. The LiquidFit liner and extended toe box actively work together to reduce foot strain and improve balance in an athletic stance, while the polyurethane shell provides a progressive, smooth flex. Altogether, this boot serves up comfort and performance all day, every day.
Nordica SpeedMachine 3.0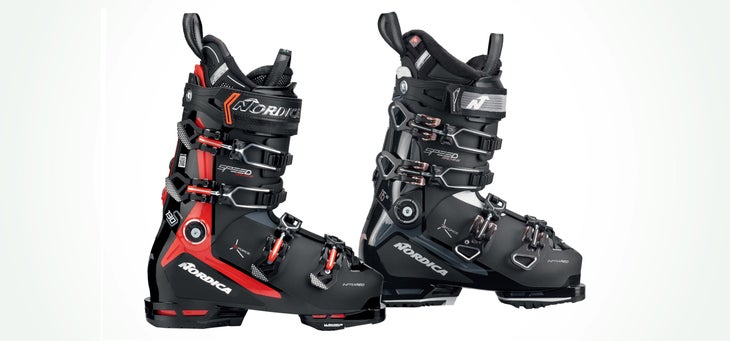 Buy now: $850 (130 S), $750 (115)
Men's flex: 130 S, 120
Women's flex: 115, 105
Last: 100mm
Volume: MV
The third generation of the SpeedMachine line sees Nordica officially entering the world of lightweight boots by using lower-density plastics in key parts of the boot, and heavier, denser PU materials where performance counts. Combined with additional materials in key locations on the liner, the SpeedMachine offers up a lighter, less-taxing ski boot with a more progressive flex than previous generations. But the best thing about this new boot is a host of easy customization features that improve fit without sacrificing durability and performance.
Atomic Hawx Ultra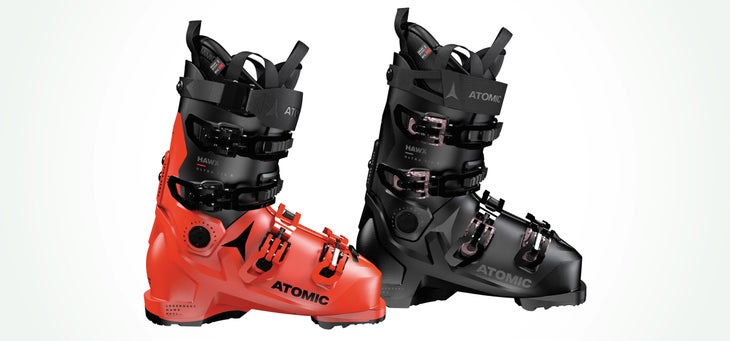 Buy now: $850 (130), $725 (115 W)
Men's flex: 130 S, 120, 110, 100, 70
Women's flex: 115, 95, 85
Last: 98mm
Volume: LV
The revamped Hawx Ultra boot uses a new Prolite construction to increase stability while keeping the boot lightweight and easy to customize. The added stability comes from the reinforced power zones that cradle the foot and the back of the lower leg, which is where the majority of power comes from to drive skis. The fully heat-moldable liner is also designed for maximum power transfer, and the easy-bake customization can be performed multiple times, just in case your boot fitter doesn't get it quite right the first time.
Rossignol AllTrack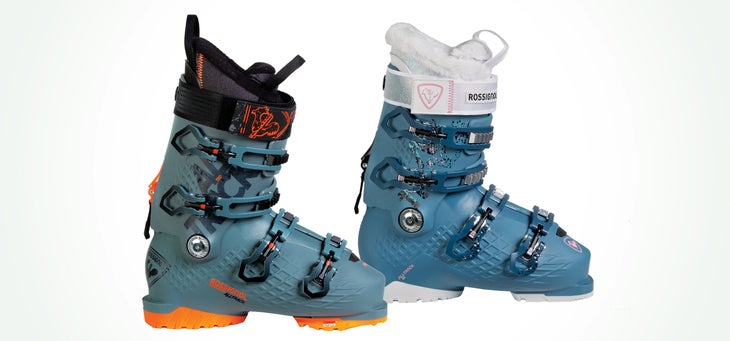 Buy now: $700 (130)
Men's Flex: 130, 110, 90
Women's Flex: 80, 70
Last: 102mm
Volume: HV
The high-volume AllTrack line gets a fresh new set of colors this season but keeps the same reliable performance. Built with Rossi's Generative Design Grid, which reduces the amount of shell material without sacrificing performance, these lightweight puppies are easy to ski in all day and still stay comfy while bar-hopping for après. The warm Thinsulate liner and walk mode ensure that hikes to bigger inbounds objectives are easy on your feet, even if not on your lungs.
Full Tilt First Chair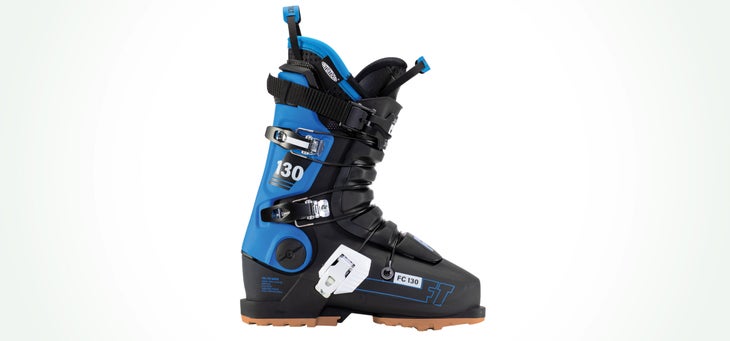 Buy now: $850 (130)
Flex: 130, 120, 100
Last: 99mm
Volume: lV
Bigger, stronger skiers rejoiced last season when Full Tilt released its stiffest tongue yet with the First Chair 130. The extra-stiff Grilamid flexon tongue paired with a solid TPU shell means that skiers can get that unmatchable Flexon feel without it being overly soft. Full Tilt still makes softer shell tongues for other First Chair flexes that are now easier to identify with the standard flex ratings. An Intuition Pro liner works seamlessly with the shell to optimize comfort and performance.
Salomon S/Pro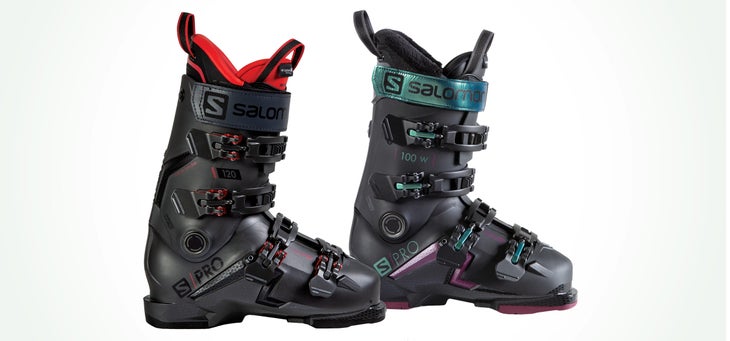 Buy now: $800 (120), $725 (100 W)
Men's flex: 130, 120, 100, 90
Women's Flex: 100, 90, 80
Last: 100mm
Volume: MV
The best-selling ski boot in North America gets more sustainable this year with the addition of TALYN, a thermoformable and recycled fabric incorporated into the ankle area of the liner. This is a key part of Salomon's "My Custom Fit 4D" system, which is designed for great out-of-the-box fit and quick customization. The boot's skiing performance remains as reliable as ever thanks to a well-built shell that is reinforced under the foot and behind the lower leg.
Looking for last year's models? All of our editor's picks are still solid. Check out the 2021 boots here.