The 10 Most Playful and Fun All-Mountain Skis of 2023
Just like people, skis have different personalities. These skis are the extroverts in the all-mountain category.
Heading out the door? Read this article on the new Outside+ app available now on iOS devices for members! Download the app.
Some skis are designed to be steady, rock solid performers on the hill. These skis are usually heavier, include at least a little bit of metal in the core, are stiffer in their flex profiles, and feature bomber sidewall constructions to assure you that there's plenty of support underfoot. We're talking about skis that put intermediates at ease because they're predictable and smooth (we tend to describe them as "damp"), as well as skis that excite experts because they're made for cruising fast and arcing on edge.
Related: 8 frontside skis that reward strong and precise skiers 
And then there are skis that are a little bit more of a wild card. These skis seem to buzz with energy and a life of their own. They're poppy, agile, and built to accommodate a variety of skiing styles. These skis are what we describe as "playful" when we review skis in our annual Gear Guide, and they're the ones that make skiing particularly fun and exciting.
When assessing a ski's playfulness, our testers look for a ski that transmits energy and feels lively from turn to turn. Skis that are particularly damp or feel like lifeless planks underfoot score low in our Playfulness category.
It's hard to pinpoint what makes a ski lively, because skis with heavy constructions can be as lively as skis built with lightweight materials. It just comes down to that secret sauce in a ski design—the perfect blend of core materials plus that extra something.
If you're the type of skier who gravitates towards a ski with some personality, check out these all-mountain skis that scored the highest marks in the Playfulness category of SKI's 2021-'22 ski test.
2023's Most Playful All-Mountain Skis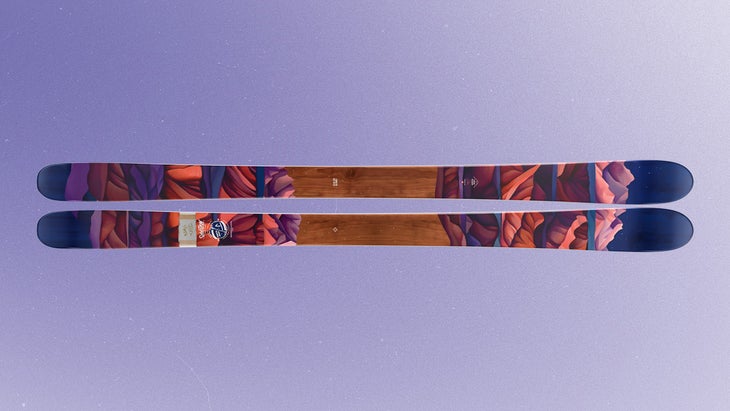 Playfulness score: 8/10
Overall score: 6.99/10
Gender: Unisex
What tester's say
"Surprised how energetic and peppy the ski felt given how soft it was in the tip. Super solid under foot if kept at moderate speeds. This is just an all around fun ski you could spend the whole day on and your legs wouldn't be tired. Doesn't need slot of work to get if you feel playful and fun." —Chad Jacobs
Read the full review of the J Skis Fastforward and see how it scored in every skill category
Playfulness score: 7.83/10
Overall score: 7.38/10
Gender: Unisex
What testers say
"It's just always a blast. Do you want a ski you can get way more out of than you put into it? Here you go. This ski has an easy tip to maneuver, strong tail to bring you out of the turn, and it's a blast anywhere you take it." —Otto Gibbons
Read the full review of the Armada Declivity 82 Ti and see how it scored in every skill category
Playfulness score: 7.38/10
Overall score: 7.12/10
Gender: Unisex
What testers say
"Didn't notice the light weight like I used to in previous versions. Head may have cut the weight but they added the fun. It's a blast to engage, excited to explore, and easy to ski all day." —Otto Gibbons
Read the full review of the Head Kore 93 and see how it scored in every skill category
RMU Apostle 96

Playfulness score: 7.2/10
Overall score: 6.22/10
Gender: Unisex
What testers say
"The ski performed as expected for a pure wood core ski. Easy to flex, low energy return from the ski. This ski is a softer, uniform flexing wood core ski. For those that like to load the ski from bump to bump and bounce and play, it's a fun playful ski." —Otto Gibbons
Elan Ripstick 96
Playfulness score: 7.2/10
Overall score: 6.55/10
Gender: Unisex

What testers say
"The ski is super fun on the edge-to-edge transition. Lively, poppy, and easy to hook up when needed. An extremely accessible ski that still has the chops to ski at a high level." —Otto Gibbons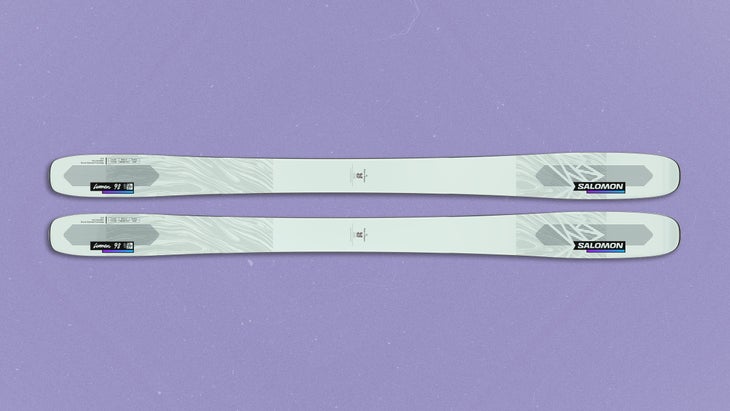 Playfulness score: 9.17/10
Overall score: 8.11/10
Gender: Women's
What testers say
"This ski makes me wanna say 'weeeeee' the whole way down. 98 Lumen? More like 98000 lumens it's so energetic! It enjoys all speeds and all turn shapes. Feels more at home in soft snow, but she'll show ya a good time on hardpack if you promise her a good time in the trees later." —Erika Northrop
Read the full review of the Salomon QST Lumen 98 and see how it scored in every skill category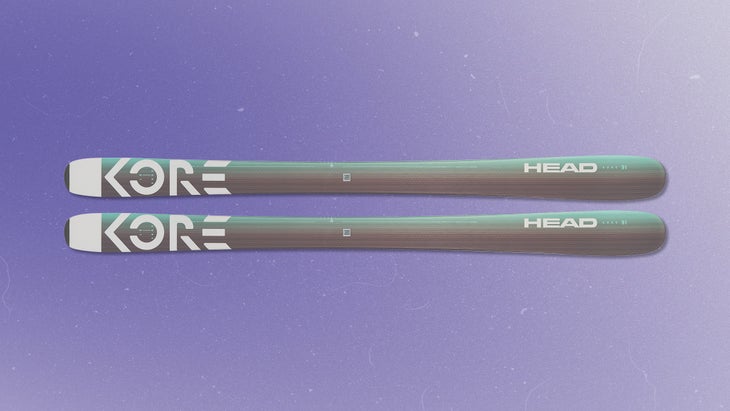 Playfulness score: 8.4/10
Overall score: 8.21/10
Gender: Women's
What testers say
"I've always liked the Kore skis in the past. This version is an intermediate-level damp ski or a playful cheater for advanced skiers." —Ariella Gintzler
Read the full review of the Head Kore 91 W and see how it scored in every skill category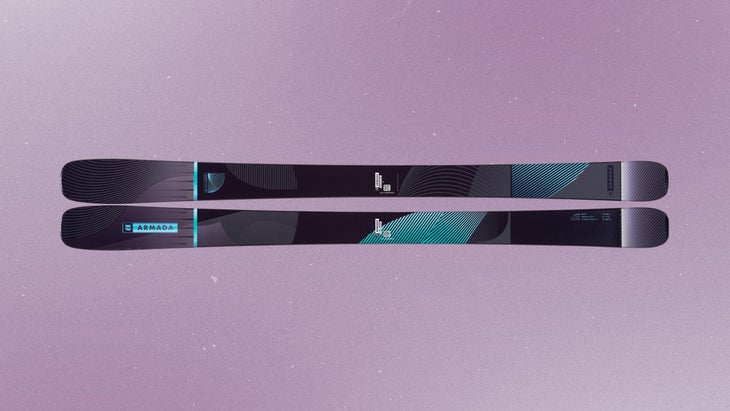 Playfulness score: 8.4/10
Overall score: 8.09/10
Gender: Women's
What testers say
"Very surprised how well these skis turned and bounced in and out of trees and bumps. Handled exceptionally on railed turns and speed. One of my favorite skis of the day, shined on all aspects of the mountain terrain." —Michelle Nicholson
Read the full review of the Armada Reliance 92 Ti and see how it scored in every skill category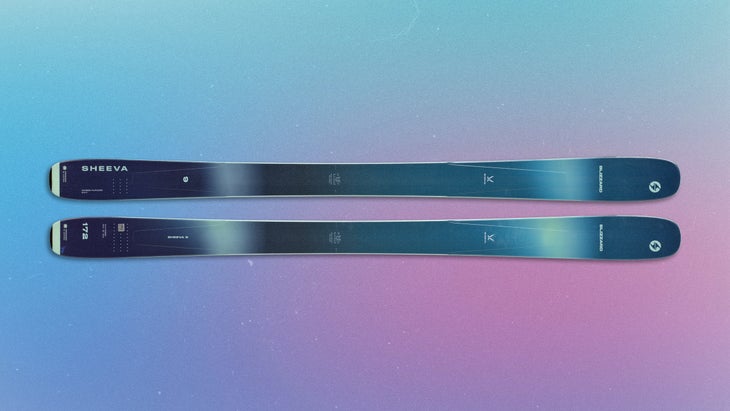 Playfulness score: 8.2/10
Overall score: 8.31/10
Gender: Women's
What testers say
"She's quick to respond to whatever you throw at her, whether it's whipping through the trees, plowing through bumps and mashed potatoes, or hot lapping it on groomers! A super energetic and dependable ski you can reach for in all conditions and not be let down!" —Avery Pesce
Read the full review of the Blizzard Sheeva 9 and see how it scored in every skill category
Dynastar M-Pro 90 W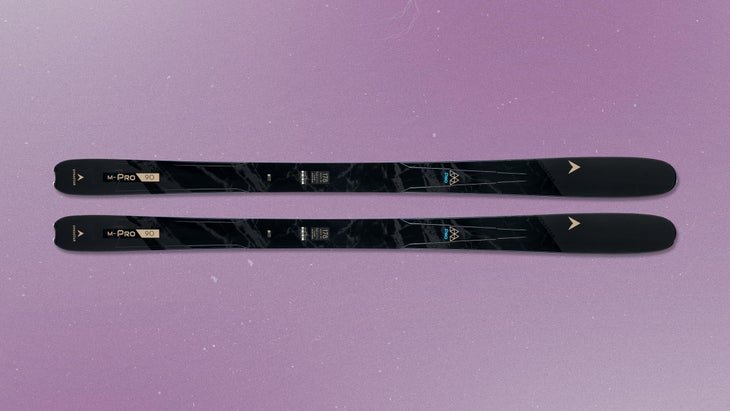 Playfulness score: 8/10
Overall score: 7.03/10
Gender: Women's
What testers say
"The ski is fun! With an easy to initiate shovel and a firm tail that'll inspire confidence on the hard pack, this one is good for laying down tracks your friends will be jealous of!" —Jordan Garrett
More 2023 Gear Reviews
10 skis that will forgive your sloppy skiing habits
These frontside skis will make your life easier in moguls
The best all-mountain skis of 2023