Salomon Is Finally Adding A Real Backcountry Ski to Its QST Line
The all-new Salomon QST Echo 106 is a lighter weight QST 106 designed for uphill slogs and downhill joy rides.
Heading out the door? Read this article on the new Outside+ app available now on iOS devices for members! Download the app.
On the skintrack, we're always wishing our gear was a little lighter. But as soon as we rip skins and point it down our line—whether it's a mellow pow run or a steep couloir—we want a ski that can handle the heat. 
Enter the all-new Salomon QST Echo 106. Fine-tuned on the big alpine objectives and long backcountry slogs that Cody Townsend has been tackling for The Fifty Project, the new QST Echo 106 is a lightweight version of the ski we've all come to know and love. 
Salomon's QST line, which encompassed the widely popular unisex QST Blank and QST 106, and women's QST Stella 106 and QST Lumen 98 (in addition to six other models), has held the trust of skiers (both pros like Cody Townsend as well as us mere mortals) for years. Skiers love these skis for their playfulness, energy, and solid feel in a variety of conditions. 
What was missing in the QST lineup was a dedicated backcountry ski. Despite the fact that most of Salomon's athletes mounted touring bindings on the original QST 106, the almost 2,000-gram ski wasn't designed to make light work of big backcountry missions.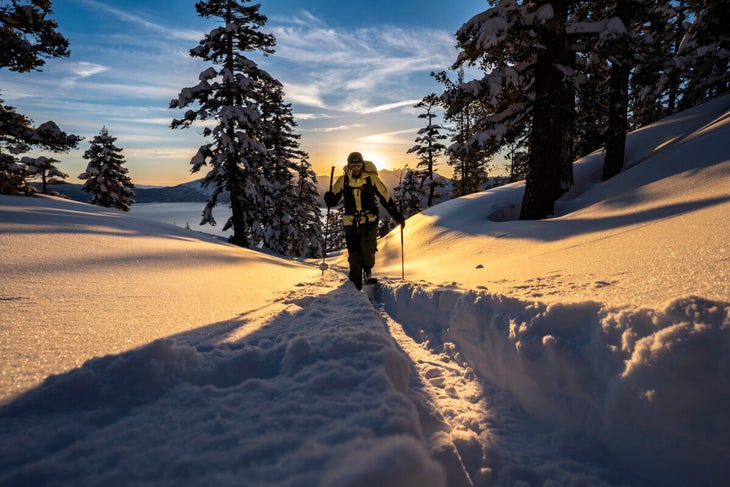 Just ask Townsend. Townsend has spent the past few years tackling big alpine objectives for The Fifty Project, and he found himself looking for a ski that was lighter than the QST 106 on long climbs. But he wasn't willing to sacrifice downhill chops—a noodle of a ski wouldn't cut it while ripping 50-degree turns on the Sphinx, or linking together exposed turns on North Maroon Peak, no matter how much it made the uphill slog easier. And while most of us aren't in pursuit of North America's steepest ski lines, those of us who ski up for the run back down can relate to that same desire for balanced uphill/downhill performance.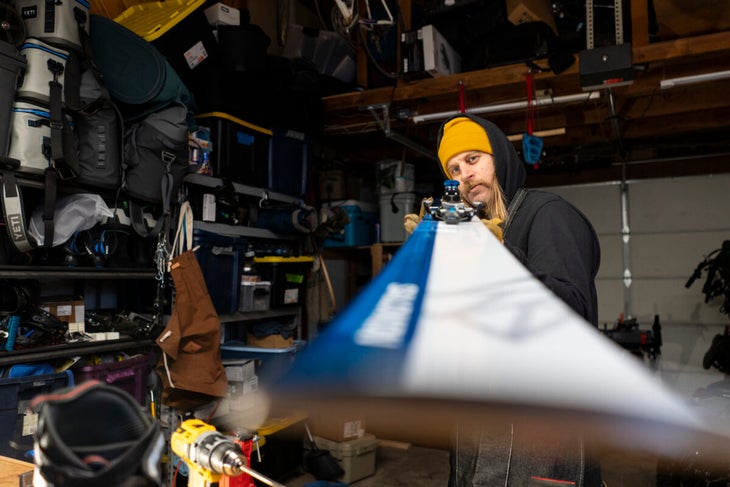 "The vision for the QST Echo 106 was to find a balance of performance and playfulness in a variety of conditions," says Townsend. "From horrible crust on the Bugs to Rogers Traverse, to amazing powder on the Uber Tour, the Echo offered the perfect blend of a confident, efficient tour, while still being fun on the descent."
The QST Echo 106 shares the same shape as the QST 106, with a lighter, Titanal-free construction that utilizes a caruba and poplar wood core, basalt fibers, double sidewall technology, and Salomon's signature tip and tail cork damplifier. The 181cm length weighs in at 1,760 grams, which is over 200 grams lighter than the QST 106 (per ski) and right in the range of other lighter-weight free touring skis out there. 
First Review: Salomon QST Echo 106
We had three testers (two male and one female, myself included) get on the new Salomon QST Echo 106 over the course of a dozen ski days in the Tetons this winter to give us their first impressions. Each tested the QST Echo 106 on a variety of backcountry outings, including the 1,500-foot Mount Glory bootpack, 5,000-foot ski mountaineering missions in Grand Teton National Park, post-work Snow King laps, and hot laps on the south side of Teton Pass. Along the way, they were able to assess the ski's downhill performance in a variety of conditions, including deep powder, chalky steeps, and hardpack.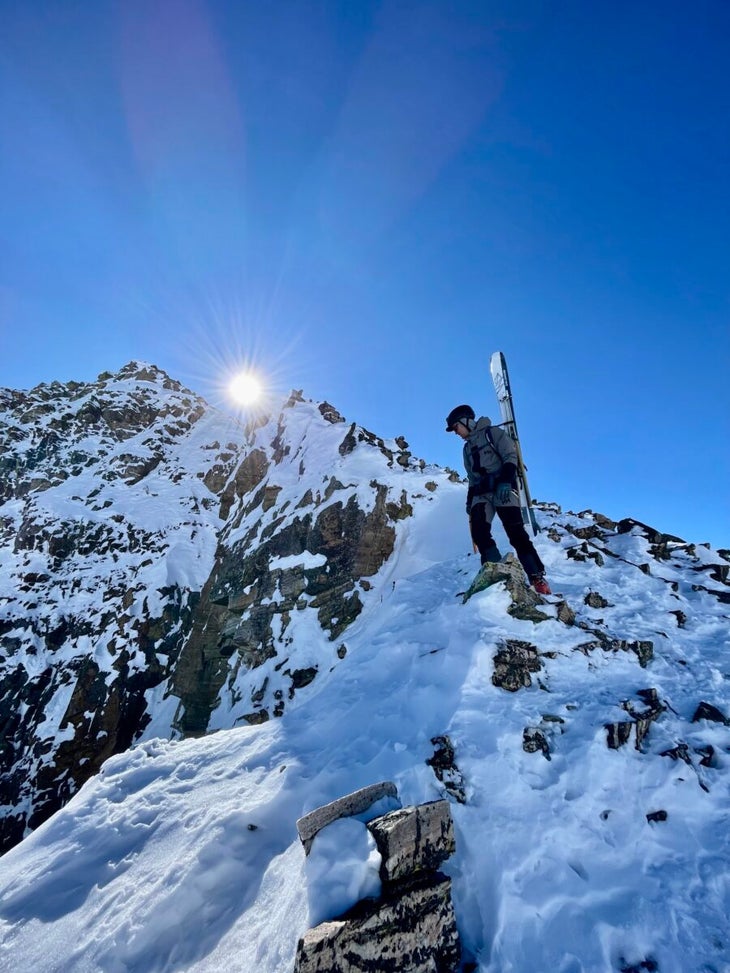 All three skiers were impressed with how well the QST Echo 106 adapted to changing snow conditions, allowing easy pivots in soft, boot-top powder on Teton Pass, but also holding an edge and cutting chatter on firm, icy windboard and refrozen crud, which we inevitably always encounter at over 9,000 feet in Grand Teton National Park. 
Testers didn't notice a big sacrifice in downhill performance without the Titanal mounting plate or full poplar wood core (found in the original QST 106). They did note a slightly lower swing weight, courtesy of the lack of metal and hybrid poplar/caruba core, which made it easy to bring the skis around while hop-turning down a steep couloir or threading the needle in tight trees. And by ditching the extra weight from the full poplar wood core and Titanal, the QST Echo 106 is markedly lighter underfoot on long ascents.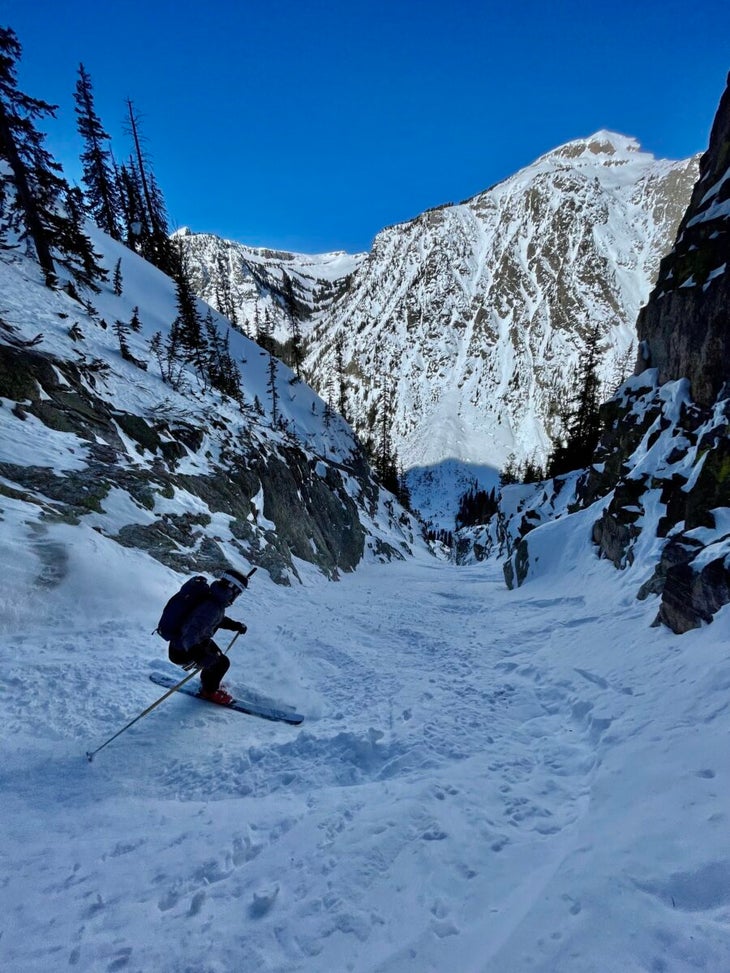 According to testers, those construction changes come at no cost to downhill performance in variable snow. The tip and tail cork damplifier, which you'll also find in the other QST skis, keeps the skis stable in crud and manky snow, allowing for an ultra smooth ride even in unfavorable conditions. We even skied a few hardpack groomer runs at Snow King Mountain in Jackson, Wyo., to see if the QST Echo 106 felt twitchy or deflected on hard snow, but we found it to do exactly what we asked of it, at low and high speeds. 
Sometimes, skis that stay that quiet aren't as fun or playful—the dampness tends to suck some life out of them. But we were pleasantly surprised at how springy and lively the QST Echo 106 felt while cruising through wide-open tree shots and bouncing off pillows. 
Testers agreed that if you're going to have one backcountry ski, the QST Echo 106 makes for a balanced daily driver. The 106mm waist can handle deeper days, but it doesn't take much to bite into a firm slope, and the dampness and stability while skiing fast on hardpack was surprising for a ski in this weight range. For the über-deep powder days, you might want something a little fatter, but the Echo has held its own so far in pretty much any conditions we've encountered.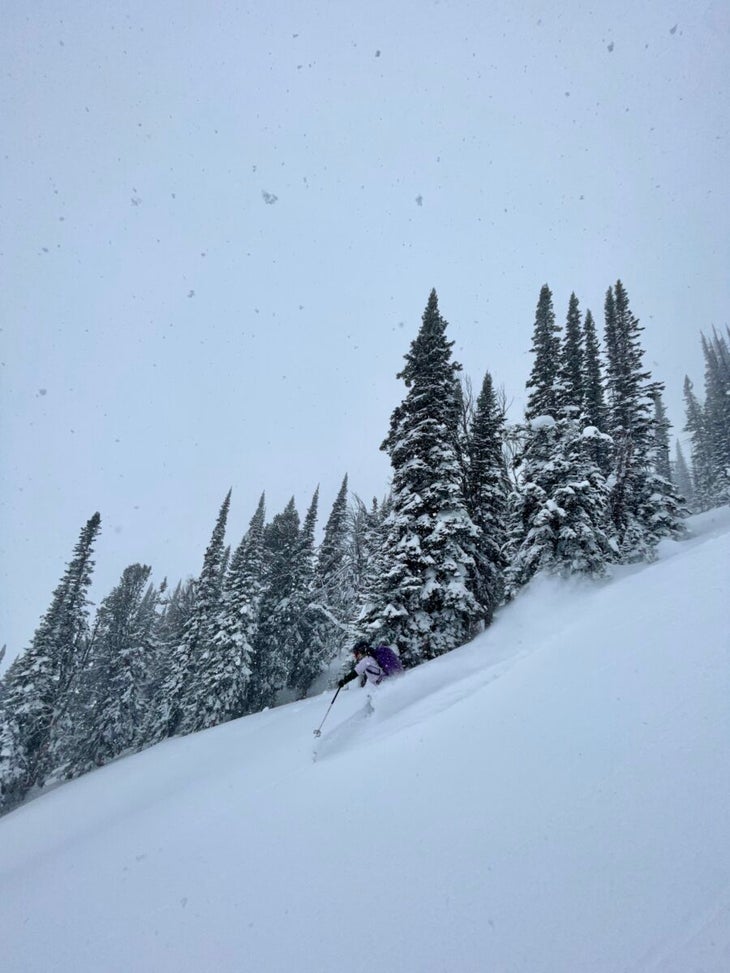 Testers are calling the new QST Echo 106 "one of the most well-rounded touring skis" they've been on and heralding it as "the perfect one-ski touring ski," which indicates that Salomon really hit the nail on the head with this one.
We may not all ski like Townsend, but we still want the same things from our skis: playfulness, reliability, and a little less weight on the uphill.
The QST Echo 106 is now available for purchase directly from Salomon. Read SKI's official review of the 2023 Salomon QST Echo 106 in the 2024 Winter Gear Guide, which will be available online in August 2023.
2023 Salomon QST Echo 106 Specifications
Waist width: 106mm
Dimensions: 139-106-126mm (181cm length)
Available lengths: 157, 166, 173, 181, 189cm
Weight (per ski): 1,760 g (181cm length)
Radius: 19m
Price: $800
More 2023 Gear Reviews
The best backcountry skis of the year
The best backcountry ski boots of 2023
The best backcountry skiing and ski touring packs