The Best Uphilling Gear of 2020
Lightweight skis, boots, and accessories designed for ski touring.
Heading out the door? Read this article on the new Outside+ app available now on iOS devices for members! Download the app.
Uphill skiing, also known as "skinning" uphill and ski touring, is a fast growing sport today, with many resorts now allowing and promoting inbounds ski touring. While some downhill skiers may not understand the point of touring uphill when there are chairlifts available, those who have embraced inbounds ski touring understand that uphilling provides time to appreciate the mountain in a whole different way. 
Because inbounds ski touring takes place at the resort where the snowpack is controlled, slopes are groomed, and designated routes exist, the gear best suited to this type of ski touring differs slightly from that required in the backcountry. Ski touring inbounds inherently focuses on the uphill portion, making lighter gear designed for speedy, unencumbered ascents the best tools for the job. If you're considering converting to an uphiller at your resort, consider ditching your heavy alpine touring setup and bulky layers for these minimalist pieces that get the job done without weighing you down. 
Want to learn more about ski touring inbounds? SKI Magazine and AIM AdventureU partnered with professional instructor Charlie MacArthur to design the online course Uphill Skiing 101. From essential gear to skills and strategies, this course teaches you everything you need to know to start earning your turns. Learn more and enroll at skimag.com/uphilling101.
Lightweight Touring Skis
G3 Findr 94
The new FINDr line is a major step forward for G3 in terms of downhill performance. The made-in-Canada pure carbon layup and full PU sidewalls significantly tighten up the ski's edge-to-edge responsiveness while damping the ski on variable snow. Testers preferred the versatile 94mm waist-width, finding it could turn on a dime and had minimal chatter, making the skis trustworthy at higher speeds and in exposed terrain. Bonus: Built-in magnets make the skis easier to handle, especially if your bindings don't have brakes. "Great stability with no chatter."
Tip / Waist / Tail (In Millimeters): 126-94-113
Lengths (In Centimeters): 154, 162, 167, 172, 177, 182, 187
Radius (In Meters): 22
Weight: 1,450g per ski
Price: $899
Blizzard Zero G 95

Just like its race and freeride skis, Blizzard's carbon mastery is fully expressed in the new Zero G line. Featuring Carbon Drive 2.0, a 3D uni-directional carbon frame in the tips and tails, and an all- paulownia wood core, the ski is damp in chunder and has increased overall performance in better snow. The brand softened up the tip and tail to allow for optimized smearing capabilities when called for, but the Zero G 95 can hold an edge when it counts with some of the best torsional rigidity in the test. With bi-directional carbon reinforcement binding mounting plates, these skis handle a fair amount of speed too, and they tenaciously take on powder, corn, and all other backcountry conditions. 
Tip / Waist / Tail (In Millimeters): 127-95-111
Lengths (In Centimeters): 164, 171, 178, 185
Radius (In Meters): 24
Weight: 1,310g per ski
Price: $840
Learn more: Award-Winning Gear
Dynafit Beast 98 W

While much of the Dynafit ski line is dripping with skinny Euro sidecuts and spandex, the Beast family keeps things on a fun-loving level. The women testers were especially impressed by the Beast 98 W, which is lightweight for the skin track but descends like a much heavier ski. With an eager, take-on-anything shape, the Beast 98 W won testers over in softer snow, and the ash-poplar core with a carbon-glass overlay reduced chatter when conditions firmed up. "I'd let these skis take me to dinner at a hut and enjoy the ride down."

Tip / Waist / Tail (In Millimeters): 124-96-115
Lengths (In Centimeters): 163, 170, 177
Radius (In Meters): 17
Weight: 1,400g per ski
Price: $700
More ski touring: Mastering the Skin Track Kick Turn
Elan Ibex 84W Carbon

The lightest ski in the backcountry test, Elan's new women's-specific Ibex model is ideal for women who want nothing but the easiest uphills possible. Featuring the brand's proprietary TubeLite wood core, this ski has two hollow carbon rods that run tip-to-tail providing liveliness while reducing weight. Testers found the Ibex 84W's descending capabilities smeary and fun, but a little chattery at high speeds. In the skin track, their weight was hardly noticeable, making them a nice pick for long tours. "Great for long, round turns in backcountry conditions."
Tip / Waist / Tail (In Millimeters): 120-84-105
Lengths (In Centimeters): 149, 156, 163, 170, 177
Radius (In Meters): 19
Weight: 1,270g per ski
Price: $600
Lightweight Ski Touring Boots
Atomic Backland Carbon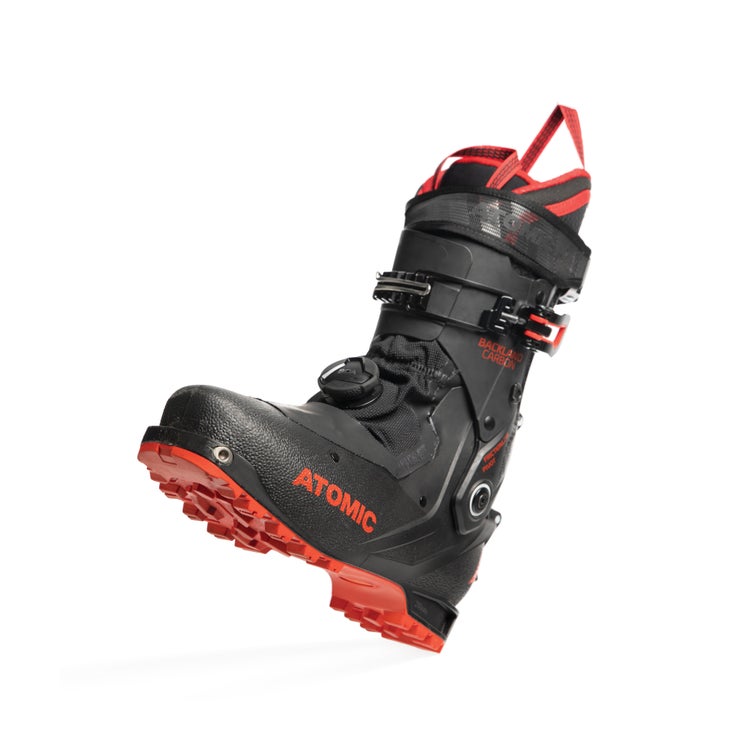 The Backland Carbon doesn't skimp on downhill performance like so many others in the superlight category. Featuring a Boa Fit System on the lower shell and a single metal buckle on the upper with a modified power strap, this boot has a true 110 flex and was able to handle skis over 100mm underfoot with ease. Thanks to a fully heat-customizable liner and shell and a whopping 74 degrees of movement in walk mode, the Backland Carbon feels more like a hiking shoe than a ski boot going uphill. Add in crampon-friendly front toe bights and machine-washable liners to fight funky smells, and this boot is the new standard for superlight ski touring and ski mountaineering.
Last Width (in millimeters): 98
Flex: 110
Weight: 1,094g
Dalbello Lupo Air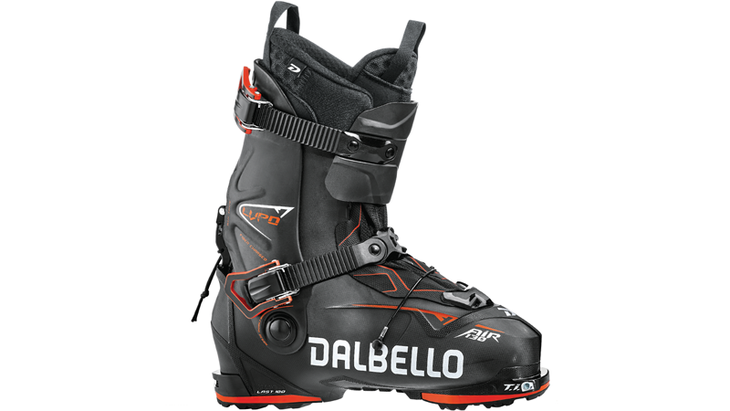 Using a unique mix of grilamid "air" material and polyamide composite carbon, the Italian brand was able to trim weight without sacrificing the performance. To make it even better, there is no need to remove the tongue when transitioning to ski tour mode. A terrific option for fans of cabrio-style boots who need a lightweight, high-performance touring option.
Last Width (in millimeters): 100
Flex: 130
Weight: 1,299g
Price: $950 
Tecnica Zero G Tour Scout W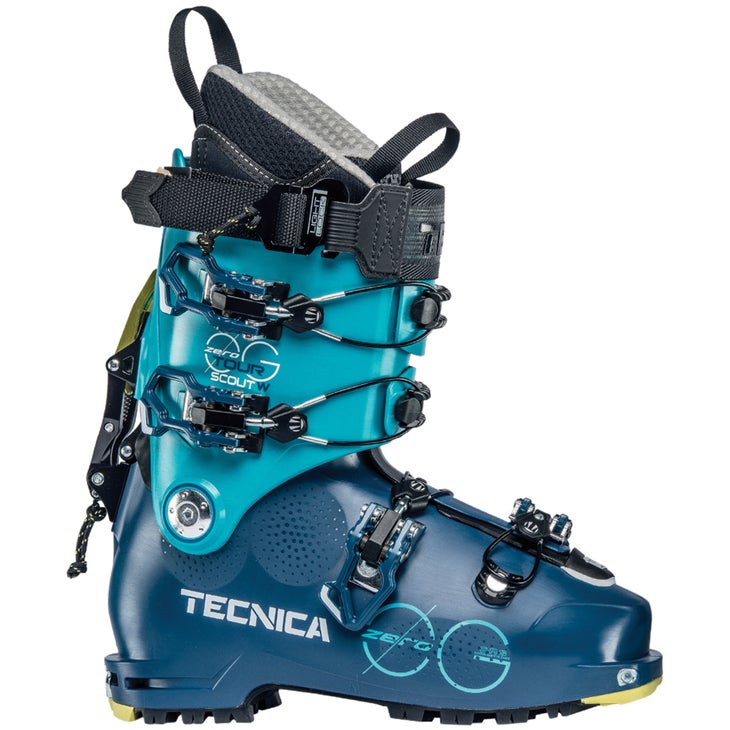 Tecnica's four-buckle Zero G boots make ascents easy but also maximize pleasure during descents. The grilamid shell is notably low-volume compared to most backcountry boots, but still features Tecnica's C.A.S. adjustability for hard-to-fit feet. The women's-specific model stands out thanks to its ability to drive any ski and its perfectly snug-yet-comfy fit.
Last Width (in millimeters): 99
Flex: 125
Weight: 1,360g
Price: $960
Technical Alpine Touring Bindings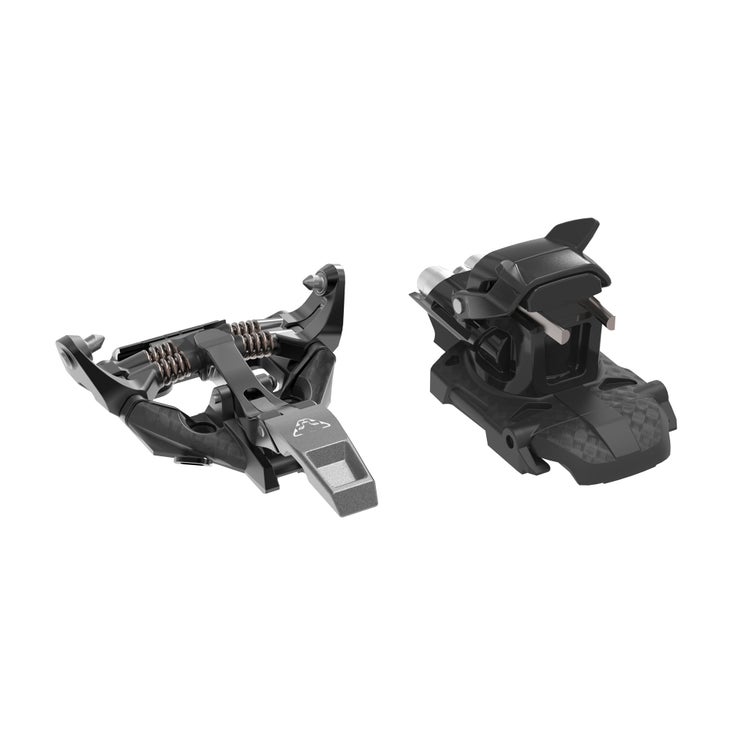 Dynafit TLT Speed Z12
Dynafit invented the tech binding, and the TLT Speed remains the industry standard. Made with durable aluminum components, a rotating heel, and weight trimmed in a number of places, the refined TLT Speed is in the upper echelon of tech bindings. And thanks to wear-and-tear reducing innovations like the bayonet lock, one pair is sure to last a long time, too.
Weight: 285g per binding
Release settings: 6-12
Brake: Optional
MSRP: $450
G3 ZED 12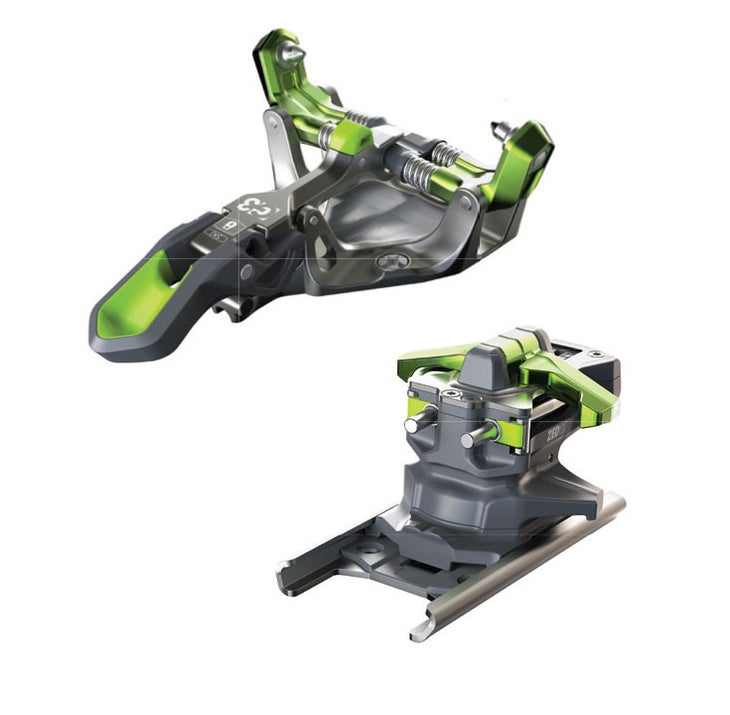 G3 re-thought its beloved ION to create a sub-350-gram, 5-12 release value tech binding that performs extremely well in steep terrain, soft snow, and most other conditions backcountry skiers will encounter. The ZED's toe retention pressure held up well enough in ski mode that we were never tempted to lock it out, even in high-consequence terrain. Optional 85-gram brakes are available for those who don't want to use leashes, but they cost extra.
Weight: 345g per binding
Release settings: 5-12
Brakes: Optional
Price: $499 (brakes, $85)
Marker Alpinist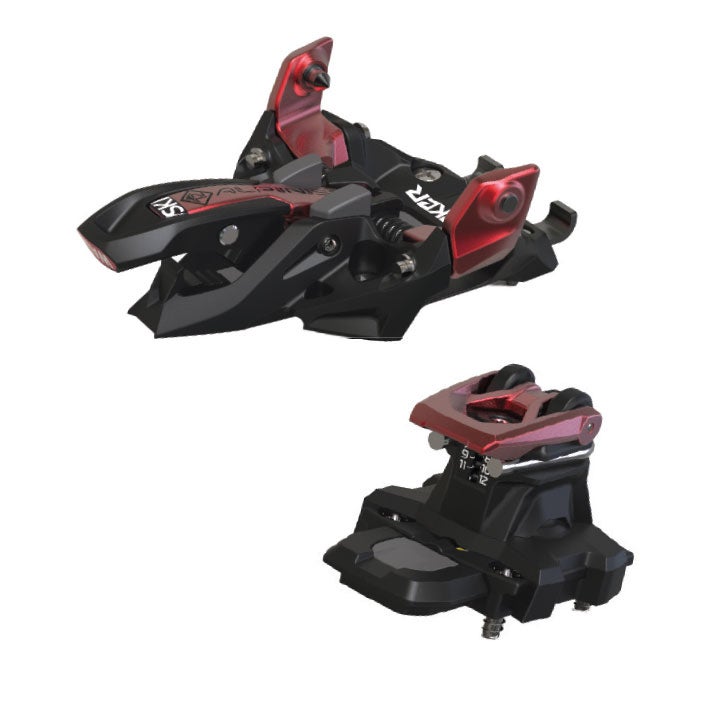 Marker continues its evolution towards backcountry binding domination with a new lightweight, low-tech option, the Alpinist. While its uphill and downhill performance is on par with the other low-tech options, the Alpinist's innovative, intuitive tour-to-ski transition won tester praise. Two rails slide forward or backward to hold down or release the optional brake, and a simple turn or flip of the heel riser is all it takes before starting up or down.
Weight:245g per binding
Release settings: 6-12
Brakes: Optional
Price: $449 (brakes $59)
G3 ION 12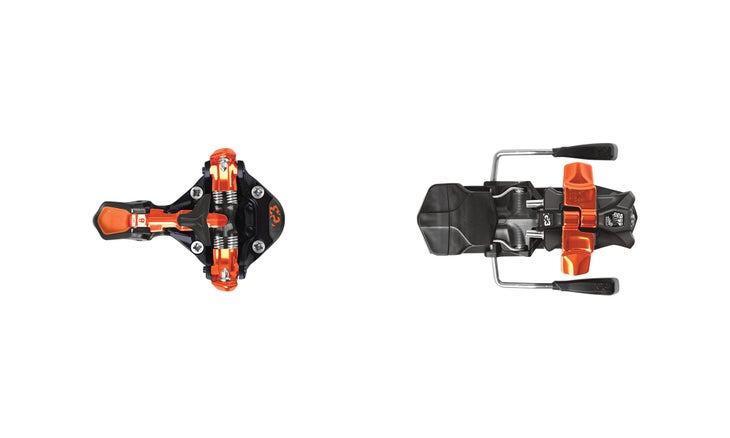 The ION has quickly risen to the top of the tech-binding market due to its ease of use, reliable retention with forward heel pressure, durability, and zero-fuss utility (all adjustments can be done with a #3 Pozi-drive). The ION returns this season with only minor tweaks, and was praised as "simple, solid, sick." For a few bucks less, it's also available as the ION 10—without brakes and therefore a bit lighter.
Weight: 595g per binding
Release setting: 5-12
Brakes: Optional
Price: $579
Fritshi Tecton 12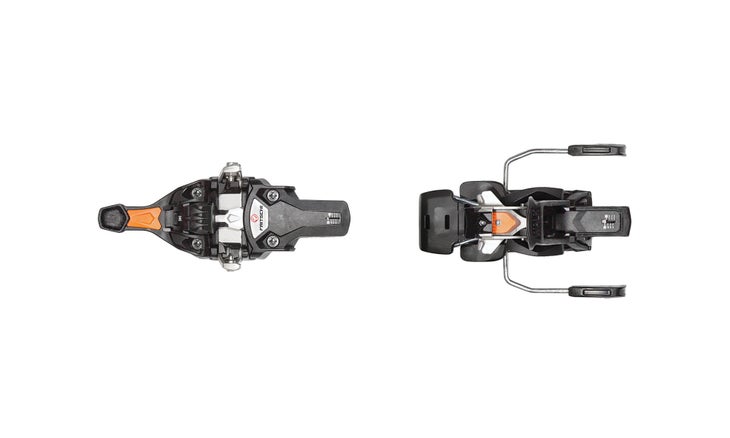 The Tecton is Fritschi's answer to the demands of a growing market: a tech binding with an alpine-style heel clamp. Using the updated toe piece from the Vipec EVO (the only tech toe with certified release values), the Tecton adds an all-new heel with DIN to 12. Testers found the new interface powerful, with more edge sensitivity than pin-style heels. Complaints? The heel risers were finicky, and the unproven reliability of the complex binding did raise a red flag for several testers.
Weight: 550g per binding without brakes
Release settings: 5-12
Brakes: Optional
Price: $649
Ski Touring Layers
Smartwool Intraknit Merino Baselayers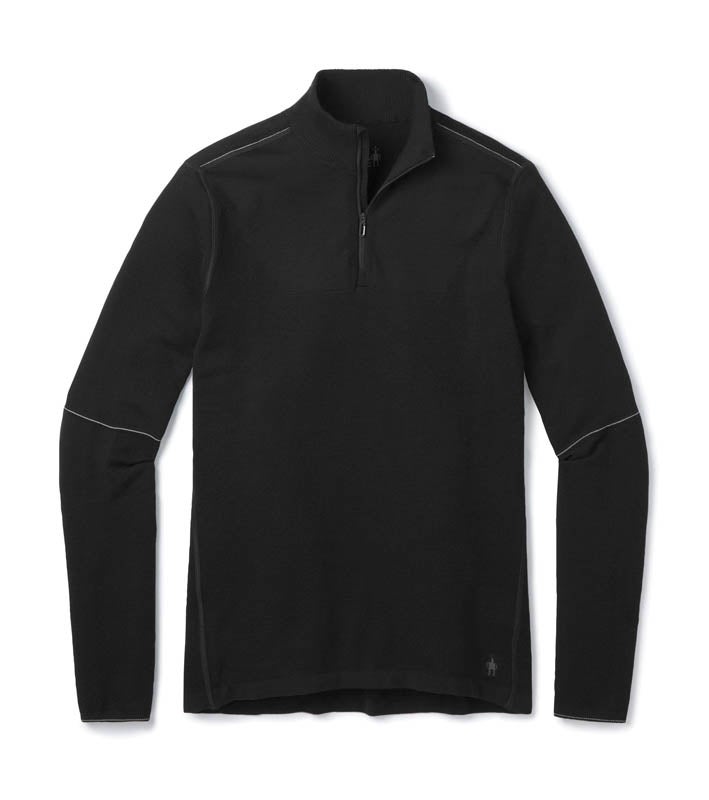 Seamless is nothing new, so to say Smartwool's innovative baselayers are seamless would be passé—and only part of the story. Instead, these 3D garments—which indeed have no seams—are much more. Crafted out of one continuous piece of fabric, Intraknit baselayers are articulated in all the right places for maximum movability as well as body-mapped for the best temperature regulation. The Intraknit baselayers come in two weights: The 100 percent Merino 250 set consists of a 1/4-zip top with terry looping, ribbing, mesh panels, and gender-specific areas on the bottoms, and is ideal for resort skiing on cold days. The lighter Merino 200 is a polyester and wool blend good for more active pursuits and comes in a crew-neck style with ribbed areas and mesh venting. A next-level baselayer that boasts excellent performance on the hill, and leaves zero waste in the production process.
Fit: Tight
Smartwool Intraknit Men's Merino 250 Quarter Zip Top: $150 [BUY NOW]
Smartwool Intraknit Women's Merino 250 Quarter Zip Top: $150 [BUY NOW]
Montane Women's Primino Hybrid Hoodie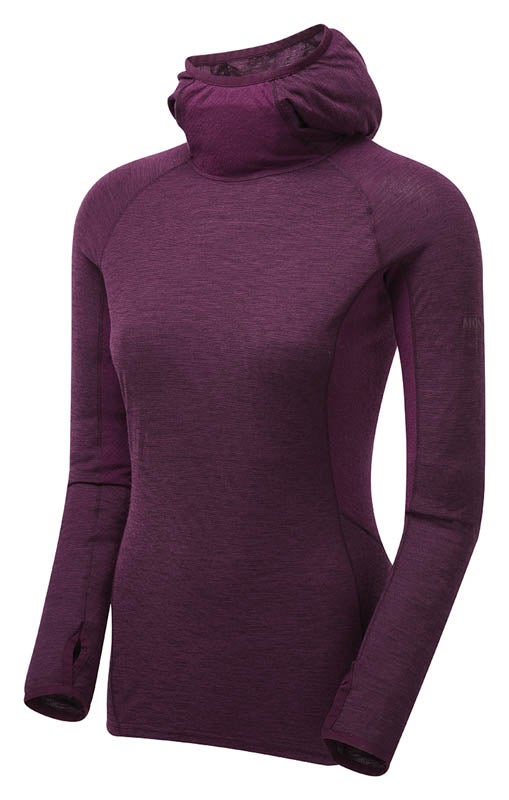 So much to love about this versatile baselayer top. One thing is the snug hood that sits right under a helmet, adding another warmth factor on cold days. We also appreciate the Merino/polyester/PrimaLoft construction that keeps it moisture-wicking, odor-resistant, and stretchy. PrimaLoft's Primino Air technology used in the side and back panels goes a long way to help regulate the inner furnace.
Fit: Tight
Montane Primino Hybrid Hoodie: $100
Eddie Bauer EverTherm Stretch Hoody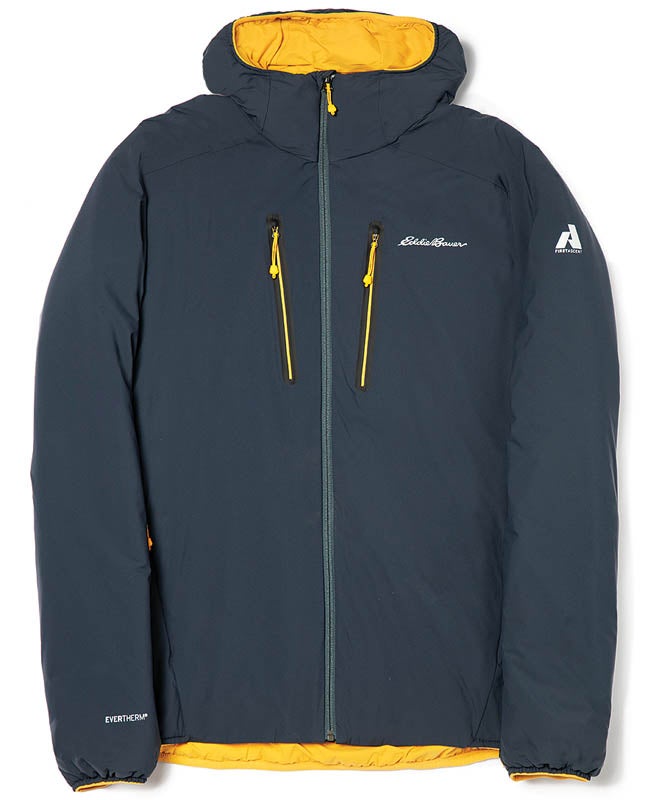 Eddie Bauer debuted its innovative EverTherm technology last season in a midlayer jacket packed with sheets of down, called Thindown Flex, rather than feathers, thus eliminating cold spots and heat loss at the seams. This season, the brand upped its game by moving to a four-way stretch outer fabric for great movability and adding a hood. A game-changer.
Fit: Athletic
Price: $399
Arc'teryx Atom LT Hoody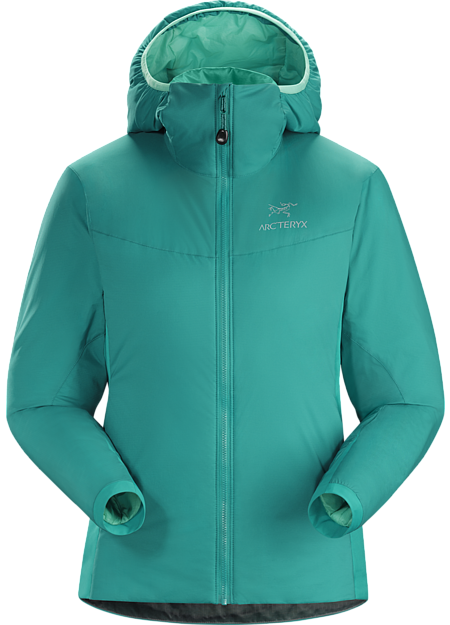 This synthetic insulated layer boasts the best of Arc'teryx's high-performance pedigree. Part of the brand's Atom line, this versatile hoody is a weather-resistant insulating layer that can be worn as a stand-alone jacket in fairer conditions, or as a minimalist and lightweight layering piece in less forgiving weather and environments. Featuring weightless, highly compressible Coreloft insulation in the torso, arms, and hood, the Atom LT has beef in all the right areas, yet air-permeable fleece in the side panels and underarms to make the LT Hoody the perfect activity layer.
Uphilling Accessories
Ortovox Tour Series Trace 25 Pack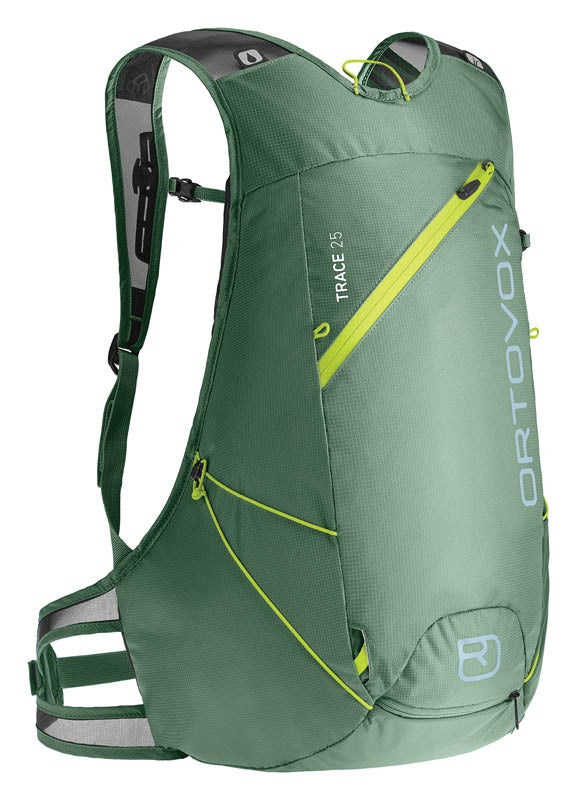 For those who like to get up to get down—but particularly enjoy the up—the Trace 25 is just the ticket. A ski touring-oriented pack, the Trace 25 is compact and lightweight, with thoughtfully designed pockets to stash your safety equipment, extra layer, hydration system, and a few snacks. Ortovox even thought to include reflective elements on the pack so you're visible during dawn and dusk patrols. 
Ortovox Trace 25 MSRP: $120 [BUY NOW]
Leki Tour Vision V Plus Glove + Guide Lite V Pole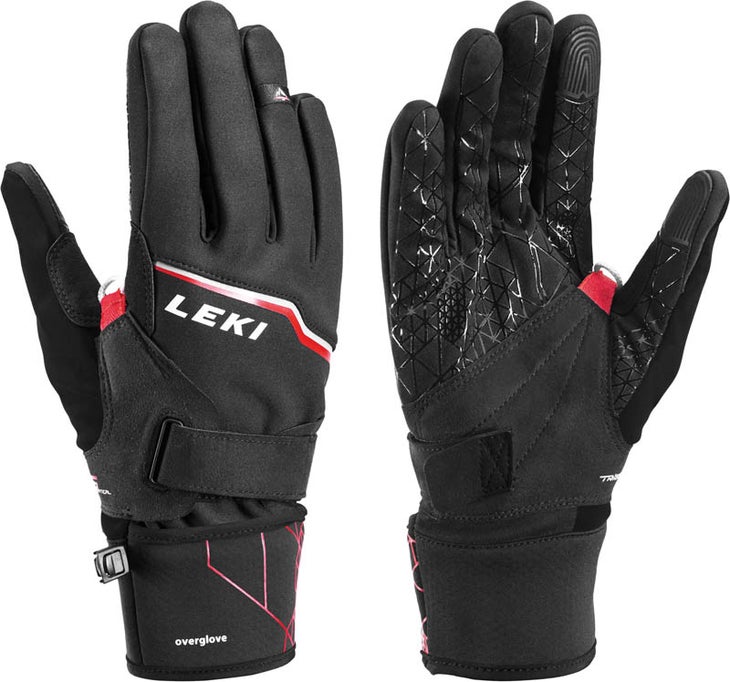 Spring weather can be fickle in the backcountry. Enter the Tour Vision V Plus glove, featuring water-resistant neoprene and an integrated over glove to slip on when the wind suddenly picks up. Pair the Trigger S-ready glove with Leki's Guide Lite V aluminum pole with Leki's Speedlock 2 system and baskets designed to help with quick binding riser adjustments.
Leki Tour Vision V Plus Gloves: $120
Leki Guide Lite V Poles: $170

Ortovox Swisswool Leather Glove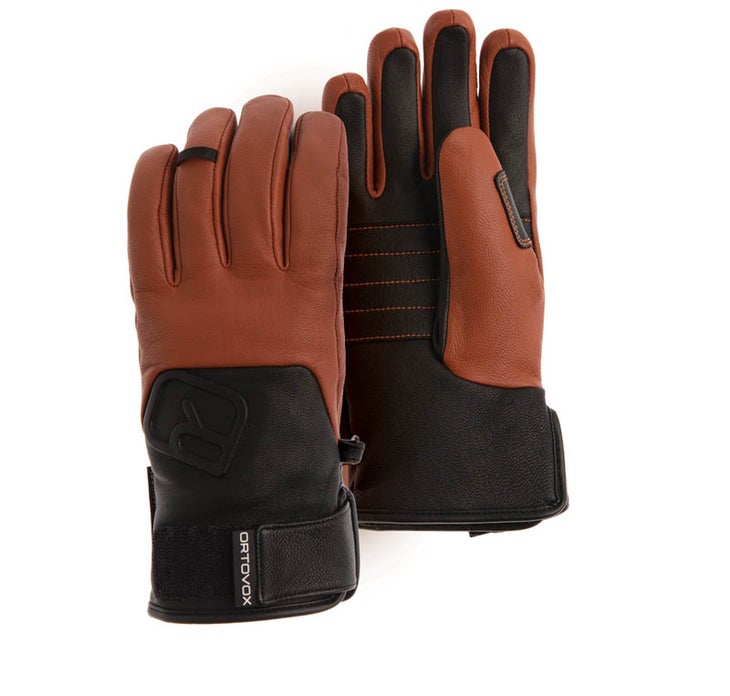 Skiers who generate some real heat while bashing spring bumps, skinning into the backcountry, and ripping rapid-fire resort laps need a more minimalist glove that's both water resistant and moisture-wicking. A tall order, but the new Swisswool Leather Glove delivers with a water resistant and durable goatskin outer layer. While the glove is slim, Swisswool padding ensures hands stay warm if temps suddenly turn frosty and a Merino wool lining wicks sweat when you're heating up.
Ortovox Swisswool Leather Glove: $150