The Best Time to Replace Your Ski Gear Is Now—5 Ways to Save
If you're in the market for new (to you) skis or outerwear this spring, the deals are yours for the taking.
Heading out the door? Read this article on the new Outside+ app available now on iOS devices for members! Download the app.
For many of us, powder day memories are fading and biking and backpacking are on the brain. But before you put storage wax on your skis and forget about them until next winter, take a quick inventory of your gear. If you've thought about adding a pair of powder skis to your quiver or need to upgrade your aging ski pants, now is the time. For maximum savings, consider secondhand. For example, every spring, ski shops are looking to offload their demo fleets, offering up lightly used skis at killer prices. The trick is knowing where to go to find the goods.
        A Good Reminder: 8 Signs It Might Be Time For New Skis
As certified gear junkies, we're always on the lookout for a good bargain. To that end, we've done the legwork to figure out where you can find the best deals on lightly used ski gear this spring. It doesn't matter if you live in the heart of ski country or on the beaches of Florida, or if you're looking for an entire ski setup or have your heart set on a specific pair of skis, there's a cheap way to find and buy ski gear that will work for you.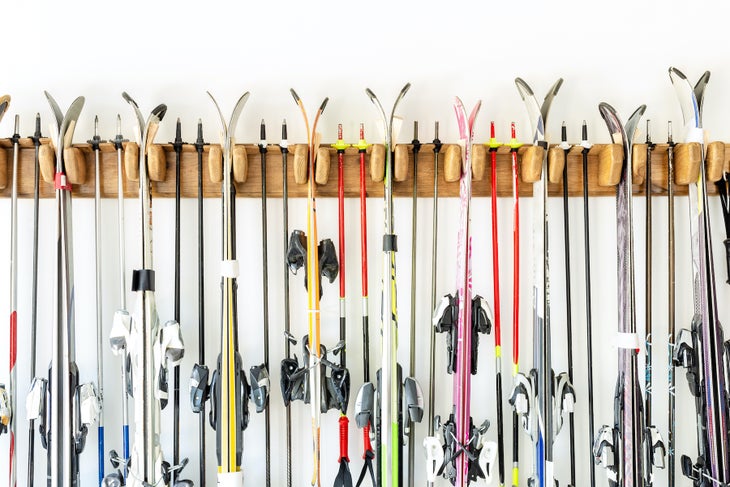 5 Ways To Scores Great Deals on New (To You) Gear
Local Ski Shops
Best For: Demos and last season's gear
In the spring and summer, ski shops tend to clean out their inventory, getting rid of demos and gear from last winter that didn't sell in preparation for new inventory in the fall. If you don't live near a ski shop, companies like Powder7 in Golden, Colo., put their gear—and most importantly, their demos—for sale online and will ship all over the country. And since they are winter sports-specific, you don't have to sift through camping and bike gear.
Facebook Marketplace
Best For: Lightly used gear sold by owner
Facebook is arguably the best place to make a direct skier-to-skier gear purchase. In addition to Facebook Marketplace, there are tons of regional Facebook groups created to help people buy and sell gear locally. The Front Range Ski And Snowboard Swap group for Colorado skiers and the PNW Ski Classifieds for skiers in Oregon, Washington, and Idaho are two examples. If there isn't a group for your neck of the woods, there are also national groups like Ski & Snowboard Swap. Just be prepared to sort out shipping with the seller. Craigslist provides a similar service, like this roundup of ski gear being sold by skiers in Los Angeles. Be sure to search your area for similar gear being sold near you. This is especially useful if you're looking for a particular ski model or gear brand.
Consignment and Used Sports Stores
Best For: Beginners looking to gear up on the cheap
For people just dipping a toe into the sport, local consignment and used sporting goods stores, like Outabounds near Denver and The Sports Exchange in Missoula, can be great resources, selling used gear at reasonable prices. Some it might be a little more beat up, but it's a fine option for people still figuring out if skiing is their jam. The cool thing here is that you can shop a large selection of gear from local riders, can try everything on, and don't have to worry about shipping. That said, if you have a specific ski or boot in mind, it may be easier to find online. Which brings us to…
Online Consignment and Used Sports Websites
Best For: Biggest selection and nationwide shipping
For the widest selection of used gear, check out online retailers like GearTrade, Out&Back, and SidelineSwap, which specialize in selling and shipping used gear. Play It Again Sports, which also has brick-and-mortar shops, is another option. With Play It Again Sports, you can have the gear shipped to you, or save a buck and pick it up at a store. The same goes for Feral, a used gear shop in Denver. Shop online and either pick it up at their store in Denver for free or have it shipped to you.
Ski Swaps
Best For: In-person perusing
Depending on where you live, a ski swap could be a great option to pick up lightly used gear. These usually take place closer to ski season, and are often put on by local ski patrols, race teams, or ski clubs. It's basically a giant snow-sports-focused garage sale where gear is sold for cheap. The perk here is that there's a ton of different gear and you can try things on before pulling the trigger. Some of the biggest swaps, including the two-day Spokane ski swap, put on by the Mt. Spokane Ski Patrol, takes place at the Spokane County Fair and Expo Center and features upwards of 24,000 pieces of gear.