Big Spins Dominate the Podiums at Copper's Freeski Big Air World Cup
The Americans were shut out of the medals, with the top U.S. finishers New Hampshire siblings Hunter and Grace Henderson.
Heading out the door? Read this article on the new Outside+ app available now on iOS devices for members! Download the app.
The second World Cup event of the season in freeski Big Air ended with no-pressure victory laps for men's winner Birk Ruud of Norway and Megan Oldham of Canada, both of whom out-scored the fields on their first two tricks.
In other words, they could go home without going big in round three. 
Watch: Podium women's runs from the freeskiing Big Air World Cup at Copper
Oldham seized that option, floating an easy 360 over the knuckle to end the contest, beating Olympic bronze medalist Mathilde Gremaud of Switzerland 176 to 172 based on Oldham's earlier double cork 1260 variations. Gremaud used a 1260 and a 1080 to capture the silver. Olivia Asselin of Canada took third; her best tricks were a pair of double cork 1080s. 
The women who took the biggest risks on Friday ended up empty-handed. In round two, 18-year-old Kirsty Muir of Great Britain landed a double cork 1440 but botched a Bio 900 in round three to place fifth. Also in round two, the 2022 Olympic silver medalist and 2019 world champion Tess Ledeux of France stomped the biggest women's trick of the day: a double cork 1620 to earn a competition-high 95 points, but she had already slammed hard in round one and crashed on a double cork 1080 in her last chance to win her second straight contest. Instead, Ledeux finished sixth—one place ahead of the lone American in the women's final, Grace Henderson, 21, who grew up in New Hampshire but currently resides in Park City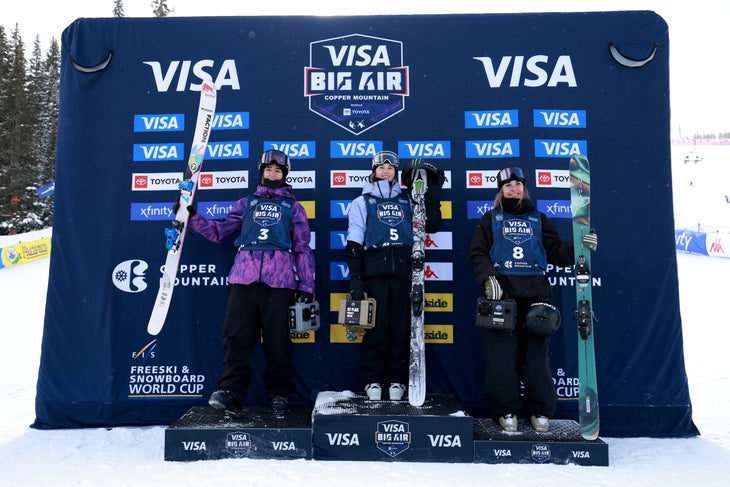 "All the girls in the field are the best of the best. I'm just so happy to be able to squeak into finals and put down two runs," Henderson said.
The men's side was a different story. Five of the 10 finalists threw giant 1980s (five-and-a-half rotations), and the United States loaded the field with four skiers aiming to win. 
Watch: Podium Men's runs from the freeskiing Big Air World Cup at Copper
In the end, the U.S. was shut out of the medals while Norway went 1-3, led by Olympic champion Birk Ruud who scored 192 points to win his second consecutive World Cup Big Air contest. But Ruud didn't coast in the last round like he did at the Beijing Olympics 10 months ago. Instead, he finished his day by bumping up his winning score by landing a double cork Bio 1980 mute grab that was visible to every car on I-70 like a firework on New Year's Eve.
The top qualifier, Timothe Sivignon of France, took second, trailing Ruud by 7.75 points. Norway's Sebastian Schjerve took third. Grace Henderson's younger brother, Hunter, was the top American, placing fifth.
"Honestly, traveling around with my sister is one of my favorite parts of doing all this," said Henderson who will celebrate his 20th birthday in 12 days. 
Watch: U.S. Team highlights from the freeskiing Big Air World Cup at Copper
Troy Podmilsak finished sixth. The 18-year-old from Park City was hoping to capture his second Big Air podium after placing third in Chur, Switzerland in October. Since a heel injury had kept the 2022 junior world champion in Big Air off snow until September, he said of Friday's performance, "I was super-proud of myself, just really stoked."
Mac Forehand placed eighth, followed by the 2022 Beijing gold medalist in slopestyle, Alex Hall, in ninth. In the second and third round, Hall did a right double cork 1080 pretzel— in other words, a difficult "bring-back" move where he switches direction mid-air to land switch. It didn't score well (64.25 at best) but it was definitely eye-catching.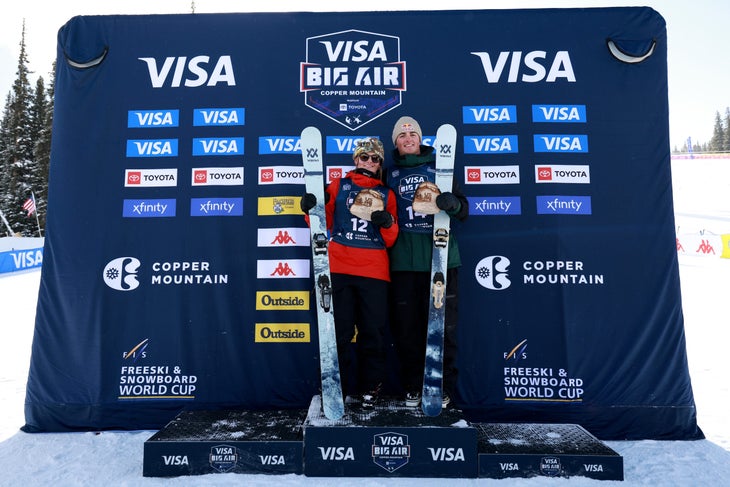 "I learned that one last year," Hall explained. "It's just super fun to do and I figured I'd done enough spin-to-win tricks in the last couple of years, so I thought I'd switch it up, do something I'm really proud of and just have fun with it."
Freeskiing resumes on Saturday with the men's and women's ski halfpipe finals at Copper Mountain. Find out how to watch the competition for free on Outside Watch, and who's most likely to go big in the pipe tomorrow.
2022 Visa Big Air Freeski World Cup Finishers
| | |
| --- | --- |
| Competitor (Men's) | Score |
| Birk Ruud (NOR) | 192.00 |
| Timothe Sivignon (FRA) | 184.25 |
| Sebastian Schjerve (NOR) | 182.50 |
| Lukas Muellauer (AUT) | 170.50 |
| Hunter Henderson (USA) | 169.75 |
| Troy Podmilsak (USA) | 165.00 |
| Jesper Tjader (SWE) | 163.50 |
| Mac Forehand (USA) | 159.75 |
| Alexander Hall (USA) | 150.00 |
| Oliwer Magnusson (SWE) | 145.50 |
| | |
| --- | --- |
| Competitor (Women's) | Score |
| Megan Oldham (CAN) | 176.00 |
| Mathilde Gremaud (SUI) | 172.00 |
| Olivia Asselin (CAN) | 169.00 |
| Sarah Hoefflin (SUI) | 164.00 |
| Kirsty Muir (GBR) | 161.25 |
| Tess Ledeux (FRA) | 136.50 |
| Grace Henderson (USA) | 134.00 |
| Sandra Eie (NOR) | 112.75 |