ICYMI: Gwyneth Paltrow's Ski Crash Goes to Trial—and More News
A ski crash involving everybody's favorite celebrity health guru Gwyneth Paltrow finally made its way to court this week and boy is this a way weirder case than I ever imagined.
Heading out the door? Read this article on the new Outside+ app available now on iOS devices for members! Download the app.
Gwyneth Paltrow Ski Crash Lawsuit Heads to Court
After nearly seven years, a ski crash involving everybody's favorite celebrity health guru Gwyneth Paltrow finally made its way to court this week and boy is this a way weirder case than I ever imagined. Paltrow is being sued by a retired optometrist to the tune of $3.4 million for a ski collision involving the pair at Deer Valley, Utah in 2016. The collision reportedly left the plaintiff with four broken ribs and an unspecified brain injury, which admittedly sounds pretty awful. The catch here seems to be Paltrow's defense, which claims that she was downhill from the plaintiff at the time of the accident and that he in fact ran into her. Now, I'm no legal brain, but I did grow up getting yelled at by the fluorescent-vested Know the Code police at my home resort, and even I know that if there's an ounce of truth to that defense, this guy is going to need to take his turkey chili and boot warmers to go. 
Skiing into a Vermont Sunrise 
Yep, it's as dreamy as it sounds. Thanks to Mike Hayes for sharing one heck of a run from New England's Miracle March.
Sauna Gondola? Yes, Please
It's not live and late-breaking, but it's news to us that Finland has been up there near the North Pole just getting their sweat and ski on with sauni gondis? Did anyone else know about this?! Apparently, Ylläs Ski Resort has been operating wood-warmed gondi boxes for a few years now, and we are HERE for it. An appointment costs 1350 euros split between a group of nine to 12 people and includes not only a 20-minute ride in the crisper cabin but also a sauna and showers at the ski lodge afterward. Beats the sweat soup at the summit jacuzzi, are we right?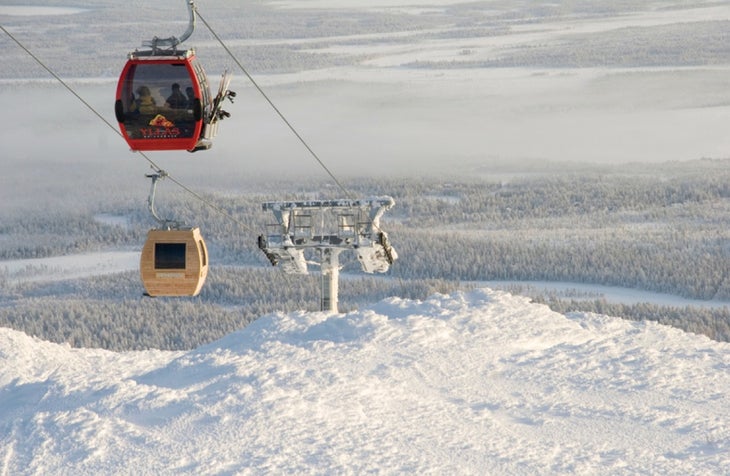 Mad River Glen Legend Betsy Pratt Passes Away
Betsy Pratt, the former owner of Mad River Glen, passed away at age 95 this week, leaving behind one of the greatest legacies not only in New England skiing, but in the sport at large. As part of the ownership group that purchased the mountain in 1972, she was instrumental in Mad River Glen's shift to a co-op ownership model in 1995, something she believed could save the soul of the ski area she loved in the face of growing resort conglomerates. Today it remains the only cooperatively owned ski area in the country, with a multi-generational following of devout East Coast shredders. The visionary passed away peacefully at her home, watching a live stream of snow falling on the resort she called home. What a ride. 
Texas couple suing Jackson Hole for damages
Apparently, we have become the People's Court of skiing, and I for one, am fully okay with it. A Texas couple (aka the Florida man of skiing) is suing Jackson Hole Mountain Resort and its rental shop for faulty equipment that led to an injurious tumble in 2021. According to the plaintiffs, this fall was caused when one of the skiers' binding malfunctioned mid-run leading to what many are considering a total yard sale. The skier suffered a dislocated shoulder and a torn-up knee and broke off her nails inside of her gloves, but it doesn't stop there. According to the Cowboy State Daily, the plaintiff's husband, who did not take a tumble and was standing nearby, is alleging the accident has led to his own "spousal consortium," or a lack of action in the love department. Strange flex from plaintiff number two, but maybe Jackson Hole can reignite this flame.