If You Had an Ikon Pass During the Pandemic Shut Down, Look For $10-$150 Credit
Alterra Mountain Company settled a class-action lawsuit for Ikon Pass holders affected by the pandemic shut down in March 2020.
Heading out the door? Read this article on the new Outside+ app available now on iOS devices for members! Download the app.
On March 15, 2020, chairlifts, gondola, and surface lifts at ski resorts across the globe grinded to a sad halt. What should have been the height of ski season—the sun-shiny days of spring break, deck beers, and lingering daylight—found us all hunkering down in our homes, wondering just how many ways this global pandemic would wreak havoc on our lives.
While we've mostly come through the other side with many, many lessons learned, there's still fallout, the latest of which is affecting Ikon Pass holders. Alterra Mountain Company, Ikon's parent company, settled a class action lawsuit brought by nine skiers who claimed that the company failed to refund money to pass holders after the pandemic closed the ski resorts prematurely. The settlement was made back in October, but the judge just officially approved the deal.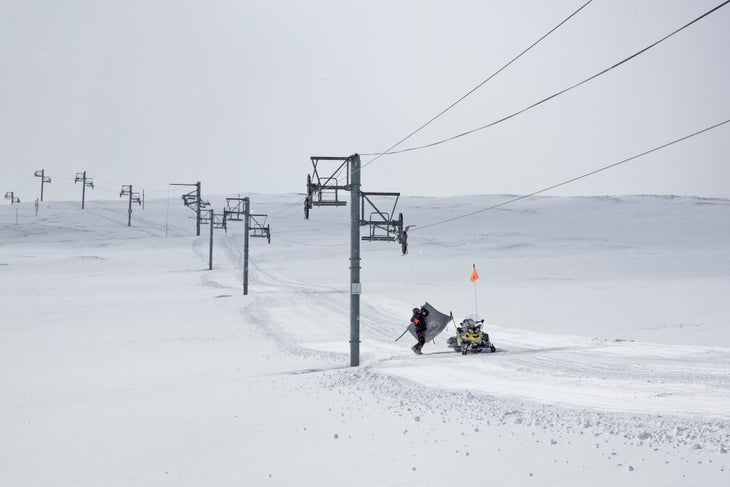 The settlement of $20 million will put money back in the pockets of all Ikon Pass holders in the form of a credit on their account ranging from $10-$150 per person.
According to the complaint, the heart of the issue isn't the early closure of the resorts, which all parties agree was out of anyone's reasonable control, but rather Alterra's failure to subsequently offer any type of refund or credit.
"Despite not providing the promised ski access, Defendants did not offer a refund (or even partial refund) on passes," reads the complaint filed back in April of 2020. "Instead, Defendant's kept all of skiers' money. With hundreds of thousands of pass holders, this amounts to tens of millions (or more) in unjust profits."
A similar class action lawsuit was filed against Vail Resorts, but with a very different outcome. In McAuliffe vs. Vail Corp., a judge ultimately dismissed the suit, citing that Vail's credit to pass holders toward 2020-'21 season passes, as well as 20-percent price cut on Epic Passes across the board, satisfied the company's obligation to its pass holders.
Lead partner in the Calif.-based law firm Dovel and Luner that represented the plaintiffs, Simon Franzini, was pleased with the settlement and what it means for all Ikon Pass skiers affected.
"It feels good to get a real, meaningful recovery for class members," he wrote in a post on LinkedIn after the settlement was approved by the judge. "And I am especially happy with this settlement because the funds are deposited automatically in passholder accounts–meaning that all class members will benefit, even without filing a claim."
If you were one of the hundreds of thousands of Ikon Pass skiers whose season ended abruptly in 2020, you're entitled to at least $10 if you used your pass seven or more days up until the pandemic closures. See the chart below for all of the details.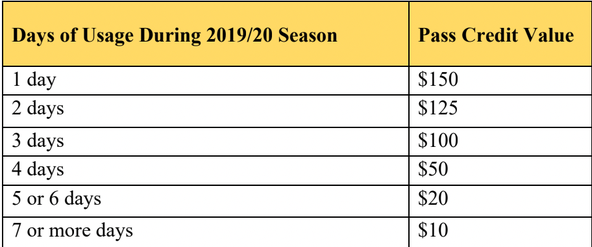 The money will be deposited automatically into your Ikon account, you don't need to file a claim or make contact with Alterra.
For its part, Alterra Mountain Company stood by its decision to shutter its resorts when the pandemic hit, and expressed a desire to put the issue to bed. The company didn't address the pass credits.
"In response to the COVID-19 pandemic in March 2020, Alterra Mountain Company, together with local, state, and federal authorities, made the difficult decision to shut down our operations to protect the health and safety of our guests, our employees, and the local communities that support our resorts," the company shared in a prepared statement. "Several class action lawsuits were subsequently filed alleging the closure prevented Ikon Pass holders from accessing our ski facilities. Although we fully stand by the decision to pause operations in the face of unprecedented and unknown health and safety risks, we wanted to move beyond March 2020 and have agreed to a settlement resolution for our valued pass holders who were impacted."
For more information, check out skipasssettlement.com.