A Report From Inside Little Cottonwood Canyon's Longest Interlodge Ever
With eight feet of snow in four days, Utah's Alta and Snowbird are officially buried.
Heading out the door? Read this article on the new Outside+ app available now on iOS devices for members! Download the app.
At 10:30 p.m. Monday night, Utah's Little Cottonwood Canyon went into interlodge, when the town of Alta prohibits outdoor travel of any kind due to high avalanche danger. The Utah Department of Transportation closed State Route 210, the two-lane highway up Little Cottonwood Canyon, due to what they've called historic avalanche activity. With high winds and over eight feet of snow in the past four days, the Utah Avalanche Center issued an extreme avalanche danger earlier in the week, the highest rating on the forecasting scale.
Photo Gallery: Snowbird Skiers Feast on 8 Feet of Powder After 60-Plus Hours Sheltering in Place
While the canyon is still closed to travel, the interlodge was lifted on Thursday at around 10 a.m., meaning the record for the longest interlodge has officially been broken. The previous longest interlodge was in February 2020, when the canyon was closed for 52 hours, roughly two and a half days. As of Thursday morning, the shutdown had lasted 60 hours.
"Usually, interlodge lasts a couple of hours," said Rosie O'Grady, director of sales and marketing at the Alta Lodge. "This is something that can happen, but it requires a perfect storm."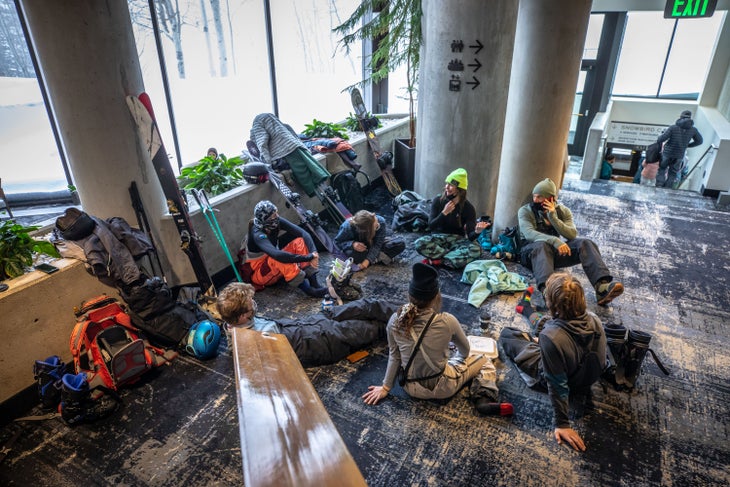 Lexi Dowdall, a blogger for Ski Utah and the freeride director for the International Freeskiers Association, has been stuck inside a 12-by-16-foot room in employee housing near Alta's Wildcat lift since Monday. "I've been enjoying time with my watercolors and I've been reading Peter Matthiessen's classic book, 'The Snow Leopard,'" Dowdall said on Thursday morning as she awaited news that the ski areas may open to those already in the canyon, an experience affectionately known in the region as a "country club day," when the road remains closed but the ski areas are able to operate.
Related: Historic Avalanche Kills Four in Utah Backcountry
Dowdall grew up skiing Snowbird and Alta—her dad worked as an emergency medical doctor at the Snowbird clinic—so she's been experiencing interlodges for much of her life. "But I've never been interlodged for more than 28 hours before," Dowdall said. "Because it was snowing for an inch an hour for some of this storm, they can't keep up with avalanche mitigation. On Tuesday, Alta recorded 26 inches in 24 hours and there have been historic slides in the lower canyon."
Her mantra for getting through the last few days? "It's going to be worth it when we get to ski."