Skier Sets Fastest Known Time on Mount Hood in Just His Underpants
Heading out the door? Read this article on the new Outside+ app available now on iOS devices for members! Download the app.
Skier Jack Kuenzle just redefined the concept of going fast and light in the mountains. On Sunday, Kuenzle skied up and down Oregon's 11,249-foot Mount Hood in 1 hour 31 minutes 31 seconds—a mark that is believed to be the new fastest known time.
Kuenzle, 26, who hails from Connecticut, accomplished the record-setting feat while wearing little more than a pair of small, hip-hugging shorts, prompting Oregon's Statesman Journal to run a story with the headline "Half-naked ski mountaineer sets speed record on Mount Hood."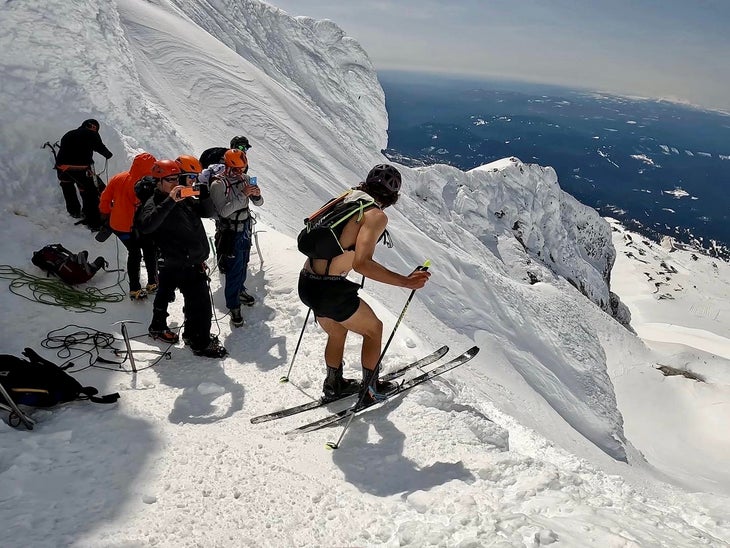 "I felt a little stupid, to be honest, and when you look that dumb you have to go quickly," Kuenzle told the newspaper. While Kuenzle's outfit was uncharacteristically light, he did bring the requisite safety gear with him, wearing a backpack containing crampons and an ice ax in case of a fall.
The metrics of Kuenzle's ascent are dizzying: he skinned up 5,254 vertical feet from the Timberline Lodge parking lot to the summit in 1 hour 16 minutes, which shattered the old record by nearly seven minutes. His time for the full journey appears to have topped the previous record of 1 hour 44 minutes, set by skier Jason Dorais in 2014. Kuenzle said his unorthodox outfit was based more on function than fashion: skiing uphill nearly naked kept his body cool.
"For me, it's a real battle to stay cool enough—my body just puts out an enormous amount of heat during these climbs—so that's why I do it," he said. "But yeah, when I went past people, it was hard to tell whether they were cheering or laughing at me." The newspaper cautioned readers not to try Kuenzle's stunt themselves.