This Rowdy Resort Finally Has Lift-Accessed Mountain Biking That Rivals the Skiing
Jackson Hole just expanded its bike park for the gravity-fed summer fun skiers seek during the summer and beyond.
Heading out the door? Read this article on the new Outside+ app available now on iOS devices for members! Download the app.
There's no place to push your skiing like the steep slopes at Jackson Hole Mountain Resort. Pulling into the parking lot in the winter always gives me that familiar feeling of giddy excitement mixed with some nervous butterflies for what's to come.  This time, however, I'm gearing up in the parking lot with knee pads and a full-face helmet, which some might agree is perhaps a little more frightening.
It's June, and JHMR is putting the finishing touches on their newly expanded lift-accessed bike park.
For a resort that boasts some of North America's gnarliest ski terrain, Jackson Hole was slow to bring that pucker factor into their summer bike park. The ski resort opened a small downhill bike park in 2011 with purpose-built mountain bike trails crafted with the help of Gravity Logic, the bike park design company that's had a hand in most major bike parks like Whistler, Winter Park's Trestle, and Deer Valley. While expanding the bike park has always been in the master plan, it took ten years for JHMR's bike park to extend past seven mellow slopes off the Teewinot chair.
The original trails provide rocky tech sections to big tabletop jumps to smooth beginner flow trails, but the short laps always left something to be desired. And, if there's a lift line, it's a toss-up between pedaling to the top or riding the 400-foot lift.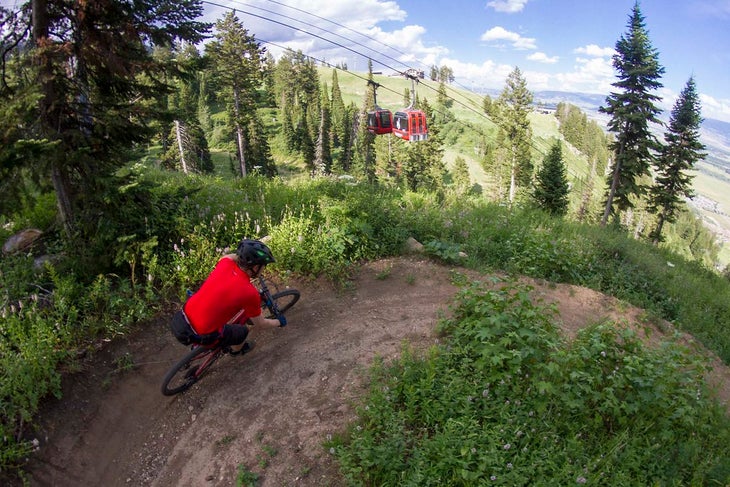 Starting this summer, however, the Sweetwater Gondola is hauling bikes higher on the mountain and there are four new trails that feed into the lower Teewinot zone. Whether you opt for the big swoopy turns on Solitoga, freeride jumps on Deer Jump, fast berms on Deepest Darkest, or Dirty Harry's steep, puckering tech, the 1,276-foot ride down from the top of Sweetwater feels like a proper Jackson Hole adventure.
JHMR's Operations Manager Tim Mason says that there have been talks for a while about going higher on the mountain, and it's what locals have been asking for for a while.
"There was no question we had more terrain we weren't utilizing, but we knew that to expand we had to do it wisely," says Mason. Sure, you can cut a few bike trails down the mountain and spin lifts in the summer, but proper bike parks take maintenance, especially in dry areas in the Rockies where high-traffic trails quickly become dusty, blown out, and filled with brake bumps without constant upkeep.
"It's not cheap to maintain downhill trails," continues Mason. "And it takes a few summers to build a proper downhill trail. By the time the snow melts, we don't have much time to work with. But if we're not the biggest, we want to be the best maintained." Gravity Logic was crucial in getting the initial bike park off the ground back in 2011, but over the last few years JHMR has put resources into their own in-house trail crew, a robust team of 15 to 20 trail builders who are constantly building, fixing, and watering down trails throughout the summer.
Tons of ski resorts in North America are investing heavily into summer operations, looking for more ways to use the terrain available and infrastructure they have in place. Many resorts, like Deer Valley, Winter Park, Grand Targhee, and now JHMR, have invested in becoming proper bike destinations, while others—like JHMR's neighbor Snow King Mountain—have gone the route of alpine coasters and zip lines.
Whatever the draw is, ski resorts are seeing record summer numbers, and more traffic in the off-season can help resorts stay afloat on low snow years.
Related: Admit It—You Kind of Want to Ride One of These Mountain Coasters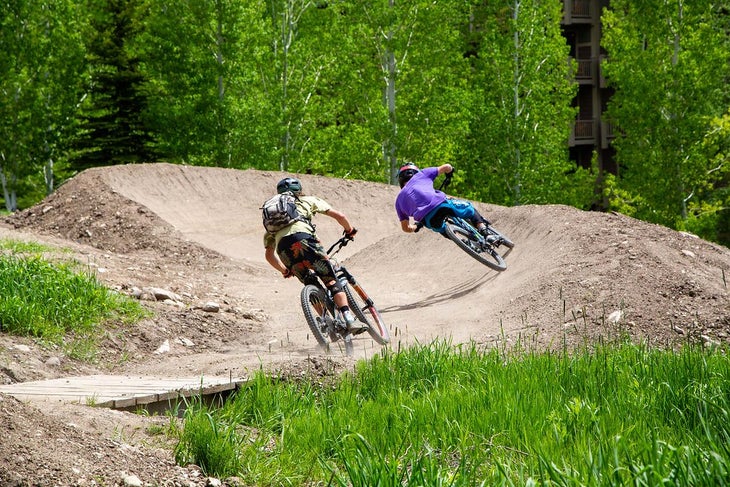 "We want people to be able to come here and challenge themselves," says JHMR President Mary Kate Buckley. "We're not trying to become an amusement park, you won't see any alpine coasters here." Mason says that JHMR's goal is to continue to use more of their steep terrain in the summer, but to preserve a more alpine and European feel with hiking trails, via ferratas, and a bigger bike park.
"There are so many ideas and so much of this mountain to develop," says Mason. "But the biggest feedback we got from locals was that they wanted us to go higher on the mountain with the bike trails. More and more people are biking every year, so in terms of expansion it's what makes sense."
Check Yourself Before You Wreck Yourself With These Mountain Biking Tips for Beginners
JHMR's lifts opened for biking last Saturday, June 12, with the first two Sweetwater trails—Deer Jump and Solitoga—in prime condition. Dirty Harry and Deepest Darkest will open in the next few weeks with even more opportunities for big descents and challenging terrain.
After rocketing down the wide, machine-built flow, scouting jumps, and trying to stay on my bike through rough tech sections, JHMR's new terrain finally satisfies that itch for adrenaline we all crave when winter comes to an end. Now, all we've got to do is keep the rubber side down and make it to ski season in one piece.
More From Jackson Hole
6 Jackson Hole Runs Not Named Corbet's That Every Serious Skier Must Attempt
How Jackson Hole's Most Famous Run Became Home to Skiing's Rowdiest Competition
Where to Stay: Jackson's Mountain Modern Motel