Legendary Big Mountain Skier and Warren Miller Alum Dead at 52
Jeremy Nobis's full-throttle intensity revolutionized big-mountain skiing and set the tone for years to come.
Heading out the door? Read this article on the new Outside+ app available now on iOS devices for members! Download the app.
Former Olympic racer and iconic big mountain skier Jeremy Nobis was found unresponsive in his Cedar City, Utah jail cell on April 19. The 52-year-old was awaiting sentencing on his latest DUI charge, the most recent in a string of drunk-driving offenses that he racked up across Utah, Colorado, and Idaho dating back to 2006.
Although he lost his way over the last decade and a half, Nobis will be remembered as one of the best big mountain skiers of all time. He kicked off his career on the race course, earning a spot on the U.S. Ski Team at 16 years old. His specialties were slalom and giant slalom, in which he climbed the ranks on the World Cup and competed in his first Olympics during the 1994 Winter Games in Lillehammer, Norway. In 1996 he retired from the World Cup circuit and seemed to find his true passion in big-mountain freeriding.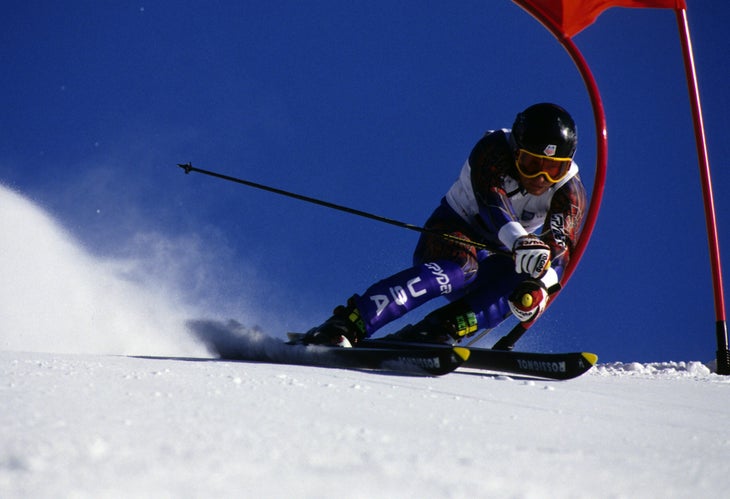 Dubbed "The Icon" and "Pyscho Nobi," Nobis brought an unmatched intensity and balls-to-the-wall mentality to the late-'90s freeride scene. The late, great Skiing Magazine ranked him third in their Best 25 Freeskiers of All Time roundup, and this 2004 profile in SKI captures his fiery essence. Some of his most legendary lines have no equal even 25 years later, and it would not be hyperbole to say that he redefined big-mountain skiing. The game changing moment came the first time Nobis filmed with Teton Gravity Research, for 1997's Harvest.
TGR co-founder Todd Jones recalls the race kid who kept badgering them to let him film with them. When they finally set him loose on knife-tipped Pyramid Peak peak in Alaska, on 2,000 vertical feet of 52-degree pitch, Nobis went full throttle, opening it up with super-G turns. Doug Coombs had previously skied Pyramid in 80 carefully measured turns. Nobis did in eight.
"Skiing was still a little bit stiff, there was a lot of tick-tock, tick-tock, tick-tock going on," Jones recalled during a roundup video of TGR highlights. "Then there's this kid Jeremy Nobis, this long-haired, fiery ex-racer, just this crazy ball of intensity and energy."
One of those turns on Pyramid Peak ended up being the cover of an issue of Powder Magazine. "The turn that changed the world," said Jones.
During the late '90s and early 2000s, Nobis would go on to film with Warren Miller, Matchstick Productions, and The North Face Films, traveling the globe and blowing minds with clips out of Alaska, Greenland, and the Alps. In one of his stints with Warren Miller, 2004's Impact, Nobis navigated the heavily crevassed and glaciated 60-degree slopes of Chamonix, then followed it up with two more back-to-back WME films, 2005's Higher Ground and Off the Grid in 2006. He featured in a total of six Warren Miller movies.
Watch Jeremy Nobis In One Of Our Favorite Warren Miller Segments
Dealing with early stardom and battling addiction are common bedfellows, and Nobis was outspoken about his challenges. During a May 2022 episode of the Powell Movement, Nobis shared how he often felt misunderstood, and while his transgressions need not be dismissed, this powerful unfiltered interview offers a glimpse into his mindset.
Nobis had been working as a ski instructor in Sun Valley at the time of his last arrest, and was working toward a resolution of the charges. He was supposed to be sentenced on April 25. Foul play is not suspected in his death, but there will be a full investigation.