Shiffrin Second in Sestriere Slalom, Tied For Slalom Title with Wendy Holdener
Race for overall and slalom titles heat up as Mikaela Shiffrin notches 123rd World Cup podium finish in Sestriere.
Heading out the door? Read this article on the new Outside+ app available now on iOS devices for members! Download the app.
Mikaela Shiffrin has started 224 World Cup races in her career to date. And in over half—55 percent, to be exact—she has finished on the podium. In a sport with more variables than a quadratic equation, such a stat is a rarity. 
In the Sestriere World Cup slalom, the 27-year-old American solidified this percentage, finishing second to Wendy Holdener from Switzerland. Only nine-hundredths of a second ahead of Shiffrin after the first run, Holdener gained on her U.S. rival's second run, taking the win by 0.47 of a second.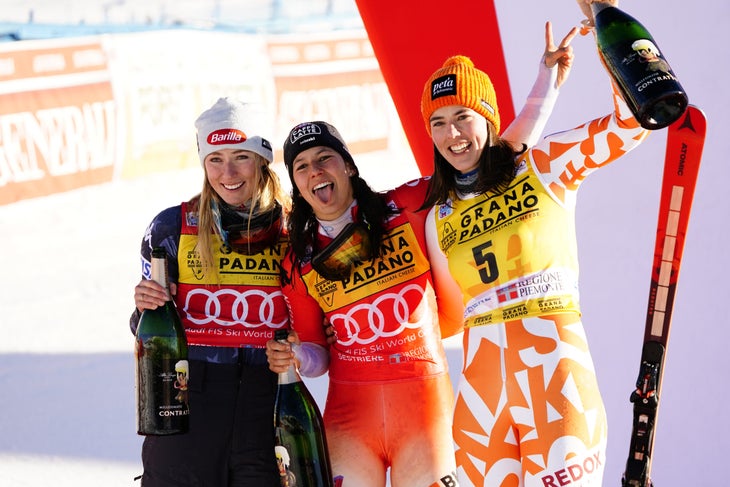 "I heard at the start [of my second run] that Mikaela was in the lead, so I knew I have to give all I have," said Holdener after the race. "I'm really happy that I could ski the last part better and to cross the finish with such a lead."
Petra Vlhova from Slovakia held the lead after first run but fell to third place on the second run, ending up 0.70 behind Holdener.
It was Holdener's first slalom victory on European snow, and after her win in Killington two weeks ago, she is the first Swiss skier to take back-to-back World Cup victories since Vreni Schneider in 1994. Coincidentally, Schneider's second of the back-to-back slalom wins also came at Sestriere.
"Most of the records have been set by Mikaela, so it's cool that I have some small victories," said Holdener, who, at age 29, won her first World Cup slalom two weeks ago in Killington.
Shiffrin is still in the hunt for her 50th slalom and 77th World Cup win. And after an exhausting giant slalom race in Sestriere yesterday, where Shiffrin finished sixth, today was perhaps not the day to expect a win.
"It was two really tough days this weekend, really tough conditions and took a lot of energy to race, more than usual," said Shiffrin (over a foot of snow fell in Sestriere last week, creating a rough surface on the race hill). "So I'm really happy to get on the podium today. I think I have a lot to learn from Wendy on her second run. It was very strong."
"But I think I had some really good turns and some things to fix for the next slalom," added Shiffrin. "Anyway, it's a step from Killington, a step in the right direction."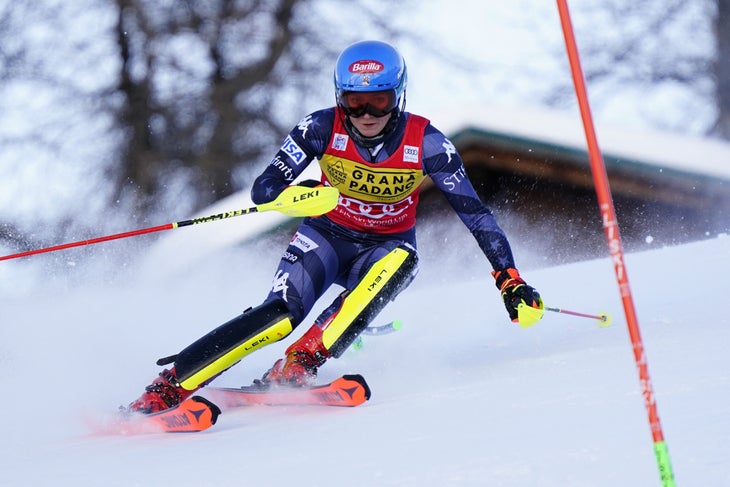 Shiffrin finished fifth in the Killington slalom two weeks ago. She opened the 2022-2023 World Cup season with back-to-back slalom wins in Levi, Finland.
Just off the podium, Paula Moltzan tied her best World Cup slalom result to date—fifth. In seventh after the first run, Moltzan used her strength to overcome small mistakes on her second run. With the fourth-fastest second run, she jumped to fifth.
"I've had a pretty hard start to the season with a lot of DNFs in slalom, so there's nothing that feels better than crossing the finish line twice, and doing it fast," said Moltzan. "I'm proud of myself, and I'm proud of my teammates."
In a weekend to remember, Moltzan also scored her best World Cup giant slalom finish yesterday (eighth).
Other Americans with "bests" at Sestriere: Zoe Zimmerman made the flip (finished in the top 30 first run and earned a second run) and scored her first World Cup points. In 20th after run 1, she skied conservatively and fell to 27th.
"I was pretty nervous for the second run," Zimmerman said. "But I'm so happy that I finished, and I'm so happy that I got points today."
"First World Cup points are really hard," added Moltzan. "So to finally cross that threshold, she's only just beginning."
Zimmerman, 20, a Burke Mountain Academy graduate like Shiffrin and 2022 Olympian Nina O'Brien, made her World Cup debut a year ago. From New Hampshire, Zimmerman is 1960 Olympic silver medalist Penny Pitou's granddaughter.
Two Canadians also made the made the flip and were eyeing their best slalom finishes. But they too struggled on the second run. Ali Nullmeyer, a Middlebury College student, ended up 11th (off her best slalom finish of fifth), and Laurence St. German, a University of Vermont alumna, was 26th.
With the win, Holdener is now tied for the World Cup slalom title with Shiffrin, both with 325 points—almost 100 points ahead of Vlhova in third. Both women will wear the yellow leaders bib at the next World Cup slalom in Semmering, Austria, later this month.
Shiffrin gained more points in the overall, maintaining her lead with 385 points. But Holdener jumped to second in the running, only 19 points behind Shiffrin.
From Sestriere, Shiffrin is heading to the speed races in St. Moritz, Switzerland, next weekend. She will train for the downhill this week and see how she feels.
"It's a pretty low-gas feeling to go into a speed week," Shiffrin explained. "So we'll see how it goes. I might have to reevaluate a little bit. But I love St. Moritz, so I hope to recover fast and be ready to go there."