Paula Moltzan Nabs Her Best World Cup GS in Sestriere, Shiffrin Sixth
No podiums for the U.S. women in a rugged giant slalom, but the race still had some memorable moments and momentum to build on.
Heading out the door? Read this article on the new Outside+ app available now on iOS devices for members! Download the app.
For the past few months, word on the hill was that Paula Moltzan was training fast. Really fast. But most of us thought this meant she was laying it down in slalom, her specialty. Or in parallel racing, where she's earned a World Cup podium.
Nope. They meant giant slalom, too.
In the Sestriere World Cup GS, Moltzan, 28, finished eighth—her best GS result to date. Her previous best was tenth (Sölden in 2020 and Lenzerheide, Switzerland, last March).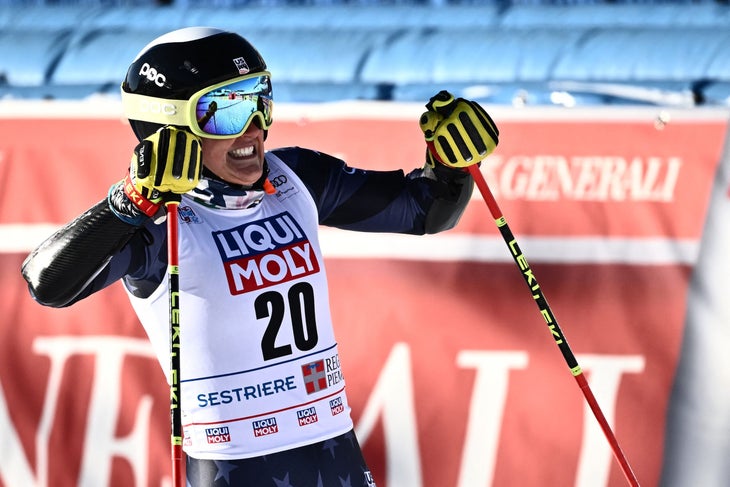 "I'm really excited about it," said Moltzan, who had struggled to bring her good training to races in the season's first World Cups. "It's just going to be hopefully the first step of many this season."
Moltzan skied the eighth fastest second run to move from tenth into eighth, 2.07 seconds behind winner Marta Bassino.
With Italian fans cheering their home countrywoman, Bassino skied a solid, fast second run to take the lead from first-run leader Petra Vlhova. Olympic GS champion Sara Hector rocketed from sixth after the first run to runner-up position, 0.11 of a second behind Bassino. Vlhova held on for third, 0.40 of a second back.
"It was a fight," said Bassino from the winner's chair. It was her first victory on Italian snow and first victory in almost two years.
The "fight" referred to more than the competition between the world's best GS skiers. Over a foot of snow fell on the Italian resort leading up to the World Cup, and the course was rugged.
"It took a lot of grit and that's what I think a lot of the top skiers are showing is clean skiing in really hard conditions," explained Moltzan.
Also in the fight was Mikaela Shiffrin, who sat in fourth after the first run. Shiffrin skipped the speed races in Lake Louise to train GS and slalom before Sestriere and on the eve of the race, posted on social media, "Let's try this whole GS thing again, shall we?!"
But the rugged conditions got the better of Shiffrin. Second run, she made a mistake coming onto the final flats and fell to sixth place.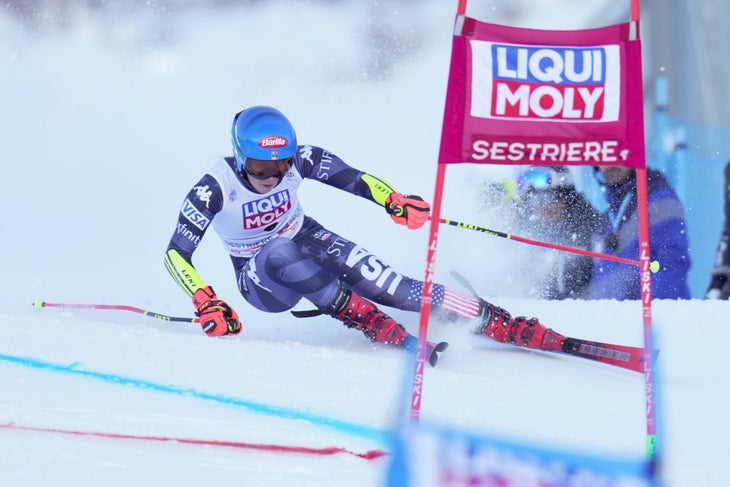 "I think it's the roughest course I ever skied in a race," she commented, adding that she was happy to finish without an injury.
Shiffrin was also happy with her skiing, despite the rough surface.
"It was a pretty positive step since Killington," said Shiffrin, referring to her 13th place in the Killington World Cup GS two weeks ago. "It was much better skiing. I made a big mistake on the second run. I wasn't going to be winning the race anyway, but I would have been a bit closer. So it's just good to know that my skiing is in a better place."
Shiffrin last won a GS a year ago in Courchevel (Dec 21, 2021)—beating Hector and Michelle Gisin in that race. But she scored four World Cup podiums last season, including two wins.
Shiffrin was also thrilled for her teammate.
"I didn't see Paula's second run, but I heard some chatter on the radio," Shiffrin said. "That's super exciting. And we had eight starters today. That's really, really cool for the U.S. So that's a couple of really positive things for the team."
Nina O'Brien and Stella Johansson, a 19-year-old from Aspen competing in her first World Cup, fought through the rough course but did not qualify for a second run. Katie Hensien, AJ Hurt, Ava Sunshine, and Allie Resnick also struggled and did not finish.
In other positive news, Shiffrin maintained the overall World Cup lead, now with 305 points. Vlhova jumped into the number two spot, with 280 points.
The women now refocus for slalom tomorrow.
"The biggest thing is getting some energy back in the legs," explained Shiffrin. "I think everybody felt like this was the most tiring race we skied in a long time, maybe ever. So we'll try to recover as much as we can. But we only have a couple hours and then we go back at it again. So that's the trickiest thing, but I'm looking forward to slalom and hopefully they're able to make some adjustments with the Hill preparation before tomorrow to fix that bottom part."