Finally, A Way to Keep Old Ski Boots Out of the Landfill
Tecnica's new "Recycle Your Boots" program will take back any used ski boots and give them a second life.
Photo: Courtesy of Tecnica
Heading out the door? Read this article on the new Outside+ app available now on iOS devices for members! Download the app.
Hot on the heels of Earth Day, Tecnica today announced the launch of a new ski boot recycling pilot program. The Italian brand's "Recycle Your Boots" initiative, launching in the Alps this fall, aims to recycle used ski boots—their hard plastic shells and foam liners—into secondary raw materials to be reused in industrial production.
This is great news for dedicated skiers who go through a new pair of ski boots every three or four seasons. Until now, there hasn't been a widely available way to responsibly get rid of ski boots. Because ski boots are made from so many different types of plastics, aluminum, and other materials, they are notoriously difficult to recycle. A handful of organizations and companies have tried over the years, but have determined that the process is either too cost prohibitive or logistically difficult.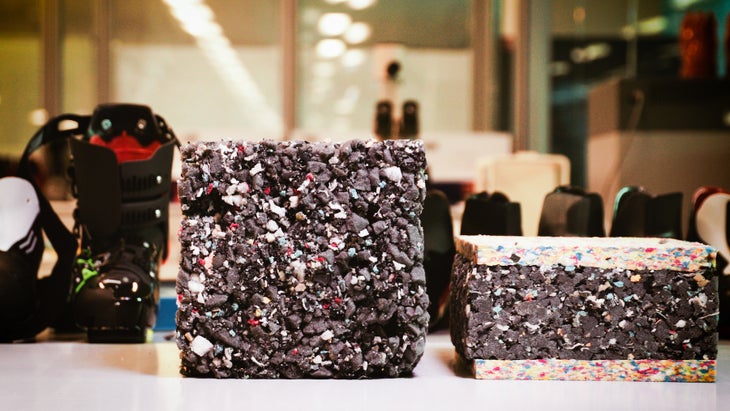 Snowsports Industries of America, the U.S.' winter outdoor industry's non-profit trade association, launched a winter sports equipment recycling program with Colorado-based partner Waste-Not Recycling back in 2013. But that program petered out a few years ago, when the worldwide recycling game changed.
"Going back to 2017, China basically quit taking imported materials from the United States unless they were in super clean pellet form. There are backlogs of plastic all over the country now," explains John Newman, a sales representative for Waste-Not Recycling.
Read more: Can we indulge in new ski gear while responsibly disposing of old gear?
So skiers had two choices when it came to getting rid of old ski boots: Trash them (to be dumped in landfill), or turn them into quirky flower pots. And there's only so many ski boot flower pots even the most hardcore skier should have adorning their house or yard.
If Tecnica's new ski boot recycling program proves viable and can expand beyond the Alps, it may offer a responsible alternative.
Watch: How Tecnica plans to recycle your old ski boots
"The idea is pretty simple," explains Maurizio Priano, marketing and brand manager for Blizzard Tecnica. "We will make it possible for skiers to return their old ski boots of any brand to partner retailers, and then recycle them through a transparent and sustainable process."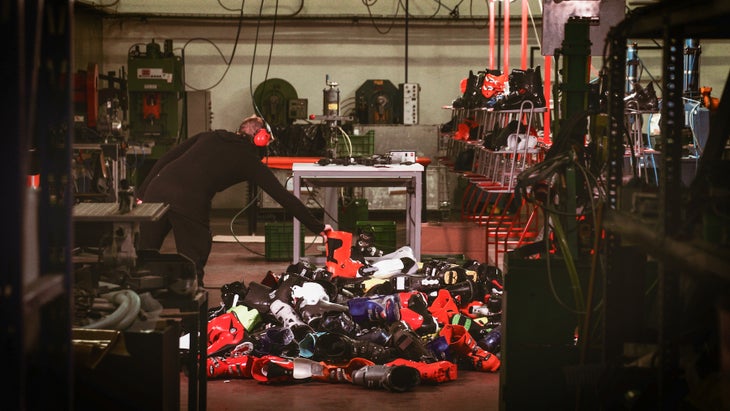 The idea may be simple, but the logistics and science are complex. "This process involves different actors: who is producing, who is transporting, who is recycling, and finally, who is buying the products," says Priano.
On the recycling and science front, Tecnica has partnered with the University of Padova in Italy to measure the program's collection and disposal of ski boots, and the resulting CO2 emission benefits.
Related: This Colorado Ski Area Turned a Coal Mine into a Power Plant
"To make sustainability efficient and effective, it must be pursued during every phase of its life cycle production, from the extraction of raw materials to its disposal at the end," says Alessandro Manzardo, associate researcher at the University of Padova.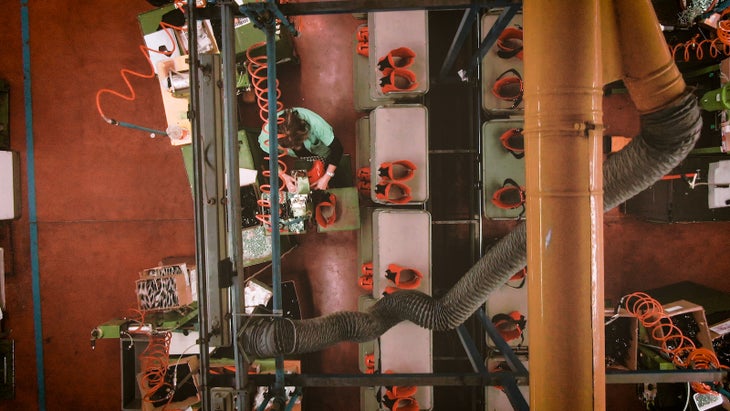 On the logistics front, Tecnica is partnering with select retailers across the Alps in Italy, France, Switzerland, Austria, and Germany, who will collect used ski boots from old brands and help coordinate transportation to Italian company Fecam, which will remove the liners and dismantle each boot to separate the plastic and metal components. Those parts will then go to a nearby Laprima Plastics plant to be transformed into reusable secondary raw materials.
"'Recycle Your Boots' is more than just a recycling project, it's a new business model," says Giorgio Grandin, head of innovation at Tecnica Group. "For the first time, we are not simply creating and selling a product, but setting up a fully-integrated sustainable process: production, transport, consumer use, and recycling."
More Sustainability News
These ski brands earned the prestigious B Corp environmental certification
This snowmelt study provides a glimpse into future winters (and it isn't pretty)