Tough Second Run Ends Shiffrin's Killington Slalom Reign
Sweden's Anna Swenn Larsson and Switzerland's Wendy Holdener—for years, bridesmaids to Shiffrin in slalom—tie for their first World Cup slalom wins
Heading out the door? Read this article on the new Outside+ app available now on iOS devices for members! Download the app.
On the eve of the Heroic Killington Cup, Mikaela Shiffrin noted that Killington has treated her well. In fact, she had never lost a World Cup slalom race here.
Until today. It was a warm day, threatening rain, and the slalom course slowly deteriorated, leaving many to struggle in their second runs.
In first after the first run, Shiffrin could not match the pace of Sweden's Anna Swenn Larsson and Switzerland's Wendy Holdener second run. Swenn Larsson, 31, and Holdener, 29, tied for their first ever World Cup slalom wins. Katharina Truppe from Austria moved from eighth after the first run onto the podium when others struggled in the soft conditions. Shiffrin ended up fifth, one place behind one of her biggest slalom challengers, Petra Vlhova from Slovakia.
But Shiffrin, in trademark fashion, was almost as happy for the winners as she is for her own victories.
Watch: U.S. Ski Team highlights from the Killington World Cup Slalom
"Wendy and Anna got their first wins, which … there are some days where you just have to say like … that's like … look at that, on the Jumbotron," Shiffrin said, as the TV camera panned in on Holdener. "She is so happy. You can't be disappointed."
Both Swenn Larsson and Holdener have long been bridesmaids to Shiffrin in slalom. Swenn Larsson was almost speechless after the race.
"I'm just so happy and proud," she said, shaking her head as if in a dream. "It's something I've been fighting for my whole life and today I won, and it's just amazing. I don't know what to say."
Holdener skied her second run after Swenn Larson—and right before Shiffrin—and saw 0.00 by her name at the finish, meaning she had tied with the Swede. But Shiffrin was coming up next, and Larsson said to Holdener, "We don't have a chance."
Skiing for her 50th slalom victory and 77th World Cup win, Shiffrin looked solid in the ruts and bumps. But she crossed the line in fifth and was philosophical about the result.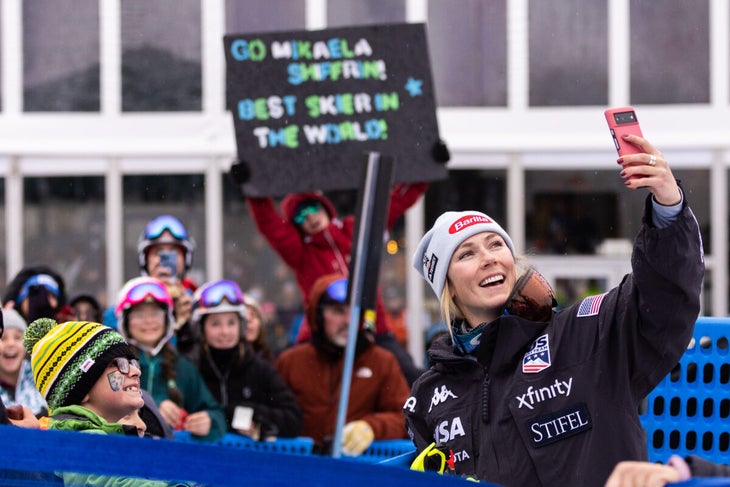 "If anything, I didn't expect to win today," Shiffrin confessed. "It just felt like the world, the universe doesn't work in ways that I would win my 50th slalom race in Killington and take six in a row. If something like that happens, something really bad is going to happen. I know that's maybe not like the greatest mentality to have, but I fought the second run."
"I know that I have some of the fastest turns in the world," she added. "So it's not really even disappointing. It just didn't happen today."
Then she looked on the bright side: "The crowd was still incredible, and the rain held off 'til after the race."
Swenn Larsson called Shiffrin an inspiration and considered it a big achievement to beat the American on home snow.
Holdener was soaking in how sweet it felt to finally win after scoring 44 World Cup podium finishes, 31 in slalom, but only four wins—in parallel and combined events.
"I tried to never forget to have fun because I [don't always have] fun racing," said Holdener, who plans to celebrate with a day in New York City. "I had years where it wasn't that easy. So I'm really happy that I'm back and skiing that well and can fight for the win. I think that was now the sugar I got."
Watch: Podium runs from the Killington World Cup slalom
Shiffrin's teammates were also looking for some sweetness at Killington. But with rain looming, temperatures warmed throughout the morning, the course softened, and they all skied out or crashed first run.
First Paula Moltzan, who was skiing to a top-ten finish, fell near the bottom of the course. She got up and finished but did not qualify for a second run. Moltzan, 28, relaunched her ski career at the Killington Cup slalom in 2018 (finishing 17th that year) while a pre-med student at the University of Vermont, and in front of a posse of friends and family, hoped to show the speed she has had in training.
Then Ava Sunshine, 20, was caught in the "peel-y" snow and straddled a gate. Sunshine, scored points in her very first World Cups last weekend—a feat that has not been accomplished by a U.S. ski racer in two decades.
Two days shy of her 25th birthday, Nina O'Brien also skied out, as did Katie Hensien and AJ Hurt.
With all eyes on Shiffrin, she skied a solid second run but lost time in the middle of the course. Still, the Killington crowd cheered as loudly for her as they did for the winners.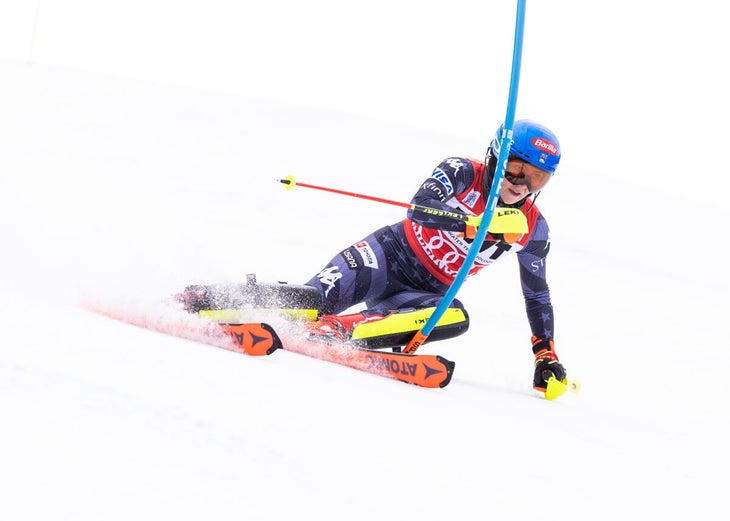 "I feel like it's going to be okay," Shiffrin said. "I'm not afraid that I'm not going to win again. Because in a way, I don't really care. I'm just doing this because I want to be doing it, and I think I can be fast, and I like watching these other women when they ski fast and seeing if I can do it better. Maybe I'll do it better next race and that'll be really exciting.
"That's like, that's kind of where I'm at in this moment, and I hope to keep that mentality because it makes everything way more enjoyable."
From Killington, Shiffrin will skip the Lake Louise World Cup (speed races) and head back to Europe to prepare for the next technical races—slalom and giant slalom in Sestriere, Italy, on December 10-11, 2022.