Utah and California Snow To Taper, But Here's Where the Powder's Going Next
Read this before planning the rest of your winter ski trips. Hint: Go north.
Heading out the door? Read this article on the new Outside+ app available now on iOS devices for members! Download the app.
January doesn't always deliver the goods, but this year, it snowed and snowed and snowed, especially in the Rockies and Sierra Nevadas. Places like Alta, Utah, Steamboat, Colo., and Mammoth, Calif. saw their best  January snowpack in years. And just last weekend, Jackson Hole set an all-time 48-hour resort snowfall record of around 50 inches, according to the January 31 edition of OpenSnow's "The Flakes Podcast."
But all good things must come to an end, and NOAA's February forecast is predicting a return to normal and even below-normal precipitation for the much of the west, especially the central west. And while skiers in Colorado, Utah, Nevada, and California may have to rely on existing snowpack and a few inches here and there, NOAA (the National Oceanic and Atmospheric Administration) predicts that the northern tier of the continental U.S., particularly Washington, northern Idaho, and Montana, should see "a tilt toward above-normal precipitation" in February.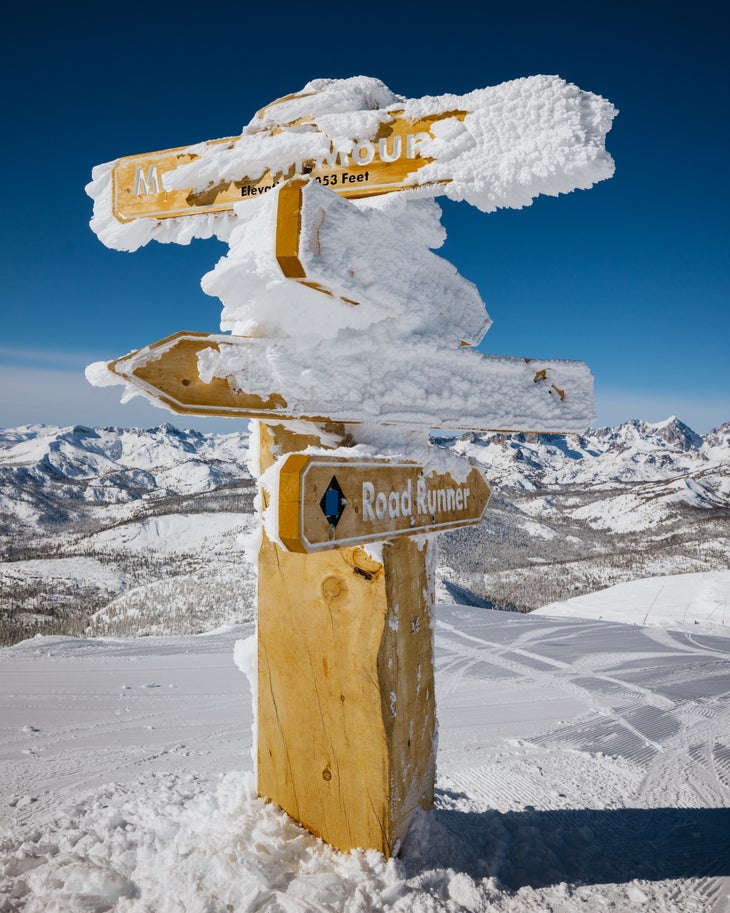 That above-normal snowfall is also expected in northern Midwest states, including Michigan. The odds for extra pow are a bit lower in Minnesota and Wisconsin.
What about the East, which hasn't been faring too well this season? According to NOAA, Vermont, upstate New York, northern New Hampshire, and the far western corner of Maine have a 33 to 40 percent chance of above-normal precipitation in February, but OpenSnow Meteorologist Zach Butler isn't so optimistic. He thinks the East Coast's lackluster snow year may continue through February.
"That's what La Niña winters generally do for the East Coast. It's always kind of a wild card, but generally La Niña winter storms are going to move through the region," he said, on the January 31 edition of The Flakes Podcast.
To help you plan your mid-winter and spring ski travel, we've outlined a few potential hot spots for above-average February snow totals.
Where to Ski in the West
If you're in the West, head north toward ski areas in eastern Washington, northern Idaho, and Montana. Washington's Mt. Baker, Stevens Pass, and The Summit at Snoqualmie are all within NOAA's "above-average precipitation" zone. The same goes for Schweitzer, Silver Mountain, and Lookout Pass in Idaho, and all Montana ski areas, including big hitters like Big Sky and Bridger Bowl.
The probability of above-average snowfall is less—a 33 to 40 percent chance—in northeastern Oregon, southern Idaho, and western Wyoming. But it may be worth it to keep an eye on ski areas like Timberline, Mt. Hood Meadows, Anthony Lakes, Sun Valley, Tamarack, Jackson Hole, and Grand Targhee.
Where to Ski in the Midwest
Compared to the rest of the Midwest, mid to southern Michigan has the greatest chance of higher-than-average snowfall in February. That's good news for the cluster of ski areas around Detroit, Lansing, and Grand Rapids.
Meanwhile, ski areas like Crystal Mountain in northwestern Michigan, Cascade and Granite Peak in Wisconsin, and Lutsen and Giants Ridge in Minnesota have a 33 to 40 percent chance of above-average snowfall in February, according to the NOAA report.
Where to Ski in the East
It's no secret that it's been a dry winter in the east, but NOAA's February forecast provides some hope for ski areas like Bretton Woods in New Hampshire, Saddleback and Sugarloaf in Maine, and all the resorts in Vermont, including heavy hitters like Jay Peak, Stowe, and Stratton. 
The report says there's a 30 to 40 percent chance of above-average snowfall in those areas.