Resort Upgrades and Labor Issues More Important Than Ever as Utah Records Highest Skier Visits Yet
Despite a below-average snow year, season passes and an increased interest in outdoor recreation fueled the record-breaking numbers.
Heading out the door? Read this article on the new Outside+ app available now on iOS devices for members! Download the app.
Utah skiers, you didn't just imagine the crowds. The state saw a record year for ski resort visitation during the 2021-'22 season. Utah's 15 resorts had 5.8 million skier visits last winter, which is a half-million increase from last season's total of 5.3 million visits. This type of increase certainly bolsters Park City Mountain Resort's argument for upgraded lift infrastructure at its resort, a plan for which the planning board recently shot down. A new lift planned for Deer Valley, however, was recently approved. Read why here.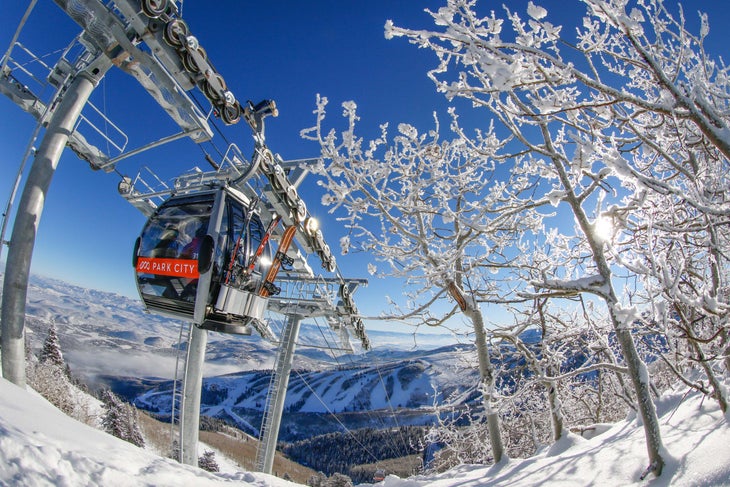 This uptick might appear confounding at first glance. Utah didn't have a great snow year; the Utah Avalanche Center reports that Alta—a quick 45-minute drive away from Salt Lake City—received only 282.4 inches of snow during the 2021-'22 season. This total is nearly 500 inches below the resort's snowfall record.
More Stats: The Numbers Don't Lie: This Winter Was the Busiest Ski Season on Record
Resorts throughout Utah struggled with labor shortages last season, as well. Park City Mountain Resort's lift access was down to 88 percent mid-season due to a lack of staffing. The resort strained to fill job vacancies as late as January 2022. Other resorts in the area, like Deer Valley, faced similar woes. Housing issues, Covid spikes, and wage disputes exacerbated these shortages. 
Yet, despite such challenges, Utah still clinched a record-breaking year for resort visitation. Nathan Rafferty, the CEO of Ski Utah, speculated that season pass ownership made up for the lack of snow and staffing. According to the National Ski Areas Association (NSAA), season passes now make up more than half of national lift ticket sales. "If somebody has a season pass in their pocket, they're more likely to ski," said Rafferty in a conversation with Utah news station KPCW. Season passes offer resorts a hedge against variable weather—if you have a pass, you're more inclined to ski, regardless of the conditions.
The rise of multi-resort conglomerates could also have positively impacted visitation numbers. The Ikon Pass and the Epic Pass, among others, allow skiers to follow the snow by offering access at multiple resorts, thus netting more days than ever before.
Utah's on a streak of breaking its yearly ski visitation totals. If you exclude the 2019-'20 season, which was saddled by early closures due to Covid, Utah's seen record seasons the past two years. The 2018-'19 season one-upped every season that preceded it in ski visit numbers, as did the 2020-'21 season. 
Rafferty believes that the surge in outdoor recreation is just getting started. "I think we are going to see the continuation of riding this wave of outdoor recreation and it's not just in skiing." 
Utah wasn't the only state that had a banner year. Colorado broke resort visitor records alongside the NSAA's Rocky Mountain region, which totals ski days across Utah, Idaho, Colorado, and Wyoming. National ski visitation toppled previous records, too. The U.S. stacked up 61 million ski resort visits this year, a 3.5 percent increase over last season.
While much of the U.S. enjoyed similar skier demand as Utah, they also dealt with the same labor shortages. Stevens Pass, in Washington, made national news amidst struggles to maintain its operations. Other resorts throughout the U.S. bent similarly under increased traffic; 81 percent of resorts surveyed by the NSAA reported staffing shortfalls.
In a May 13th press release, the NSAA remained positive. The press release noted several positive developments, including increased ski resort visitation. To them, more skiers enjoying the sport means that "the U.S. ski industry is healthy, and that the demand for outdoor recreation remains strong."