Whistler Gondola Delay Likely to Cause Major Hassles for Early-Season Skiers
Supply chain delays that kept the new Creekside Gondola's haul cable hostage on a boat for two months are largely to blame.
Heading out the door? Read this article on the new Outside+ app available now on iOS devices for members! Download the app.
The Covid supply chain strikes again, this time taking aim at Whistler Blackcomb's early-season skiers. The resort's new Creekside Gondola, which was scheduled to open along with the resort on Nov. 24, is now delayed, and resort officials aren't sure when it will be completed.
Oh well, just another delayed lift, right? Not exactly. The Creekside base is a major entry portal to the Whistler side of the resort, and the closest parking for those coming from Vancouver. It's also one of only two free day lots left at the resort, making it a very popular place to launch a ski day. Take away slope access, and the resort could be looking at a few thousand skiers who need to be shuttled to a different base to get on the mountain.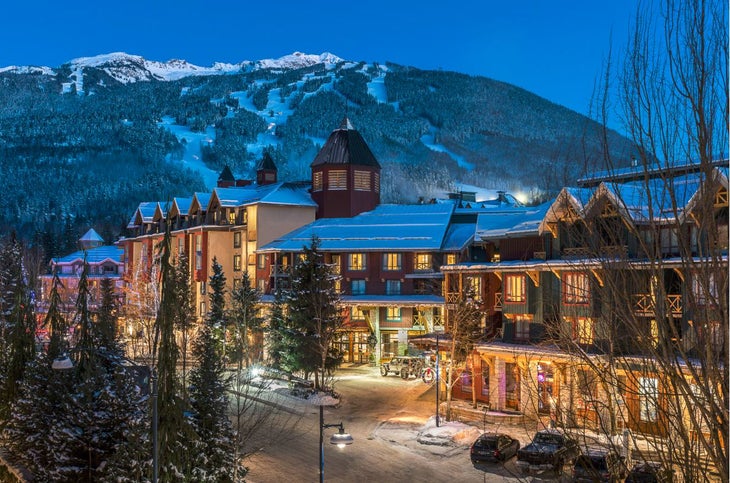 "Really a giant fumble," said one local who preferred to remain anonymous. "Creekside is a very popular access point to Whistler Blackcomb. Lines there already were insane, hence the attempted upgrade to higher-capacity lifts. With 1,400 cars, you're looking at somewhere between 2,000 and, I don't know, 4,500 people on a busy day shuttling into the village by bus and heading up on other already clogged lifts."
Whistler Blackcomb officials got wind from lift manufacturer Doppelmayr that things were not moving along as expected in early October, and shared the news with resort stakeholders earlier this month. According to Doppelmayr, the global supply chain shortages and shipping complexities were worse than the company anticipated.
See Where Whistler Landed in the Top 50 Resorts Ranking
Critical parts for the new high-speed, 10-person gondola, including the haul rope, had been stuck on a boat for the last two months. It just cleared customs in California and is now en route to British Columbia. Even after the haul rope is hung, it will be at least another 30 days of construction, safety checks, and maintenance before the gondola can carry its first skiers up the hill.
(In slightly better news, the other new lift over at Creekside, the Big Red Express, is further along in its construction, and is expected to open before the gondola—but after opening day.)
So what does this mean for Whistler Blackcomb skiers? If you park at Creekside, be prepared to be asked to board a shuttle bus for a ride over to the Whistler base, where you'll be moved to the front of the lift line. If you're skiing from Whistler Village, don't be surprised when a busload of skiers from Creekside skip the queue. In other words, come with a sense of humor and an abundance of patience.
"For Sea to Sky residents, WB is the only choice unless they want to skin," said one disappointed local. "If I were a destination traveler and knew about WB's lift fail and the likely insane clogs it will trigger, I would delay coming until the new Creekside gondola is up and running. But locals and regional pass holders here don't have an alternative."
For Vail Resorts' part, they're doing what they can to speed things along, including bringing crews over from their Australian ski resorts to help complete the work. The resort will also open 15 minutes earlier daily until both lifts are operational. Additionally, parking signage updated in real time will be stationed along Highway 99, so skiers looking for parking will be fully informed on  availability at all of the lots.
The goal, according to Whistler Blackcomb Chief Operating Officer Geoff Buchheister, is to have the gondola up and running by the Christmas holidays.
"We don't want to be here, but we are," Buchheister told local Whistler news magazine, Pique. "We have to be practical about that and think about, at the end of the day, how we can show up and support Creekside and get those folks over to the village as quickly as we can and as efficiently as we can … and that allows us to let that Doppelmayr team focus on getting the lift up as soon as they possibly can, and then we'll be back in action."