Year-Round Ski Resort Opens in Ukraine Despite Ongoing Turmoil
Skiers ride down slopes covered with plastic mats in the summer and snow in the winter at the new resort in the western part of the country.
Heading out the door? Read this article on the new Outside+ app available now on iOS devices for members! Download the app.
Russia's invasion put the once-quiet country of Ukraine in the spotlight, but even in the midst of upheaval, Ukrainians are finding hope for the future. Last week, the western city of Lviv, near the Ukrainian-Polish border, recently welcomed a new year-round ski resort that claims to be the largest of its kind. 
The ski area is turning heads for its ability to operate 365 days a year—outside—with or without snow. The year-round offering is thanks to an alternative ski technology from Skitrax World, a German company that specializes in what it calls "dry slope technologies." Their revolutionary plastic mats, which are installed down the mountain slopes, mimic the feel of snow-covered trails.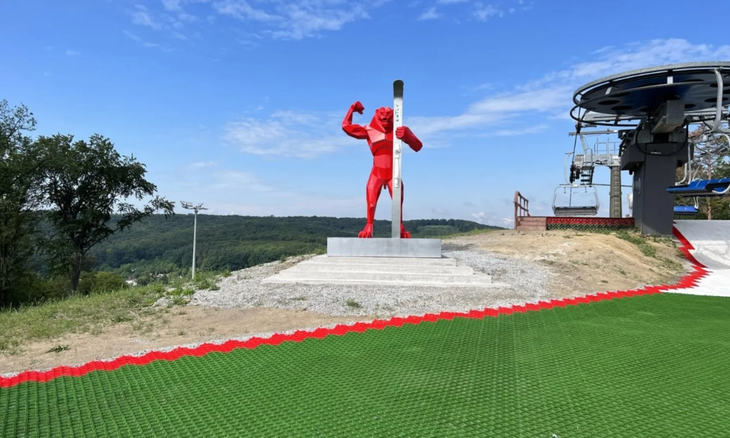 Come winter, the low-elevation resort has snowmaking operations, and the mats are designed to hold both natural and manmade snow thanks to a state-of-the-art drainage system. The slopes are aimed toward beginners, with two 1,500-foot runs and an 800-foot-long, six-lane tubing track, all served by a chairlift. There's also a ski school, rentals, and a ski-in/ski-out restaurant. 
Related: Virginia Ski Dome One of 20 Planned for the U.S.—But Skiers Aren't the Target Audience
While there are over 50 dry-surface ski areas across Europe, there are only a few U.S. resorts that offer dry-surface skiing in the summer, including Buck Hill, Minn., and Liberty Mountain in Virginia. Buck Hill uses artificial Neveplast, known for its grippy texture that replicates groomed snow, while Liberty's surface is made from SnowFlex, a multi-layer polymer composite. A Chicago-area developer just announced plans to build a new SnowFlex complex on a 94-acre property outside of the city.
Ukraine's newest ski resort is actually just a small part of the new Emily Resort, a five-star hotel, and recreation center. The brand-new lakefront hotel has 166 rooms and an expansive spa and sauna with several swimming pools and beaches. The hotel is flanked by an amphitheater, a medical therapy center, a soccer academy, and a manmade island with a series of pools and outdoor spaces—including private fireside seating set in pods in the water.
While Ukraine may not be a skiing hotspot—yet—the ski scene does include some 50 ski areas, primarily small traditional resorts in the country's Carpathian Mountains. The hope is that beginner-centric offerings like this one will help grow the sport in the future.