David Wise and Alex Ferreira Add 2 Medals for Team USA In Olympic Ski Halfpipe
Gusting winds led to sketchy conditions in the pipe, but the Americans persevered to add to Team USA's hardware collection.
Photo: BEN STANSALL/AFP via Getty Images
Heading out the door? Read this article on the new Outside+ app available now on iOS devices for members! Download the app.
Despite Wizard-of-Oz-like winds and minus-12 degree temperatures, the U.S. stacked four men into the top seven in the Olympic ski halfpipe event on Saturday, led by David Wise and Alex Ferreira who took the silver and bronze medals behind New Zealand's Nico Porteous.
If that sounds like a lot of hardware for the U.S., that's because it was. All told, freestyle and freeskiing events produced eight of the United States' 23 medals by the end of the morning's panda-giving ceremony at Genting Snow Park (which also featured a bundled-up version of the Haka dance for the Kiwi winner).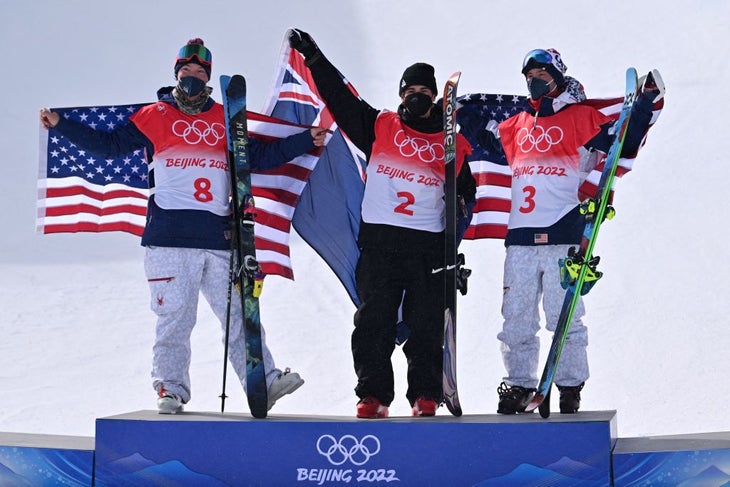 But who's counting medals? In halfpipe, it's all about expression and progression—and, as it turned out in Beijing, dominance. When all was said and done, the same three men who stood on the 2018 Olympic halfpipe podium were all on the podium again, just in a different order. Wise had been seeking a three-peat, and Ferreira was hoping to at least match his silver from PyeongChang.
Related: Eileen Gu Makes History As First Olympic Freeskier to Medal in Three Disciplines
The pressure was on after Porteous scored 93.00 points in his first run with two double-cork 1620s back-to-back—one to the left and one to the right. It was huge, but it wasn't new for the 20-year-old who has been performing that combination for a year. Wise was sitting in second with a pair of double-cork 1260s, a 1080 and two 900s on his first run for 90.75 points. Alex Ferreira of Aspen threw down four consecutive double corks to earn 86.75 points in run one. Ferreira added a double cork 16 in his last two runs, but his fate was already sealed. The same was true for Porteous and Wise.
Related: Alex Hall's Innovative Slopestyle Run Wins Gold, Leading the Way for a 1-2 Podium for the U.S.
In the end, the wind won the day. In gusty conditions, four of the top-five men failed to improve upon their first-run scores in a format where only their best score counted. Many skiers crashed or bailed out, blown off their game. Even though there was a giant white windscreen running down the right side of the entire pipe to prevent the wind from sweeping across the deck, it didn't stop gusts from swirling within.
Nonetheless, Porteous said, "I don't think it crossed anyone's mind not to run the comp. It comes down to the riders and how we are feeling as a group of athletes, collectively."
Ferreira, 27, explained, "It's not as windy as [what] we competed in previously this year. I think that was the line."
But even Porteous, the gold-medalist, slammed on his last run. "I really wanted to do a switch dub 14," he said. "I was like, 'Stuff it, I'll try it.' At that moment [in the pipe], I thought, 'I'm probably going too slow, but it's the Olympic finals.' I landed on my head. I'm a little sore but, eh, I'll be alright."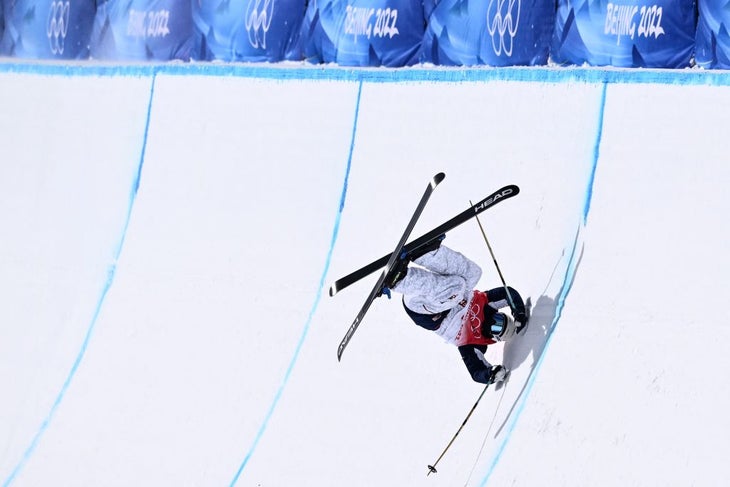 "It was pretty wild out there," Wise said, "but, you know, you can't always schedule it on the perfect day. You just kind of embrace it. If anything, when it's really windy, it's a bit of an advantage for me because I have these guys outweighed by 30 or 40 pounds. I'm 195 lbs. It also means I'm harder on my equipment. On run two, I broke a binding piece when I landed on an edge. It could have been a really hard slam but it was one of those lucky falls: Ski came off, I went to my belly and penguin-slid out of it. I switched to a different pair of skis for run three and they weren't tuned the same way. You do what you can.
"I'm just super proud to be out here still hanging in there with these guys," said Wise, a 31-year-old father of two from Reno, Nevada. After claiming gold at the past two Games, he said silver "feels amazing. If anything, the only lack of satisfaction that I have is that I didn't get to do those tricks that I wanted to do, but the G.V.C. [self-dubbed 'Good Vibes Crew' from the U.S.]—Birk [Irving] and Alex—have been trying to talk me into sticking around a little longer competing. And now I feel like I HAVE to. I've got so much prepared. It's like I cooked a meal for everybody and didn't get to share it. Nobody got to eat it. I want to do some more good runs. So I'll be back next season and we'll see how it goes after that."
Irving, 22, of Winter Park, Colo., finished fifth. The top qualifier, Aaron Blunck, 25, of Crested Butte, Colo., placed seventh for the third time in three Olympics.
Also of note: Gus Kenworthy, the openly gay two-time Olympian in slopestyle who earned silver in 2014 for the U.S. in an American medal sweep, returned—this time in halfpipe representing Great Britain. He placed eighth on his final run after crashing in his first two.
"That was my last competition ever," said the 30-year-old Kenworthy. "I'm happy I made it on my feet. I know there's an expiration date and I'm at that date."
When asked what's next, Kenworthy, who grew up in Telluride, Colo., a town of 2,000 people with 48 kids in his graduating class, said, "I don't know. I'm trying to figure it out. Competing on a professional level has changed my life in ways I could have never imagined. To be out and proud, competing at the Olympics and all of the opportunities that have come my way since the Olympics, I couldn't be more thankful."