SKI Magazine Contributor Featured on "Travel With Hawkeye" Podcast
Tim Neville talks about the Winter Olympics in PyeongChang, skiing in North Korea, and the Jackson Hole of Europe.
Heading out the door? Read this article on the new Outside+ app available now on iOS devices for members! Download the app.
Ever wonder what skiing in North Korea is like? What about South Korea? Or Kosovo? Tim Neville has been to all of these places and more, and has written more than a few features for SKI Magazine in the process. He has insights for anyone who is interested in these locations, and he recently shared a few on the "Travel With Hawkeye" podcast.
Mark "Hawkeye" Louis is an award-winning radio personality and also an expert traveler, having skied around much of North America and Europe. In this episode, he and Neville discuss what South Korean ski culture is like, including a few anecdotes recently highlighted in the January 2018 issue of SKI Magazine. The pair also discuss Neville's 2014 ski trip to North Korea, the differences between American and European ski culture, and Neville's favorite place to ski in Europe, which is not where you'd expect.
Check out the "Travel With Hawkeye" podcast on iTunes.
Highlights from the Podcast:
On skiing in South Korea:
"They take [night skiing] to the extreme… When the guy handed [rental skis] to me, he said he needed them back by midnight. I said, 'Midnight? Yeah no problem. Don't you need them back by like 4?' He was like, 'no, but you can ski until 4… 4 A.M.'"
Read "Asian Infusion," Neville's article previewing the 2018 Winter Olympics in PyeongChang, South Korea.
"You wouldn't go to South Korea for absolutely wonderful skiing, but you'd go to South Korea for an absolutely wonderful time skiing."
On North Korea's Ski Area: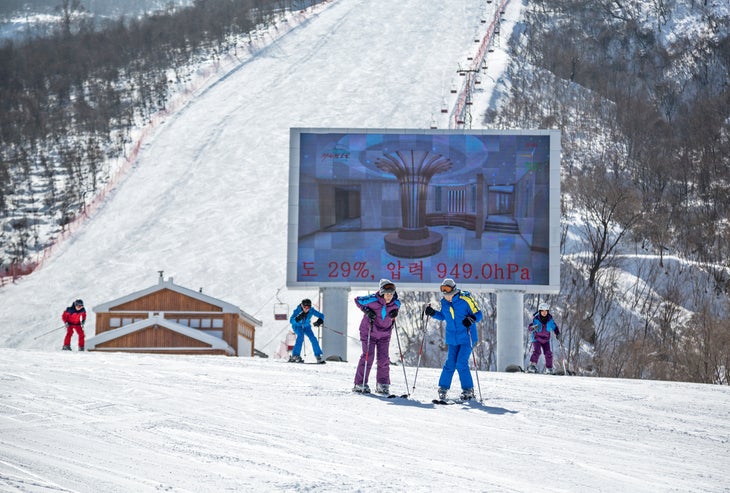 "Kim Jong Un wanted to build [the North Korean] ski area as he went to school in Switzerland, and he had to have had contact with skiing there… There is a city of 250,000 fairly close to the ski area, so maybe they will have ski clubs."
Read Neville's 2014 Feature, "The Great Pleasure Project."
The difference between skiing in Europe and skiing in the United States:
"The big picture view would go like this: we in the States and Canada tend to still view skiing as… a chance to go out and participate in these magnificent landscapes. Europe certainly has the views, grandeur, and magnificent terrain, but the attitude there is 'there's a beautiful mountain. Wouldn't it be great if we could throw a gondola to the top of that and build a restaurant?' …Skiing [in Europe] is something you do between coffee breaks. That's a gross generalization, but it still holds true."
On skiing in Kosovo:
"Kosovo has the mountains that get by far the most snow… It's where the hard skiers went. If you wanted luxury accommodations and nice meals, you didn't go to Kosovo. But if you wanted deep powder overhead and parties every night, you went to Kosovo."
Follow Tim Neville's travels on his Instagram page (@tim_neville) and on his website.
Check out more podcast episodes from "Travel With Hawkeye" here.