American Bryce Bennett Fourth in Bormio Downhill
Italians Paris and Innerhofer go one-two on home ice.
Heading out the door? Read this article on the new Outside+ app available now on iOS devices for members! Download the app.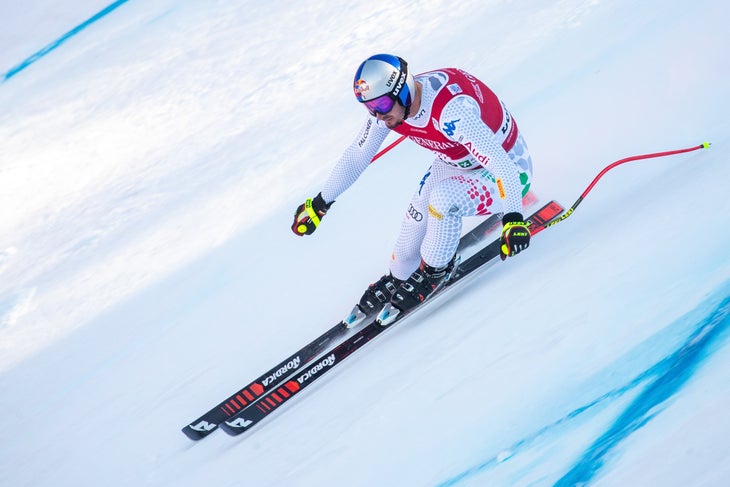 Coming off his highest ever FIS World Cup finish of fourth in Val Gardena two weeks ago, American Bryce Bennett continues to impress this month in Italy by earning another fourth-place finish in the downhill at Bormio. The Squaw Valley resident just missed the podium by 0.15 seconds to Switzerland's Beat Feuz, who finished third and remains at the top of the downhill points leaderboard.
"I want a podium pretty bad, but [Beat] Feuz—the Swiss guy with the red leader bib—just keeps beating me out," Bennett said to U.S. Ski and Snowboard after his run. "I don't know what happened…I just kind of put it on the rev limiter and committed to the turn…Today I was happy with my run…I didn't know it was quite that good, which is usually a good sign."
Bennett, racing with bib six, briefly held the third position until Italy's Dominik Paris finished his run immediately after Bennett with the fastest time of the day. The objectively large Red Bull athlete barely held a tuck for most of the bumpy, icy course, instead opting for an open, athletic, and stable stance for most of his run. Paris would finish 0.36 seconds faster than his fellow countryman Christof Innerhofer, who finished second overall.
Read more: Three Americans Finish in Top Six at Val Gardena Downhill
Paris, who also won the Bormio downhill in 2012 and 2017, is the first person to win three FIS World Cup downhill events at a single ski area. He is also the third person to win three FIS World Cup races in Bormio, along with Hermann Maier and Michael Walchhofer, who won both downhill and Super G races at this venue.
Steven Nyman (Park City, Utah) was the second fastest American, finishing 17th and a full 2.00 seconds behind Paris. "It was really cool to see Bryce do so well" Nyman said after his race, according to U.S. Ski and Snowboard. "I was fired up as I was watching in the lodge, and then he won that middle section and everyone was clapping. When the other guys came down in second or third, no one said anything, but with Bryce, they all clapped. People love him. People respect him. He has a heightened focus right now that's really impressive to see and he's analyzing a lot of things and convincing himself of what's possible. He believes in himself and I think he knows he can attack anywhere."
The steep, icy course was particularly sketchy this year, even for many of the professionals. The day before the race, a viral video spread of course staff losing control and needing to use the B-Net to stop themselves during the training runs. "[Bormio's downhill is] a boxing match—you're getting punched all the way down and you have to take those punches and just keep moving and rolling with it all the way down," said Nyman. "I had high expectations. I know I can do well here. Today I was just getting punched through all of the terrain and the chop. It's a beast top to bottom this year. It's brutal on the legs."
During a training run the day before the race, American Travis Ganong (Squaw Valley, Calif.) lost a ski in the middle of the course, and despite a tremendous effort to stay balanced on one ski, still fell hard enough to torque the knee he injured last season. He sat out of the race due to this tweak. "Unfortunately I have to sit out on today's World Cup Downhill in Bormio," Ganong wrote in an Instagram post. "My crash yesterday in the training run after my ski came off was too much for my body and I am not ready to push 100% today down the icy gnarly track."
Travis Goldberg (Holladay, Utah) also earned FIS World Cup points by finishing 28th overall. Other American finishes included Wiley Maple (Aspen, Colo.) in 40th and Sam Morse (Sugarloaf, Maine) in 49th. Ryan Cochran-Siegle (Starksboro, Vt.) and Tommy Biesemeyer (Keene, N.Y.) did not finish the race but were not injured.