Women Are Stealing the Show in Jackson Hole's Craziest Big Mountain Competition
More women than ever are hucking in the annual Kings and Queens of Corbet's competition, and they're going big.
Heading out the door? Read this article on the new Outside+ app available now on iOS devices for members! Download the app.
There were rumors that Veronica Paulsen was going to throw a double backflip into the iconic couloir at this year's annual Kings and Queens of Corbet's competition. But actually seeing her lay out a massive double-backie sent a collective rush of goosebumps through the crowd. She crashed, let the crowd know she was okay, and skied out of it. 
Then she went back up and tried again. 
Paulsen, who won Kings and Queens in 2020 after landing the first female backflip into Corbet's, said she was eager to push herself and try something new even if she didn't stomp it, feeding off the athletes who seemingly get more creative each year in the annual event. 
Eight women, out of 24 total competitors, hucked it off the lip for Kings and Queens this year—the most female competitors yet in the traditionally male-dominated event. The creativity this year was pretty exceptional: 2022 Queen of Corbet's Piper Kunst took an alternative line into the couloir off the notorious West Wall for her first run, followed by a front flip on run number two (which landed her in second place this year).
Nineteen-year-old Claire McPherson ended up taking the win after putting down a straight air followed by a super clean mid-slope backflip. 
Paulsen, who is expected to take home the People's Choice Award for attempting the first-ever female double backflip into Corbet's (winner of the People's Choice Award will be announced at 5pm MT on Feb. 14), says it's been impressive how much the level of play in Kings and Queens has evolved in the last six years. "Honestly this comp has pushed progression so fast," she says. "It's like every year you have this pressure to step it up, and everyone's there helping you out."
Related: How Jackson Hole's most famous run become home to freeskiing's rowdiest competition 
Paulsen was coy about her rumored double backflip before the event. She wanted to be sure she was doing it because she wanted to, not because she let herself be influenced by external pressure, which she admits is impossible to ignore. She had set it as a goal for herself over the summer, shared the idea with only a few friends in private, and practiced plenty on water ramps in Utah. But the winter came around and she still hadn't tried to throw a double on snow.
Finally, a week before King's and Queen's, Paulsen went out with some friends on Teton Pass and tried it. She sent three in a row on the Old Pass Road gap. "It happened so quickly, but I was glad the friend I had secretly told over the summer pushed me to get out and try," she said. 
The morning of the event, the athletes came together to build the lips they want to jump into the couloir. Riders work together to choose the angle and size of the jumps, collaborating with each other since there's only space for a few drop-ins.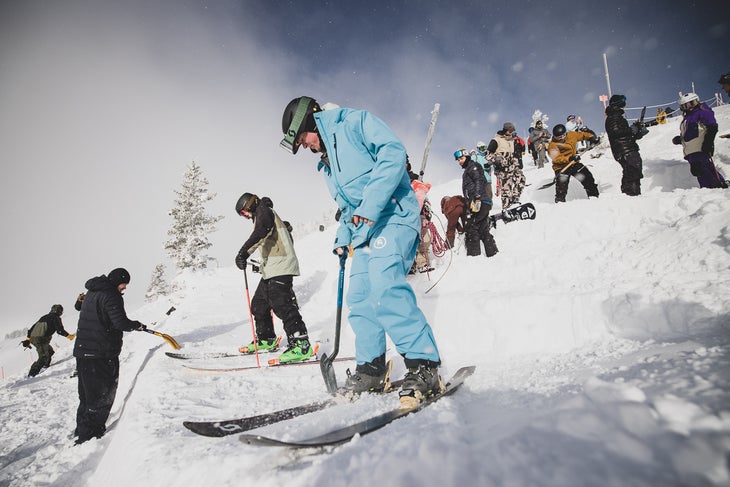 "I had to tell everyone what I wanted to do because I needed to build in a certain spot for the double backflip," says Paulsen. "All the athletes were so supportive, helping me shape it and encouraging me. It really doesn't feel like a competition, just a booster session with all your friends."
Second-place-winner Kunst, who won in 2022, doesn't have a huge competition background, nor does she consider herself much of a competition skier. "But [Kings and Queens] is special in that way," she says. Kunst dropped into the couloir as the 20th rider in the lineup—pretty late considering how confined Corbet's is—and by the time it was her turn, most of the take-offs she was thinking about hitting had massive bomb holes. She'd been eyeing the West Wall entrance since the athletes started scoping the course on Sunday, and surprised everyone when she hopped off the near-vertical rock face.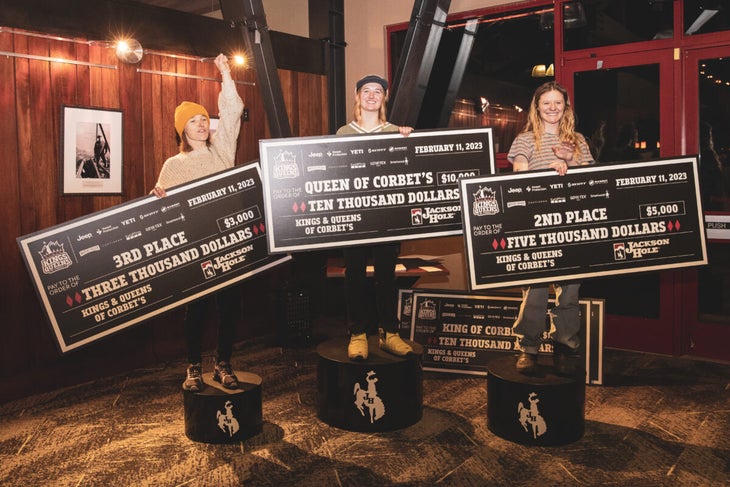 Paulsen's double backflip attempt, Kunst's West Wall drop and front flip, McPherson's seemingly effortless backflip, and Amy Jane David's massive Kosac off the biggest part of the nose, showcases the direction that women's skiing is headed, and it's an exciting one. 
"Women's progression is happening at such a fast pace right now," says Kunst. "Every day I see girls at my home mountain trying something new, progressing in their own individual ways."
Kunst and Paulsen agree that the collaborative atmosphere of Kings and Queens has made it a unique place to highlight and celebrate the progression that's happening all over. 
"I think it just shows just how quickly progress can come when there's no competitiveness, no points list or qualifiers or red tape that you have to worry about," Paulsen says. 
"It's not only proving that yes, it [women's progression] is happening, but it's also creating a spot for those top contenders to showcase themselves and inspire even more women," adds Kunst. "Give it three years. I can't wait to see what women will be doing. I don't know what it will be, but I know it will be nuts."
2023 Kings and Queens of Corbet's Results
Women
1st place: Claire McPherson (skier), Fernie, B.C.
2nd place: Piper Kunst (skier), Breckenridge, Colo.
3rd place: Sarka Pancochova (snowboarder), Czech Republic
Men
1st place: Colby Stevenson (skier), Park City, Utah
2nd place: Blake Wilson (skier), Bethel, Maine
3rd place: Alex Hackel (skier), Boston, Mass.
Watch: Full replay of the 2023 Kings and Queens of Corbet's competition