American AJ Ginnis Disqualified from Palisades Slalom After Posting the Winning Time
The former U.S. Ski Teamer, who is racing for Greece, straddled a gate during his run, which led to a 30-minute deliberation from the judges.
Heading out the door? Read this article on the new Outside+ app available now on iOS devices for members! Download the app.
As inches of snow slowly gathered on the hoods and hats of an anxious crowd, Greece's AJ Ginnis sat on pins and needles awaiting the final decision from the jury that would either crown him the Palisades Tahoe World Cup slalom champion, or disqualify him from the race entirely.
Watch: Palisades Tahoe World Cup SL Highlights
Somewhere mid-run, Ginnis had appeared to straddle a gate, but a powder-filled slalom course made it hard to see with the naked eye. In a manner reminiscent of an NFL touchdown review, the jury held off on awards for close to 30 minutes as they deliberated the call. In the end, Ginnis was indeed disqualified, crowning 21-year-old Alexander Steen Olsen of Norway winner of the first World Cup of his career.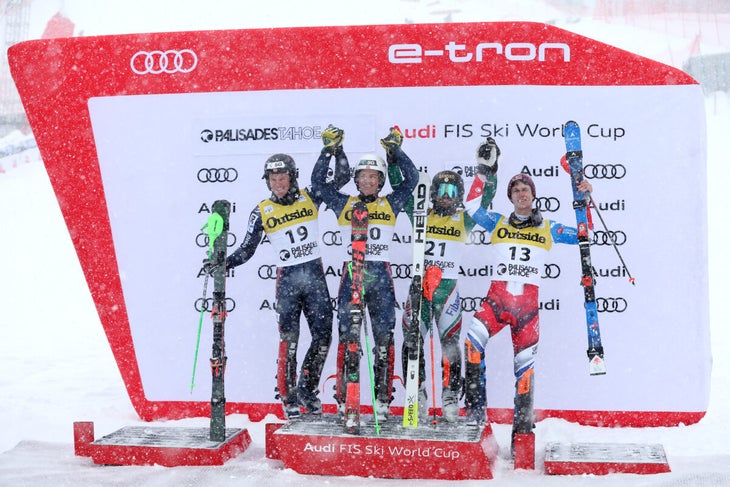 Olsen shared the podium with his teammate, Timon Haugan, in second, and both Bulgaria's Albert Popov and France's Clement Noel who tied for third.
Why so much deliberation over the fate of a ski racer from Greece? Though he races for Greece, AJ Ginnis is a U.S. Ski Team alumni, so the stakes were much higher than they seemed. 
Sunday's slalom did not yield the results U.S. Ski Team fans were hoping for. Americans Luke Winters, Ben Ritchie, Jett Seymour, and River Radamus all did not make the second run. Not much of an improvement from Saturday's giant slalom, when up-and-comer George Steffey was the only American to finish the race, earning his first-ever career World Cup points in 21st.
Watch: Palisades Tahoe World Cup SL Podium Runs
Every American involved in the execution of the Palisades Tahoe World Cup craved a big result. A demonstration of grit and perseverance that reflected the effort it took to get the race underway despite 60-plus inches of snow dusting North Tahoe throughout the weekend and the days leading up to the event.
Related: Men's World Cup Racing Gets Underway in Tahoe Despite Snow Storm
Not to mention, it's rare for the United States to host a World Cup this time of year. Palisades hadn't hosted a world-class ski race for men since the Olympics in 1960. 
Unfortunately, ski racing just isn't that big of a deal in the United States. Europe is where the culture and history of the sport of ski racing come alive. It's no coincidence that they get awarded most of the tour stops.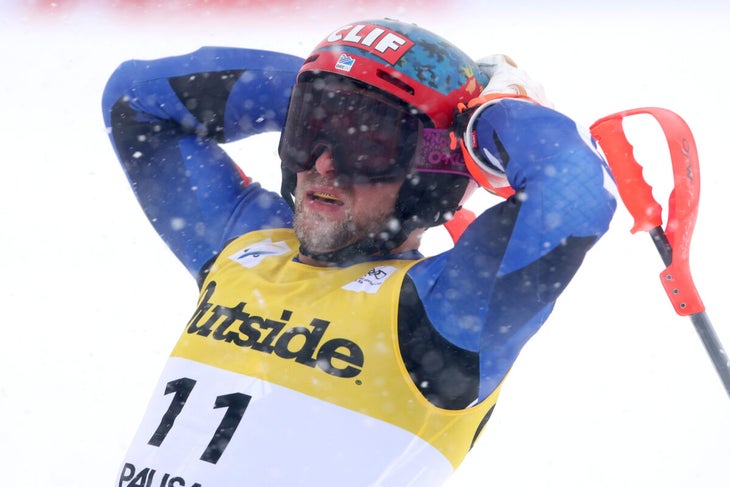 Getting races off in Palisades Tahoe felt like a mission to show the Europeans, and American ski culture, that ski racing is, in fact, cool. It was a bid for more exposure of the sport in the United States, a nation from which legendary athletes like Mikaela Shiffrin, Lindsey Vonn, Bode Miller, Julia Mancuso, Daron Rahlves, and so many more, originally hail. 
A strong American performance would have been the cherry on top of a great event. And for fans of the sport, Ginnis was the nation's best shot.
In recent races, the 28-year-old has been on a tear. He stood on the World Cup podium for the first time just weeks ago, finishing second in the Chamonix slalom before heading to World Championships and earning the first World Championship medal for himself, and his country, a silver in slalom. 
A win at Palisades would have been his first. And despite bearing the blue and white flag of his birth nation, Greece, Tahoe still felt like racing at home. 
Born in Athens, Ginnis moved to the U.S. in his teens, and attended Green Valley Mountain School in Waitsfield, Vermont, before being pulled up to compete for the U.S. Ski Team. He earned two World Cup starts under the American flag, before electing to race collegiately at Dartmouth, and surrendering his spot on the national team. Ever since, he's raced independently, trying to find his way back onto the World Cup tour. And eventually, he did, but this time representing his birth nation. 
And after two years away from the tour, the Palisades Tahoe crowd cheered just as loudly for Ginnis as they did for any U.S. Ski Teamer, and felt the same amount of disappointment when the potential fairy tale win turned out to be too good to be true.
Next up, the U.S. will host one more race on home soil in Aspen, Colorado before the Tour returns to Europe to wrap up the 2022-'23 World Cup season.