Mikaela Shiffrin Clinches Fifth Overall Globe While Her Boyfriend Secures the Downhill Title in Aspen
Norway's Aleksander Aamodt Kilde clinched his second downhill title after dominating the Aspen World Cup downhill.
Heading out the door? Read this article on the new Outside+ app available now on iOS devices for members! Download the app.
Over in Norway today, Mikaela Shiffrin secured her fifth overall World Cup title after finishing fifth in the Kvitfjell downhill. In snowy serendipity, her Norwegian boyfriend Aleksander Aamodt Kilde clinched his second World Cup title in the discipline on American snow after dominating the Aspen World Cup downhill on Saturday.
"It's a fantastic day honestly," Kilde said. "I woke up this morning and saw that she secured the overall seven races before [the World Cup] is actually done. That's quite amazing and quite inspiring and made me want to push a little bit harder today."
The 30-year-old Norwegian has won six of nine downhills this season — with one more to go at World Cup Finals. It's a win rate not seen since the days of Franz Klammer, who holds the record with eight World Cup downhill wins in one season. The Austrian legend — in attendance at the Aspen World Cup — won eight downhills during the 1974/1975 season, a year before his legendary Olympic run for gold in Innsbruck.
Vincent Kriechmayr was the only other skier to win World Cup downhills this season; the Austrian won the three that Kilde didn't. With a fourth place finish in Aspen, 0.70 seconds behind his Norwegian rival, Kriechmayr, 31, put himself out of the running for the downhill title.
Watch: Podium runs from the Aspen World Cup downhill
Rounding out the Aspen downhill podium was Canadian James Crawford in second (+0.61) and Switzerland's Marco Odermatt (+0.63), who was the surprise downhill world champion a couple of weeks ago. The Swiss skier leads the overall World Cup standings, but Kilde gained 40 points on him with today's win.
America's Downhill in Aspen was an emotional race for the home team. It was the last time racing on home snow for Travis Ganong, who announced his retirement earlier this week. The 34-year-old Californian will race one more downhill at World Cup Finals in two weeks. But in his final race on home snow, he finished 17th.
"I know that I'm never going to be able to race downhill again [in the U.S.]," said Ganong. "These last couple of runs, I've just been really enjoying the skiing and not really focusing on the results and just doing it for myself."
Ganong has spent half his life on the U.S. Ski Team and in those 17 years, has won two World Cups, finished on World Cup podium six times, won a world championship silver medal, and competed in two Olympic Games. His breakthrough races as a junior were in Aspen, so his career has come full circle, he said.
A few weeks ago, Ganong was able to cap his career with a coveted prize: a third place finish in Kitzbuehel's Hahnenkamm downhill.
"A podium in Kitzbuehel, the Super Bowl of ski racing, for us ski racers it's bigger than the Olympics and bigger than the world championships," Ganong said. "It was a fairytale ending."
Also retiring, Steven Nyman started the Aspen downhill at the very back of the pack and made one final ceremonial run. The 41-year-old downhiller's retirement is effective immediately, and no surprise, after 11 World Cup podiums, three wins, an almost-medal-winning performance in the 2015 world championship downhill, and too many injuries to count, he was emotional.
"I thought I would cry when I crossed the finish line," Nyman said. "But that was a lot of fun, and to be able to see all the people that have affected my life in incredible ways is so … so moving. It was a great goodbye, I mean to do it here on home soil in Aspen."
The Aspen downhill was also an emotional race for Bryce Bennett, a veteran American downhiller who, after scoring his first World Cup win last season, has struggled this winter, partly with back problems. But the Californian popped into his first top 10 at Aspen. Although it wasn't enough points to qualify for World Cup finals (only the top 25 in each discipline compete at finals), it was satisfying to end on a high note.
"Today was the first day I felt like I can race, and it was a good feeling," Bennett said.
Watch: Aspen World Cup highlights from the U.S. Ski Team
With Ganong and Nyman retiring, Bennett was wistful and has started to consider his role on the team.
"Steven and Travis were such role models and leaders, strong leaders with the team," said Bennett. "My entire career I'd been able to like hide behind them in the shadows, behind Steven and Travis and Marco [Sullivan] and Andrew [Weibrecht], and I could just do my own thing and it didn't really matter what I did; I could do it my own way and it was fine."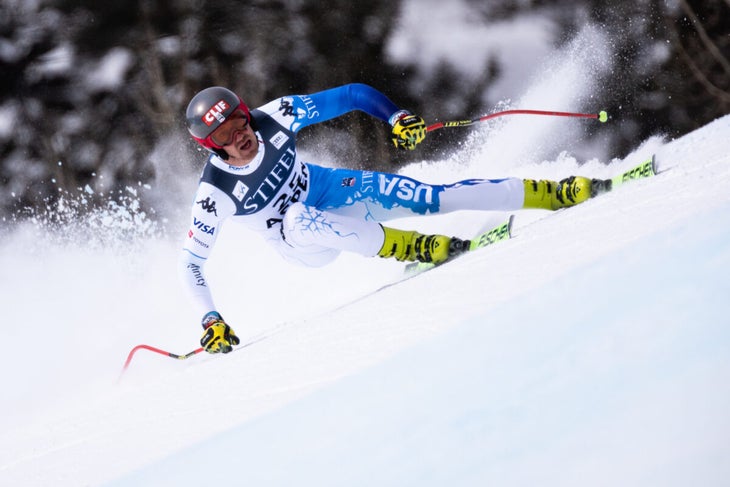 "But now I'm seeing the importance of the team," he continued, "and I've got to really give myself to the team and really contribute to the success of it because we have some really good younger guys and they deserve it. They deserve good direction and strong role models and what Steven and Travis and all those guys provided for us so we can keep this thing going."
In other good news for the Americans, Sam Morse was the only skier to start outside the top 30 and finish in the points. After a season of racing independently, the 26-year-old Mainer finished the Aspen downhill in 14th. He had similarly good results in the Val Gardena World Cup earlier this season (with a 10th and 15th place finish) and has successfully worked his way back onto the U.S. Ski Team. 
It was a tough day for Ryan Cochran-Siegle. After sitting in third place in yesterday's canceled downhill, the Vermonter finished 26th today.
The last American to officially win an Aspen World Cup downhill was Bill Johnson, who claimed the honors a month after winning Olympic gold in 1984. AJ Kitt was leading the men's downhill in both 1993 and 1995 when the races were canceled due to course conditions (1993) and bad weather (1995).
The Aspen World Cup concludes tomorrow with a super-G. Then the speed skiers fly back to Europe for one final downhill and super-G at World Cup Finals in Andorra. Odermatt currently leads the super-G standings, 148 points ahead of Kilde, with Kriechmayr another 93 points back.