It's Official: Mikaela Shiffrin Just Became the Best Ski Racer of All Time
Shiffrin tied, then broke, Ingemar Stenmark's World Cup record at the very site she collected her first ever World Cup win in 2012.
Heading out the door? Read this article on the new Outside+ app available now on iOS devices for members! Download the app.
On February 19, 1989, Sweden's Ingemar Stenmark won his 86th World Cup race—a giant slalom in Aspen, less than 100 miles from Edwards, Colorado, which would become Mikaela Shiffrin's hometown. Thirty-four years later, in a strange twist of ski-racing serendipity, Mikaela Shiffrin surpassed Stenmark's World Cup win record in his home country—a GS in Åre, Sweden.
Displaying her unshakeable balance, Shiffrin won her 87th World Cup race, a slalom at the Åre World Cup. Fittingly, it was one of her best slalom performances ever, with a winning margin of almost a full second (0.92) over Switzerland's Wendy Holdener. 
"It's pretty hard to comprehend," Shiffrin told TV viewers immediately after the race and shortly after hugging her brother Taylor during the podium celebration. "My brother and sister-in-law are here, and I didn't know they were coming, so that makes it super special."
Shiffrin's ski-racing talent is rooted in her upbringing, in part, trying to keep up with older brother Taylor on the slopes. She both cried and laughed at his surprise visit in Åre and said she could not wait to celebrate her record-breaking day with Taylor, his wife Kristi, and her mom. 
"I can't put a name with the numbers," Shiffrin said later. "I don't know how to define that. When you have these special moments, like being on the podium with Paula Moltzan in Semmering, seeing my brother and Kristi and my mom in the finish today—that's what makes it memorable. I'm so proud of the skiing I did both runs today and so proud of the team this whole season. Every step of the way, being strong and focused and positive and having the right goals and helping me manage my own focus and distractions. It's been incredible to be part of that. I'm just really thankful."
Watch: Shiffrin's journey to victory #87
It was Shiffrin's 13th World Cup win this season and 53rd World Cup slalom victory (six of which came this season). It's the second most races she has won in a single season (she won 17 races in 2019), with three more World Cups on her calendar next week.
The winning stats do not end there. Shiffrin also clinched her second World Cup giant slalom title on Friday—an accomplishment that made her even happier than winning the GS race itself. She learned that she had won the title before she skied her second run of GS.
"If you asked me in the start gate, 'Would you prefer to get this victory or to win the [giant slalom] globe, you get one, but you don't get both, what would you choose?,' I would choose the globe," Shiffrin said. "Then I was like, 'Okay, got that already, now I can push a little bit.'"
"Then you come into the finish like, 'I can't believe that all of that happened today,' it's a little too much to comprehend," she added.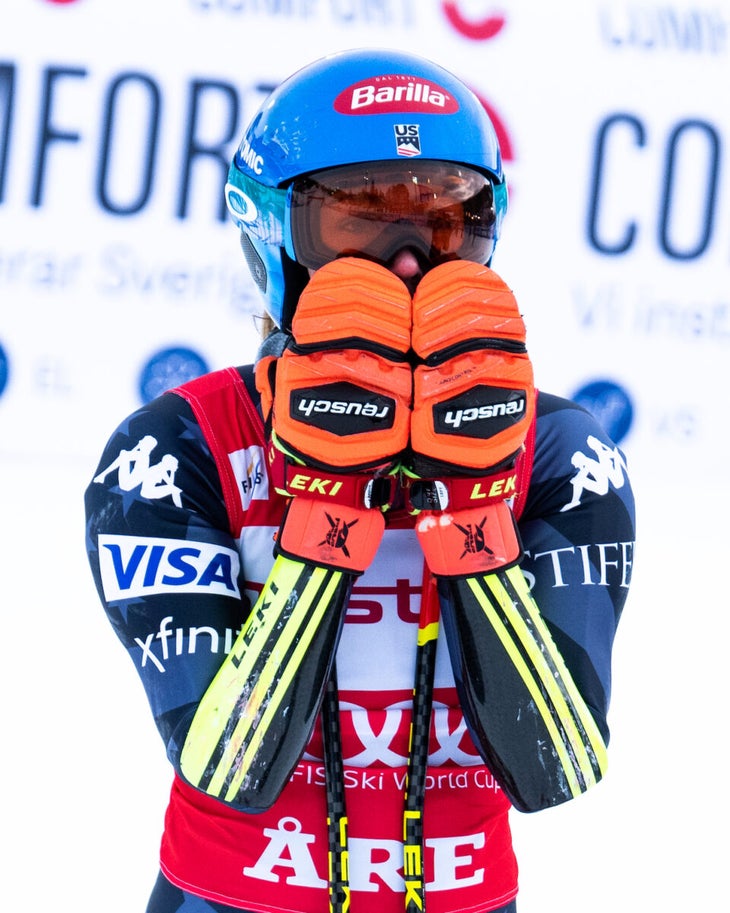 The GS globe, she added, is a symbol of consistency throughout a season—something she covets more than single race wins.
With her 20th giant slalom win, Shiffrin tied Vreni Schneider's women's GS-win record—a record that had stood for 30 years. Shiffrin has won six giant slaloms this season, tying Schneider's best season (six GS wins in 1989, the same year she won 14 World Cups—a record that Shiffrin smashed in 2019 with 17 World Cup wins). Shiffrin has one GS left on her schedule at World Cup Finals next week.
But the world wasn't comparing Shiffrin to Schneider—they were stacking her up against Stenmark. It took Stenmark just over 14 years to win 86 World Cups; Shiffrin just over 10. Shiffrin hit the mark at age 27, while Stenmark was 32. Shiffrin's 87 wins have come in every alpine discipline; Stenmark's in just slalom and GS.
Shiffrin has won 53 World Cup slaloms, 20 GS races, five super-G events, three downhills, one alpine combined, and five parallel races to get to 87. Stenmark won 46 slaloms and 40 giant slaloms.
Of note: throughout most of Stenmark's career, super-G was not yet a discipline, and there were fewer World Cups on the schedule. For example, in 1979 (the year Stenmark won his most World Cup races), there were 33 men's World Cup events, 13 of which were downhills or combined races—meaning Stenmark competed in 20 World Cups (he won 13).
By comparison, in 2019—the season Shiffrin won a record 17 World Cup races—there were 35 women's World Cups, with Shiffrin competing in 26 of them across five disciplines.
"She's much better than I was, you cannot compare," Stenmark told the Associated Press in February. "She has everything. She has good physical strength, she has good technique, a strong head. I think it's the combination of everything that makes her so good."
"And I'm also impressed that she can ski good in slalom and in super-G and downhill also," he added. "I could never have been so good in all disciplines."
But Shiffrin would take nothing away from the Stenmark.
"No matter what I do, if I achieve 86 or 87, or whatever number I achieve, it doesn't change anything about what Stenmark accomplished," she explained after tying Stenmark's record. "It's a really, really cool number. It's wild, but for me, consistency and progression throughout the season has always been my biggest goal."
Stenmark was not in Åre to watch the World Cup races. He did not want to take the attention away from Swedish skiers, four of whom made the flip in this weekend's slalom and GS, with Olympic champion Sara Hector landing on the podium in third in Friday's GS and Anna Svenn Larsson taking third in slalom on Saturday. 
In a TV interview after the GS, Shiffrin was invited to say something to Stenmark who was watching from afar.
"No matter what I do, it doesn't ever compare to what you achieved," she said. "Maybe I get the 87th victory. Maybe not. But for me the biggest dream is to be mentioned in the same sentence as you."
"Who you are and who you already were as a ski racer and what you achieved as a human, that's been the most inspiring thing," she added.
Beyond her affiliation with Stenmark and his homeland, the fact that Shiffrin tied the World Cup win record in Åre also holds meaning. It was the site of her first World Cup win back in December 2012. It was also the site of her first, and so far only, major injury—when she hurt her knee back in 2016 and missed a couple of months of World Cup racing. And in 2020, Shiffrin was slated to race in Åre, her first race back after her father tragically died, until the pandemic shut down the world.
Shiffrin does not believe in destiny, but she does believe in "some level of karma or some kind of forces beyond our control that sway how things happen."
"For whatever reason, it seemed destined to get at 86 here in Sweden," she said after she had had time to process her GS win. "I've really experienced it all and felt it all in Åre, and for this to happen today, here, it feels somehow like that karma sway has been involved a little bit."
While all eyes were on Shiffrin, the light also shown on her U.S. teammates. In slalom, Paula Moltzan finished just off the podium in fourth—her second best World Cup slalom finish ever. She accomplished this feat only a few weeks after having surgery on her left hand.
 Moltzan broke her hand a month ago when the U.S. won the world title in the team parallel event. She returned to the U.S., had surgery in Vail, Colorado, and returned to racing with three plates and 25 screws in her hand. She only had one day of slalom training before the races in Åre.
 With a 15th place finish in GS on Friday, Nina O'Brien moved up high enough in the rankings to qualify for World Cup Finals—just over a year after her devastating crash in Beijing.
World Cup Finals begin on Wednesday in Soldeu, Andorra, with men's and women's downhill. Shiffrin is planning on racing the super-G on Thursday, then GS, and slalom next weekend. She already has the slalom, giant slalom, and overall World Cup titles sewn up, so Finals will be a celebration of sorts of her historic season.