Mikaela Shiffrin Hires Female Coach to Lead Team Shiffrin
Shiffrin and coach Karin Harjo have both shattered the "ice ceiling." Now Shiffrin wants to help highlight women in ski-racing.
Heading out the door? Read this article on the new Outside+ app available now on iOS devices for members! Download the app.
A month ago, Canada's Laurence St-Germain, who ranked 15th in the women's slalom standings in 2022, became a surprise world slalom champion; in January, her teammate Valérie Grenier won the Kranjska Gora World Cup giant slalom to snag her first ever World Cup podium. It's no coincidence that the Canadian women's alpine team has enjoyed success this year: This season, coach Karin Harjo has been leading the Canadian charge. 
Now, Harjo is slated to become Mikaela Shiffrin's new head coach, replacing Mike Day, who abruptly left Team Shiffrin during world championships in February. A veteran coach with 23 years of experience, Harjo was assistant coach for the U.S. Ski Team's World Cup tech teams, then speed teams, from 2015-2022 before she joined Alpine Canada last April. 
When pressed why she was parting ways with Day, her coach of seven years, Shiffrin's team shared with the Associated Press that she "wants to do something different going forward." 
Part of the new direction, it seems, is working with a female coach. 
"It's about wanting to put a bigger spotlight on female coaches," Shiffrin told The New York Times's Bill Pennington in an exclusive interview on Sunday. "I've accomplished a lot, but maybe in this stage of my career I can give other female ski coaches more of a visual of something to strive for."
"Everybody talks about legacy or asks what I want to accomplish in the final years of my career," she continued. "This coaching decision was something that got my wheels turning. This feels important."
Beyond wanting to highlight women in what's long been a male-dominated sport, Shiffrin hired Harjo for her "exceptional work ethic, her ability to work well with other coaches, and most importantly, her connection and dedication to her athletes," she said in the same statement.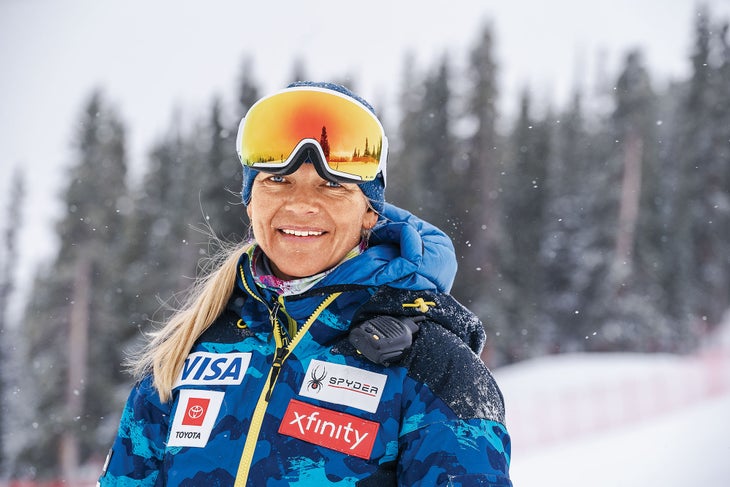 Harjo is known in the ski-racing world as the woman who shattered the "ice ceiling." At the Flachau World Cup in 2016, she became the first woman to set a World Cup technical course. In April 2022, she joined Alpine Canada and became just the second woman to serve as a head women's alpine coach (Marie-Theres Nadig was the Swiss women's head coach during the 2004/2005 season). Now the World Cup circuit has a handful of female coaches, including Shiffrin's mother Eileen Shiffrin.
For Harjo, she was not driven by the gender issue when she joined the U.S. Ski Team in 2015 and began World Cup course-setting a year later. Like Shiffrin, she is motivated to simply do her best in her chosen profession.
"I didn't become a coach because of gender, nor do I perceive success as a coach being driven by gender," Harjo said  in a Q&A about what inspires top women in skiing for Modernwellnessguide.com. "It is the relentless pursuit of learning how to lead and help humans be their best. It is about the passion for learning and growing every day. It is about helping others to focus on the one thing we can only control, which is ourselves and our decisions."
Unlike many top coaches, Harjo never ski raced. Born to Norwegian parents, she spent part of her youth in Japan where her parents were missionaries. In high school, her family moved to the northwestern United States, and Harjo began working on her PSIA ski instructor certification, then became part of the PSIA Northwest Technical Team. She attended the University of Washington, majoring in cellular and molecular biology, and considered pursuing a career in health. But she had already fallen in love with teaching skiing.
"I loved the idea of curing cancer, but the lab was lonely," she told SKI last winter. "I followed my heart and became a full-time ski instructor and then a coach."
In 2000, Harjo began coaching at Mt. Hood's summer race camps. Then in 2011, the U.S. Ski Team hired her as the head western regional coach. Four years later, she joined the USST's World Cup team and quickly endeared herself to the athletes.
"Karin meets you as an equal," Alice McKennis Duran, a former speed specialist, told SKI last year. "Athletes often look to a coach to make decisions for them. Karin doesn't decide, she meets you straight on and asks the questions you need to be asked to figure out what is best for you."
Shiffrin was also impressed with Harjo when they worked together on the U.S. Ski Team in previous seasons.
"I've witnessed her exceptional work ethic, her ability to work well with other coaches, and most importantly, her connection and dedication to her athletes," Shiffrin said in the statement. "I believe she can add a huge benefit to my program in the coming years and will provide a fresh and new way of thinking as we move forward.
"The thing that strikes me the most about Mikaela is that she has already achieved so much, but she knows there's still room for betterment," said Harjo in a statement. "I like to think I approach my coaching career in this way, and I'm so looking forward to working together with Mikaela and the team."
Harjo will finish the remainder of the 2022-2023 World Cup season with Alpine Canada. In April, she will join Team Shiffrin in Kvitfjell, Norway, for their upcoming spring testing camp.