Odermatt Makes Super-G History in Aspen While U.S. Skiers Charge From The Back
The Swiss racer is the first ever skier to win five super-G races in a single season.
Heading out the door? Read this article on the new Outside+ app available now on iOS devices for members! Download the app.
The word "history" has been bantered around a lot this ski season, mostly when it comes to Mikaela Shiffrin's career. But this weekend, it was Marco Odermatt's turn to notch his name in the records. The 25-year-old Swiss racer won the Aspen World Cup super-G, becoming the first skier ever to win five super-Gs in one season.
With his five wins, Odermatt surpassed legends Hermann Maier, Aksel Lund Svindal, and Kilde, who have all won four super-Gs in one season.
Watch Podium Highlights from the Aspen World Cup Super-G
With the win, Odermatt also locked in his first World Cup super-G title.
"I didn't know that it would be a record, so it's really nice," Odermatt said. "Five victories in one season is pretty cool and securing the globe before the [World Cup] Final is even better."
Just a breath behind Odermatt (+0.05 of a second), Germany's Andreas Sander secured his first World Cup podium finish in second place. The 33-year-old speed skier also won a silver medal in downhill at the 2021 world championships.
Aleksander Aamodt Kilde—yesterday's downhill winner in Aspen—rounded out the podium (and finished second on the super-G standings behind Odermatt). Odermatt also gained on Kilde in the race for the World Cup overall title. With a 386-point lead over Kilde, Odermatt is a heavy favorite to win his second overall title.
Related: Mikaela Shiffrin Clinches Fifth Overall Globe While Her Boyfriend Secures the Downhill Title in Aspen
Only Kilde and Odermatt have won World Cup super-G races this season.
"I wasn't counting points at the start for the globe," added Odermatt. "I just wanted to enjoy the race. It was a really cool hill for super-G, a really nice course, and I was excited to race it and wanted to show my best skiing."
While no Americans made the podium, three charged from the back and skied into the points (with top 30 finishes). First, Jared Goldberg, starting with bib 45, laid down a run that put him in the top 15. Then Erik Arvidsson, with bib 52 (the second-to-last starter), finished in a tie with Goldberg. The two Americans ended up 14th.
It's Arvidsson's and Goldberg's best super-G finishes ever and the best World Cup finish in two years for Arvidsson. Goldberg narrowly missed the podium in the Kitzbuehel downhill earlier this season with a fourth place.
"It turns out the wind was definitely in my favor, but I didn't know that at the time, I just thought I executed my plan really well," said Arvidsson, a 2021 Middlebury College graduate.
"I'm just happy to end the season with a good run like that and bring some momentum in the next year."
Also skiing from the back—bib 46, to be exact—Bryce Bennett scored his best super-G finish of the season with 28th. After his 10th place finish in downhill yesterday, Bennett will look to carry momentum into next season, when he will step into a leadership role left by retiring veterans Travis Ganong and Steven Nyman.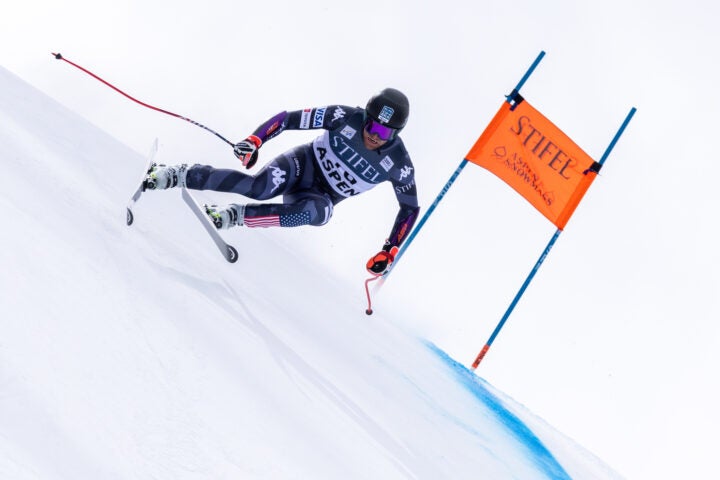 America's best super-G skier, Ryan Cochran-Siegle—who won the Olympic silver medal in the discipline last year—skied a clean run but did not charge like he has in previous years. He ended up finishing 18th.
"I didn't quite link up how I think my best skiing can be, so I would say I left a significant amount on the hill, but I executed the line well," explained Cochran-Siegle. "At this high level, you have to have everything work together in order to be successful. Skiing Aztec and then also Straw Pile, those two sections [of the course], it was just a lot of passive skiing. You can't be one of the best if you do that."
Cochran-Siegle admitted that opportunities brought by his Olympic medal distracted him from training in the off-season, and without that focused training, he has lacked the confidence to attack.
Still, RCS has done well enough in downhill and super-G this season to earn starts in those races at the World Cup Finals in Soldeu in two weeks. While Arvidsson, Goldberg, and Bennett jumped up in the super-G rankings, they did not make it into the top 25 (the cut-off for World Cup Final qualification). Goldberg, ranked 21st in downhill, earned a spot in that discipline, while team parallel world champions Tommy Ford and River Radamus earned spots in giant slalom at Finals.
Watch Aspen Super-G Highlights From the US Men's Team
Radamus also raced the super-G in Aspen. From nearby Vail, Colo., Radamus had hoped to light a spark for local ski racers the same way that Bode Miller, Ted Ligety, and Steven Nyman inspired him when he watched them race at Beaver Creek in his youth.
Although he did not finish the super-G, Radamus was happy that the men's World Cup came to the U.S. for the first time in six years.
"I know that there's a ton of young little skiers out in the crowd," he told NBC before the Aspen World Cup. "The most special part about what we get to do is inspire the next generation to pursue their dreams like we have."