These Affordable Recovery Tools Let You Skip That Pricey Massage
Treat yourself right with these handy massage and stretching tools.
Heading out the door? Read this article on the new Outside+ app available now on iOS devices for members! Download the app.
Recovery tools aren't just for professional athletes. A lot of everyday skiers would actually benefit from owning and using some of the more basic tools to help combat delayed-onset muscle soreness and tightness after long days on the slopes.
Recovery gadgets come in all shapes and sizes, from standard foam rollers and trigger point tools to stretching straps and ice wraps. But most have the same purpose: To help lengthen tight muscles and ligaments, loosen muscle knots, and increase blood flow to tired body parts.
The items on this list are affordable, packable, easy to use on yourself, and ideal for treating muscles and body parts that frequently get overworked by skiing. If used consistently, these tools can provide the same kind of relief from soreness and tightness as a pricey professional massage. They're also great for priming the body for your next day on the hill.
Yoga Strap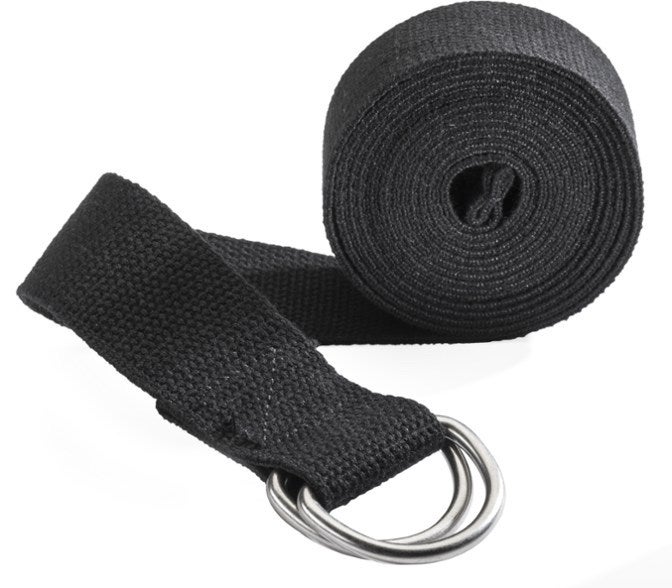 Best for: Hamstring and calf stretch
If you've ever been to a yoga class or done an online yoga video, you know the drill. While lying on a mat on your back, wrap a yoga strap around the middle of one foot and pull on it to raise your straightened leg towards the ceiling while you keep your other leg pressed firmly against the mat. This will stretch out all the muscles on the backside of the leg—calf, hamstring, and even glute—that get tight after skiing. You could just use a belt or jump rope or whatever else you have on hand, but we recommend shelling out the $5 for a real yoga strap because it's just handier—the length is adjustable and it doesn't give like bands and plastic jump ropes.
Related: Yoga poses for skiers with tight hips 
Lacrosse Ball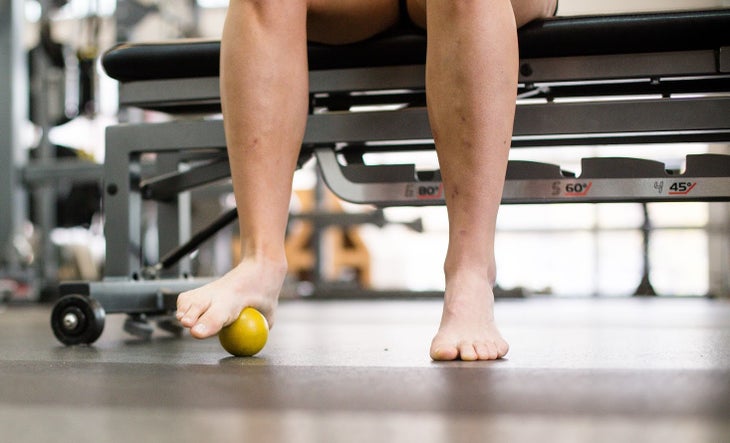 Best for: Plantar fascia release
When we're in ski boots, our feet should be locked in. Even so, our feet are constantly flexing while skiing to absorb inconsistencies in terrain and help us stay balanced. No wonder that the bottoms of our feet, the plantar fascia around the arch area, can be sore and tight after a day on the hill. A lacrosse ball is great for loosening this soft tissue at the bottom of the foot. It's firmer than a tennis ball, so it won't give as easily under pressure when you roll your foot over it. There are fancier foot massage tools out there, like dedicated massage rollers, but a lacrosse ball gets the job done just as well.
Peanut/Tennis Ball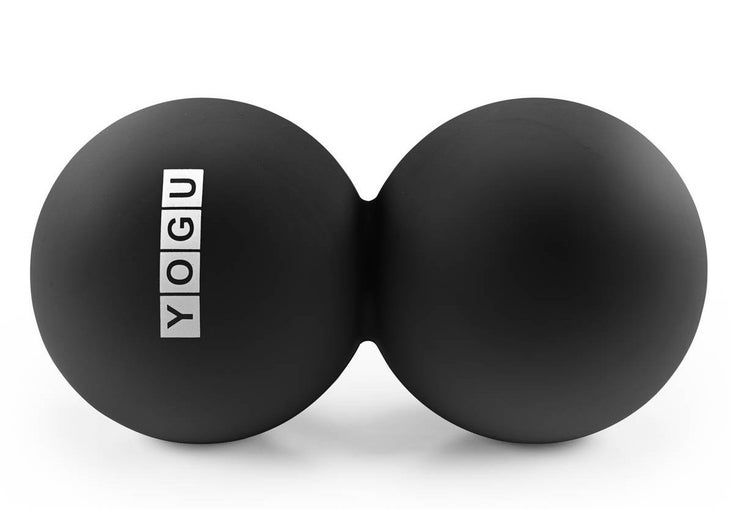 Best for: Psoas and upper back release
You may not have ever heard of the psoas muscle, but it could be the source of your low-back or hip pain after skiing. The psoas is a long muscle that is attached to the low spine and wraps around the hip to the pelvis. If your glutes, hamstrings, or hip muscles aren't strong enough, the psoas will pull double duty when you're skiing to compensate, which often leads to the psoas getting overworked and angry.
A peanut (two tennis or lacrosse balls taped together) or a single tennis ball are great trigger-point tools for releasing psoas tension. While lying on a mat or standing up against a wall, place the peanut or tennis ball behind your low back along the spine (not on it), and lean into the ball to apply pressure. You may need to adjust the placement of the ball, but you'll know when you've found your trigger point.
This tool is also great for loosening muscle knots behind the shoulder blade and upper back—areas that can get sore from poling on flats or carrying skis.
Related: Your low back hurts after skiing because you've neglected your butt and core
Trigger Point Ball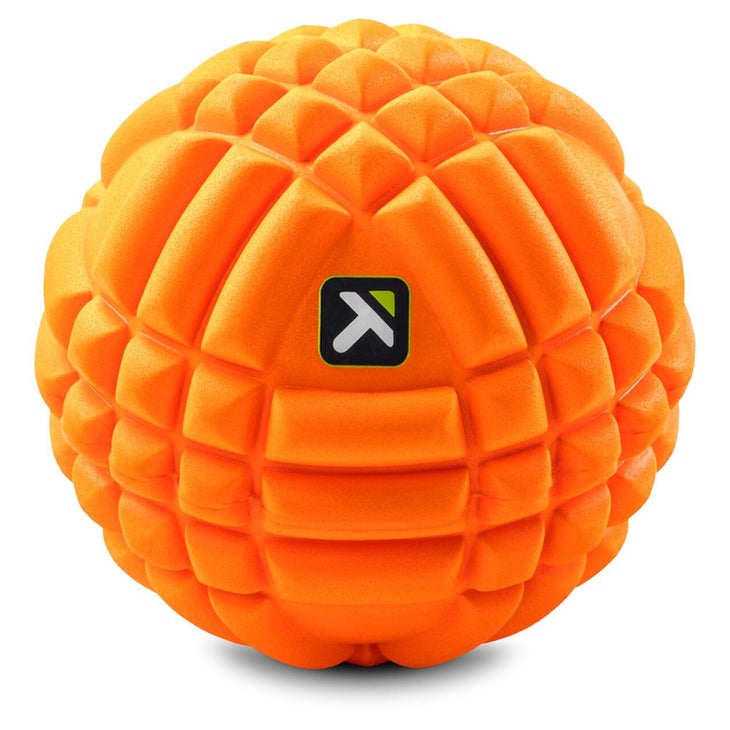 Best for: Hip flexor and glute release
This might be the most important tool for skiers on this list. Most skiers get tight hip flexors and suffer from deep glute pain that actually stems from an area right under the sciatic nerve called the quadratus femoris, a muscle that's responsible for leg rotation. This grapefruit-sized trigger point ball is the perfect size and shape to hit those deeper muscles of the hip and glute more effectively than your standard cylindrical foam roller. Simply place it under a butt cheek while sitting on a mat and get rolling. Again, you shouldn't have any trouble locating the spots that need attention.
Foam Roller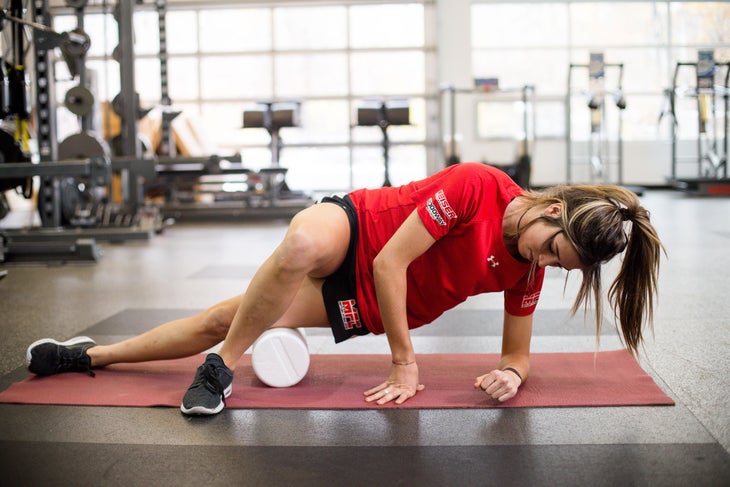 Best for: Lengthening quad muscles and IT Bands
While the trigger point ball is great for relieving tension in the hip and glute, the cylindrical foam roller is still the most effective tool for rolling out and lengthening the big muscles on the front of the leg. Place the foam roller under one quad while laying face down on the floor or mat. Use your elbows and forearms to lift some of your body weight off the ground and roll yourself back and forth, allowing the foam roller to travel up and down the length of your quad. Shift your body sideways to roll out the IT band. It's not the most fun activity, but it will do you good in the long run.
Roller Stick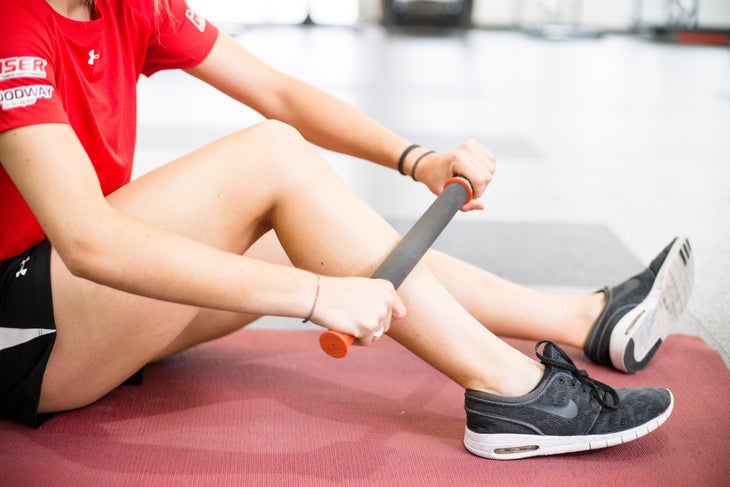 Best for: Rolling out shins and calves
A roller stick is the best tool to treat the skinnier muscles of the lower leg. Simply roll the stick up and down the length of your calf, and don't forget to hit the soleus muscle—the muscle that runs along the calf on the side of the lower leg—as well as the muscles on the front of the shin. They all get tired and tight from flexing and firing while skiing.
Related: How to work the stabilizer muscles of the lower leg
Percussion Massage Gun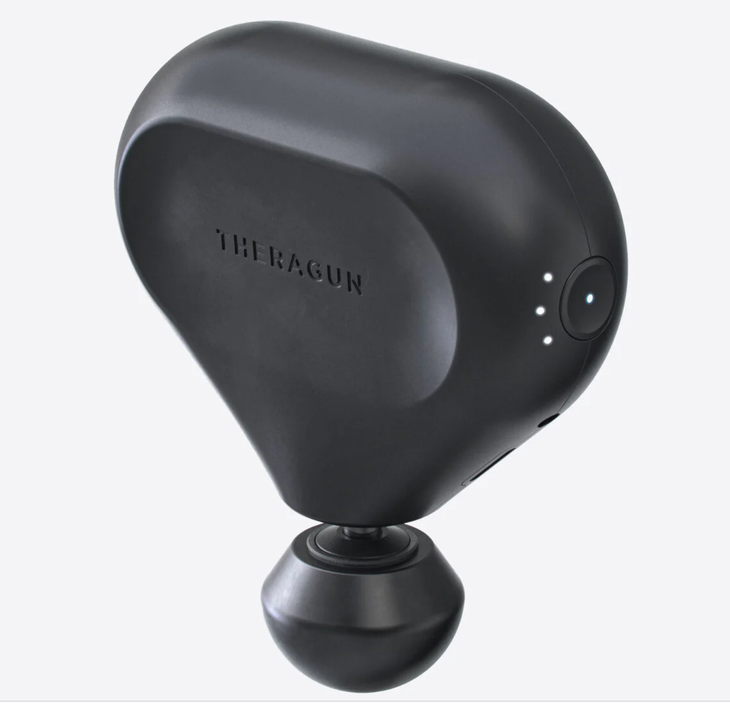 Best for: Massage all over
OK, this recovery tool may not fit in the "affordable" category, but it's worth its weight in gold. There are a plethora of percussion massage tools on the market now, the most well-known being Theragun, Hypervolt, and Addaday. These handheld massage guns vary in size, massage attachments, and other do-dads, but they're all great for relieving muscle pain and soreness all over the body. Our favorite is the Theragun Mini because it's travel-friendly, and small and lightweight enough to use on yourself in difficult-to-reach places like the shoulder and neck.
Elasto-Gel Ice Wrap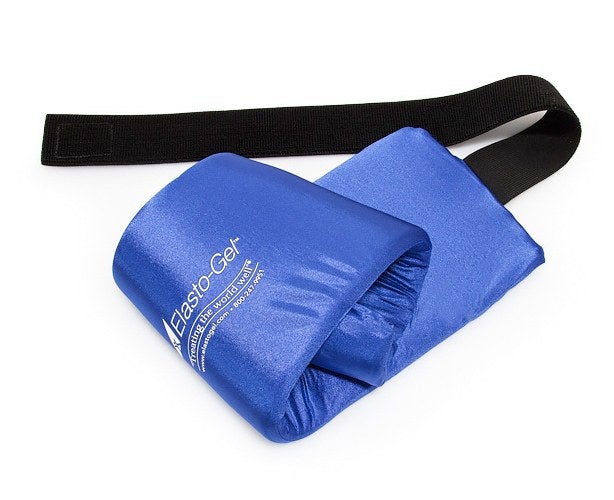 Best for: Icing swollen knees
Skiers who suffer from swollen knees and joints after skiing should consider investing in an Elasto-gel ice wrap. These wraps come in different sizes, are specifically designed for various body parts, and offer an easy, mess-free option for icing. Store the wrap in the freezer and it's ready to use when you get back to the condo or home after skiing. Most wraps stay cool for up to 20 minutes and can be applied directly to the skin without worrying about damaging the skin.
Related Reading
DIY Physical Therapy for Skiers
Why Skiers Need to Work on Mobility
Even U.S. Ski Teamers Get Sore, Here's How They Recover