Find Out If You're As Fast As You Think You Are With These 5 Ski-Tracking Apps
When you need to know every bit of data, from vertical feet to how many times you hot-lapped the T-bar, these are apps are for you.
Heading out the door? Read this article on the new Outside+ app available now on iOS devices for members! Download the app.
The ski-tracking app landscape has morphed quite a bit over the last couple of years, with a few of the usual suspects shutting down, such as Snowcru and Trace Snow, and some familiar names getting into the slope-tracking game (Strava). We took these out for a spin during several recent ski days in Colorado. Here are SKI's picks for the 5 best apps for tracking your skiing.
Best For Geeking Out: Ski Tracks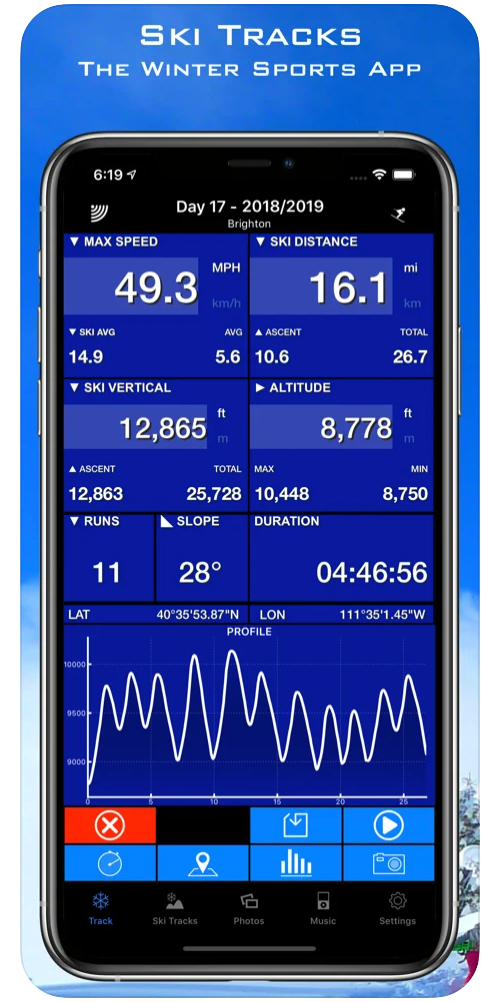 Platforms: Android, iOS, Watch OS, Android Wearables
Cost: 99 cents
Best Feature: Easy on the battery
Ski Tracks is one of the original tracking apps, and features all the requisite functions, including number of runs, speed, distance, vertical feet, and total time on the slopes. Although the interface is fairly simple, Ski Tracks still gets the job done. We especially like the virtual 3D maps where you can see every run you took and lift you rode, and that you can view your stats from any ski day in either chart or graph format. App updates this season smooth compatibility issues across all platforms and improve the photo upload process.
Best For Detailed Maps: Slopes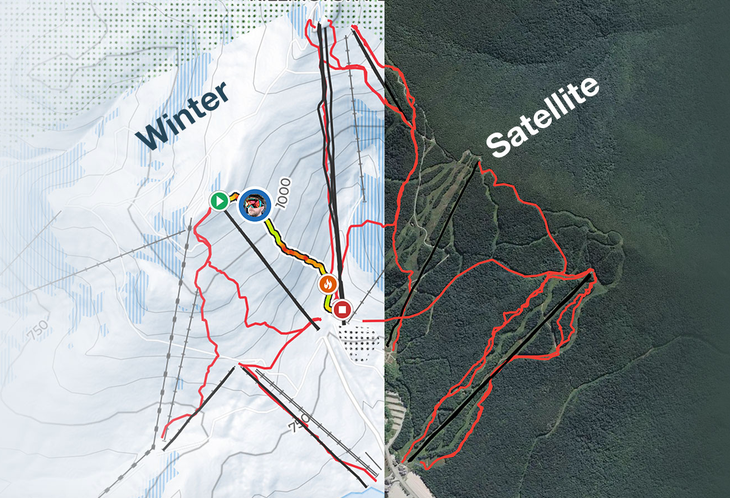 Platforms: iOS, Watch OS, Android
Cost: Free for basic tracking, premium versions start at $3.99 for passes or $24.99 for annual plans
Best Feature: Interactive maps that track your day
Slopes is a great option for those who want all the basic stats recorded plus some nice added features in the premium (i.e. paid) version. In the free version, Slopes tracks your runs, vertical feet, speed, lifts—all the expected stats. If you purchase an annual subscription or a day pass, you get access to the 3D trail maps, run replay, connectivity with health stats such as heart rate and calorie output, and performance analysis.
Our two favorite features in Slopes are the shortcut to Siri so we can use voice commands to start and stop recording without having to mess with our phones; and, for iOS and Watch OS users, the connection to Apple Health, so we can see how hard we're working out there.
Bonus: If you're intrigued by the premium services but don't want to commit, Slopes offers a single-use option, so folks who only ski a handful of days per season don't need to invest in something they might not get enough use out of.
Best For Basic Stats: Strava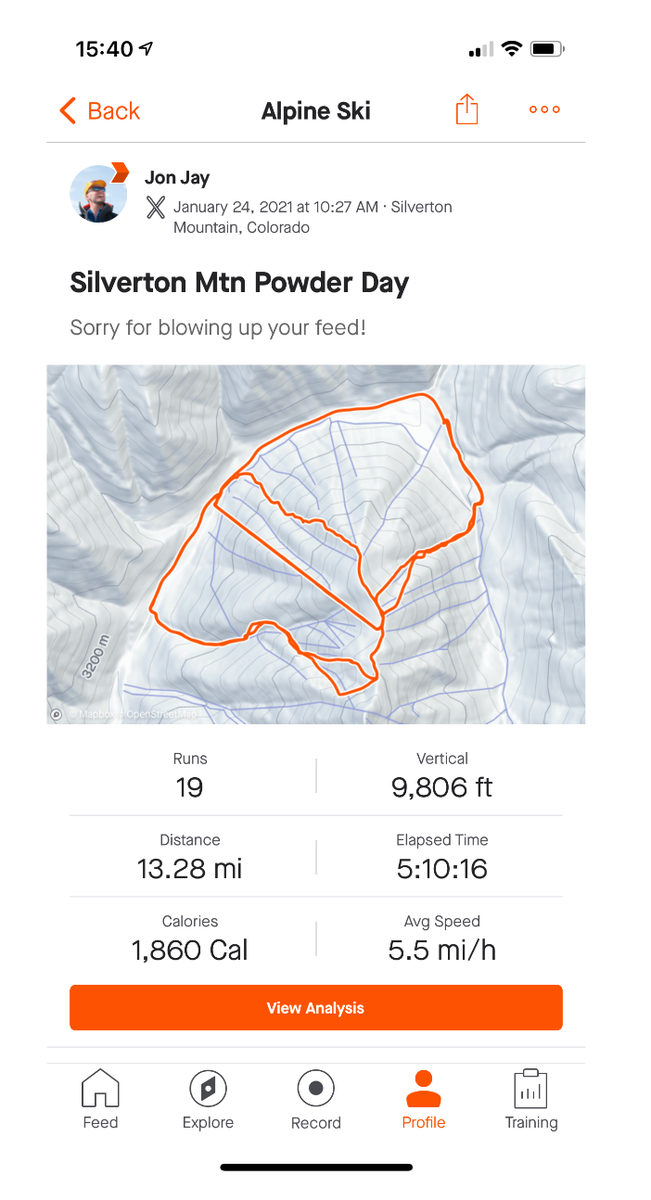 Platforms: iOS, Android, Watch OS, Android Wearable
Cost: Free, subscriptions for $5/month
Best Feature: Familiar format and ease of use
The mainstay in all things fitness tracking, Strava has added alpine skiing to its list of measurable activities. Though nothing fancy, Strava accurately tracks vertical, speed, distance, and time on the mountain, and you can interface with other skiers through Strava's popular leaderboard functionality. We appreciated the elevation tracking and the ability to see speeds over the course of the day, but to see this type of analysis for each run, including heart rate, you have to buy a subscription.
Best For Battery Life: We Ski & Snowboard
Platforms: iOS, Android
Cost: Free
Best Feature: Tracks location of friends and family on the mountain
The newest app in this bunch, We Ski & Snowboard popped up on our radar after the recent demise of Trace Snow. We Ski tracks all the stats by season, from number of ski days and vertical feet to top speeds and time spent making turns. You can also do a deep-dive into individual runs and view and your speed and elevation on each one.
What's more, as more skiers adopt this app, we should be able to see see lift lines wait times at participating resorts, which is a huge bonus. Another area where We Ski stands out is by incorporating a social component with the ability to connect with friends and family through the app, see where they are on the mountain, and share your location with them.
Best For Connecting With Friends: SkiLynx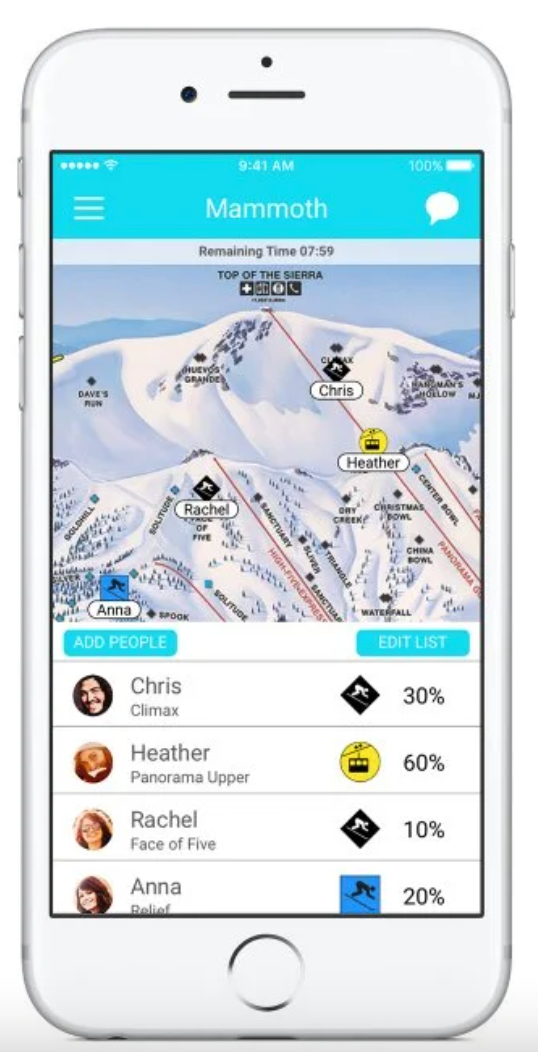 Platforms: iOS, Watch OS, Android, Android Wearable
Cost: $2.99
Best Feature: Easy to connect with ski buddies from within the app
SkiLynx's focus is on the camaraderie of skiing rather than stats-tracking, per se, but it does supply most, if not all, of the expected measurements, so it's worth considering when connecting with ski buddies and knowing basic stats are both of importance.
SkiLynx will record your runs, lifts taken, and miles skied, and serving it all up in an easily digestible summary. What's more, you can message friends and find their locations through the app, organize group chats, and post updates to Facebook and Twitter. After all, if everyone doesn't know where you were at all times, were you ever actually there at all?