This U.S. Ski Teamer's She-Shed Isn't What You Think
If slalom skier Paula Moltzan can't be on snow, you'll find her in "Paula's Shed Gym."
Heading out the door? Read this article on the new Outside+ app available now on iOS devices for members! Download the app.
How do U.S. Ski Teamers stay fit in the summer when they're not on snow?
Mikaela Shiffrin heads to "Mikaela's Corner," a private workout space at the Westin Riverfront's Athletic Club in Avon, Colo., just down the road from Shiffrin's home. Fellow slalom racer Paula Moltzan, meanwhile, gets down to business in "Paula's Shed Gym."
Summer is always a critical prep period for the athletes of the U.S. Ski Team, when most spend at least a few consecutive weeks at the team's indoor training site at the Center of Excellence in Park City, Utah, participating in a focused strength and conditioning training program.
But after the especially taxing 2021 World Cup season, which kept athletes in Europe for most of the winter due to Covid travel restrictions and quarantine requirements, some U.S. Ski Teamers like Moltzan found they needed more time at home this summer.
"I've definitely put my time and hours in at Park City," says Moltzan, who's been on the U.S. Ski Team since 2012. "But I need the balance between a real life and ski racing, so being at home throughout the summer is my leveling point."
"Home" to 27-year-old Moltzan, originally from Prior Lake, Minn., is now Charlemont, Mass., where she lives with her fiancé Ryan Mooney just a few miles from Mooney's parents' home. It was the Mooneys who converted an old wood shed on their property into what is now known as "Paula's Shed Gym."
"I've been with Ryan for nine years, and I've lived out here for almost seven," Moltzan explains. "Ryan's parents are my second parents—I don't call them my 'step parents' or 'in-laws,' they're just my parents. They've done everything they can to support me over the years, so they took their wood shed and turned it into a gym so I could work out."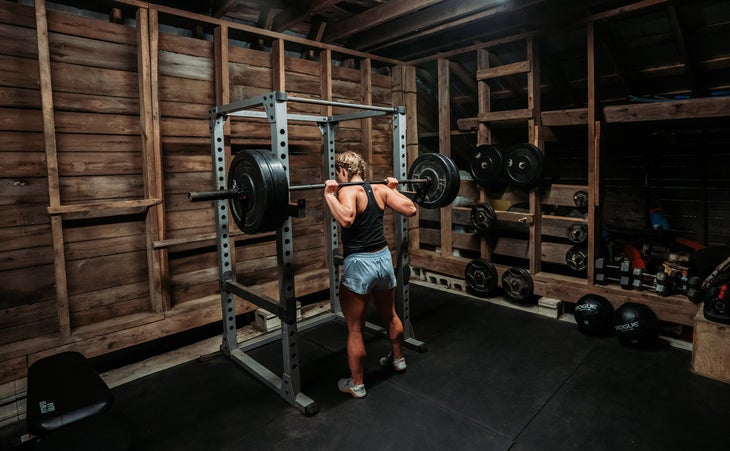 It's taken a few years and multiple renovation projects to get the 375-square-foot shed gym fully operational, a timelapse that mirrors Moltzan's rise up the World Cup ranks.
Related: The U.S. Ski Teamer You Should Be Watching (Who's Not Mikaela Shiffrin)
Moltzan first started working out in the Mooney wood shed in college, when she was skiing for the University of Vermont and trying to earn her way back on to the U.S. Ski Team after being removed from the team in 2016. At the time, Paula's Shed Gym still housed some stacks of wood and had a dirt floor. But as Moltzan began winning NCAA Championships and collecting World Cup points, more wood stacks were cleared to make room for bigger pieces of gym equipment, and the dirt floor was replaced by concrete and rubber.
This summer, which followed Moltzan's most successful World Cup season to date, Paula's Shed Gym saw its biggest transformation yet, says Moltzan. The remaining wood was cleared, the shed received a new roof, and—mother of all luxuries—it now has electricity.
"That's the best part," says Moltzan. "I've never had electricity in it until this year, and this summer I got a fan, which was revolutionary."
Now Moltzan has everything she needs to keep on track with her summer fitness program, which is written for her by her strength trainer Bob Poehling and shared electronically via the U.S. Ski Team's Visual Coaching app.
Her weekly workout plans include four to five gym sessions per week and focus on a mix of strength, endurance, mobility, and aerobic fitness training. Moltzan, like her peers, is required to wear a heart rate monitor and log her workouts via the U.S. Ski Team app so coaches can stay informed of each athlete's progress and make any necessary adjustments to their training plans.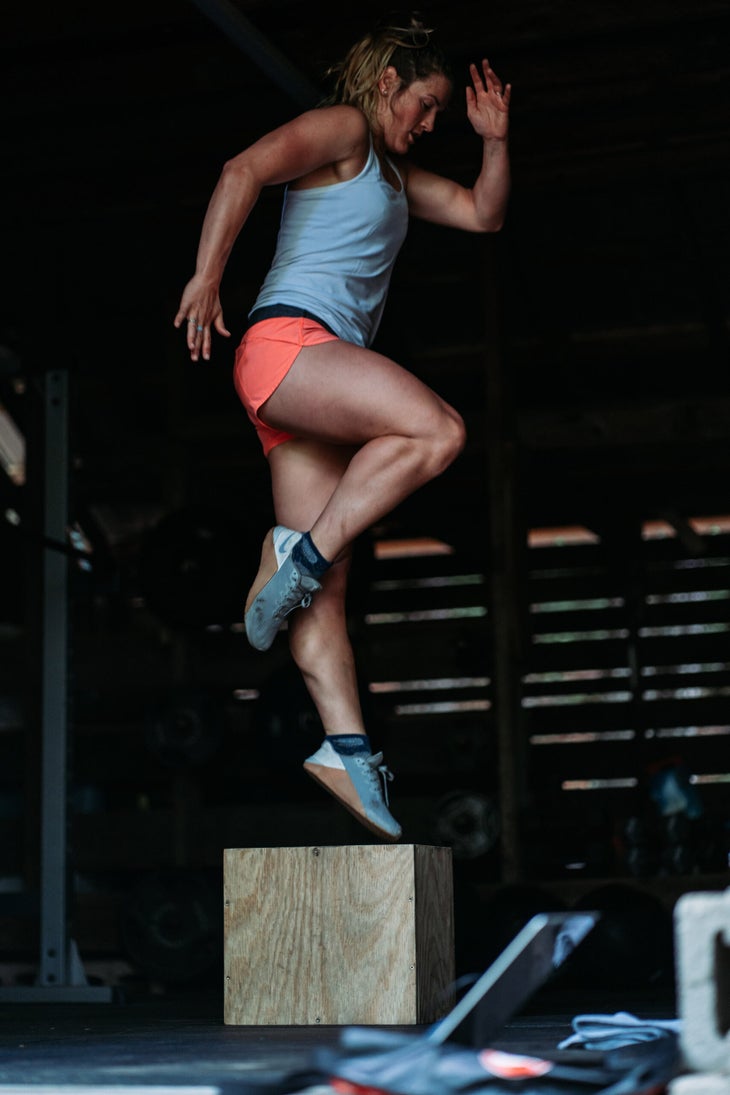 "The apps are used for accountability," explains Moltzan. "If we miss a workout or miss a heart rate monitoring session, we get charged $5. When you're dead tired and it's super hard to motivate yourself, not having to pay $5 is pretty good motivation."
But if you should know anything about this U.S. Ski Team underdog turned rising tech star, it's that she doesn't really need the extra motivation. She's known for grinding it out and getting it done on her own accord.
Related: What Makes the Best Athletes, Well, the Best 
"I miss my teammates all summer long, but for me it is easier to be at home working out because we spend so much time away from home in the winter," she says. "It's really important for me to have a normal routine and push myself out of my comfort zone, rather than comparing myself to my teammates."
Is working out her favorite thing in the world? Not really—she's ready to get back on snow, she admits. But if you have to spend your summer pumping iron, a wood shed in the Berkshires isn't a bad place to hunker down.
More Fitspo for Skiers
This Medieval-Sounding Therapy Did Wonders for My ACL Recovery
Strengthen Your Hips and Stop Making Your Legs Do All the Work
Spice Up Leg Day With These 4 Squat Variations