Going Rogue
Sure, ski instructors selling under-the-table private lessons will save you money. But at what cost?
Heading out the door? Read this article on the new Outside+ app available now on iOS devices for members! Download the app.
Last February, Chet Homer, the owner of Maine's Shawnee Peak ski area, saw an ad posted on Craigslist advertising affordable ski lessons at his resort. The person was offering private instruction for a fraction of the price that Shawnee Peak charges at their ski school. The ski area is on private property and what the seller was doing was illegal.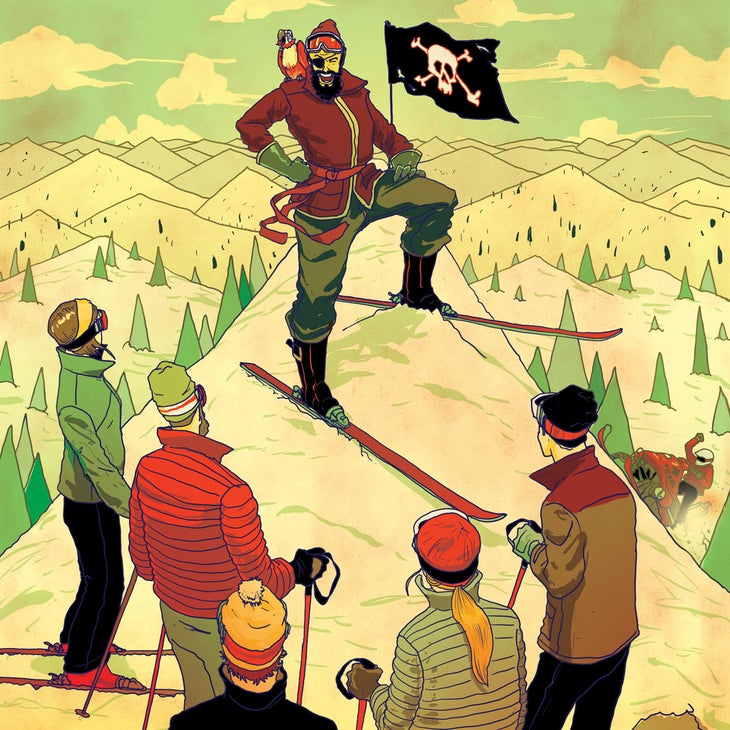 So Homer did what anyone would do in his situation: He set up a sting operation. His son emailed the instructor online, hired him for a lesson, and arranged to meet on a Saturday morning. Just after the instructor showed up, Homer gave him a stern talking to and had the local police issue him a warning. "We had no desire to be nice. We wanted to catch this guy, get in his face, and say, 'Never do this again,'" says Homer.
Rogue ski instructors aren't a huge problem for ski resorts these days, but they're reoccurring enough that resorts are beginning to pay attention to sites like Craigslist and keep a close eye on beginner terrain for anyone who looks like they're teaching a lesson out of uniform. 
"It's difficult to gauge the extent of this problem, because by their very nature, these lessons are underground, so to speak. So we can't say how frequent these are, but anecdotally, we know it's happening," says Dave Byrd, the director of risk and regulatory affairs for the National Ski Areas Association. "With the advent of Craigslist, the problem has grown, and as technology expands and becomes more inventive with smartphone apps, it's definitely going to become worse."
Book a private lesson through a major ski resort and it'll run you upwards of $800 or $900 for the day. Hire an instructor via Craigslist and you'll pay half that. But the risks you'll face are many, says Byrd: The instructor likely has no insurance in case of injury, no background checks, and no guarantee of instructor certification.
There are risks for the instructor, too. "Without insurance, their personal assets are at risk if there's a lawsuit, there's no worker's comp coverage if the instructor is injured during the lesson, and if they are doing this at one of 122 ski areas on U.S. Forest Service land, they are subject to criminal penalties from the federal government," says Byrd.
In most cases, rogue instructors caught in the act will have their pass pulled and be blacklisted from the resort for a year or longer. In some cases, though, resorts do pursue legal action. At Breckenridge, Colo., which is located on U.S. Forest Service land, the resort will notify federal authorities.
"When an individual is identified as conducting an illegal lesson, the resort's security team will investigate and may also notify local law enforcement," says John Buhler, Breckenridge's chief operating officer. "Individuals who are caught typically are issued a lifetime ban at all Vail Resorts ski areas and violators are also subject to legal action for trespassing and breach of the season pass agreement, in addition to potential citations, fines, or other criminal penalties."
Learning Curve: 50+ Tips from PSIA Instructors
Craig Albright, director of the ski and snowboard school at Mammoth Mountain, Calif., says they catch people teaching off the books a few times a year. Many of the tip-offs come from resort-employed instructors who spot so-called pirate teachers on the hill. "There's a fair amount of self-policing," Albright says.
Albright's first move is to simply inform the perpetrator that it's illegal to conduct business on federal lands without a permit. If that doesn't scare them off, he'll get the authorities involved. "We're less interested in busting people as we are in educating them," he says.
Pirate Instructors Speak
Ask these rogue instructors why they do it and they all say the same thing: better pay. A Tahoe resident, who asked to be referred to as C.N. to protect his identity, earned the highest level of certification as an instructor but quit four years ago. "Despite all my years of teaching, I still wasn't making all that much money," he says, noting that he was earning $25 an hour but his hours were limited. So he started teaching on the side and now charges $500 for full-day private lessons.
C.N. says he offers more flexibility and customized options than the resort is able to—he'll meet clients in the parking lot to help carry gear to the lifts or if clients want to visit different ski resorts in the area, for example, he can accommodate that. C.N. advertises on Craigslist but says 70 percent of his bookings come from word of mouth. To avoid getting caught, he researches potential clients online before booking. "If I get a weird vibe, I pull the plug," he says.
Another instructor, we'll call him Gucci, has been teaching bootleg lessons around resorts in western British Columbia for the last two years. He previously worked as an instructor at a resort, making $16 an hour, but again, he says he wasn't granted enough hours for his weekly pay to cover his expenses.
He now charges between $50 and $90 an hour, often takes home $2,000 in a week, and he'll teach everything from first-timers to advanced tricks in the terrain park. He wears all black and avoids spending too much time on the learner's slopes with different clients. "If anyone asks, we're good friends and this is a free lesson," he says. "I teach kids, adults—they're saving hundreds of dollars versus what they would pay through the resort, so everyone is happy. It's worth the risk because the money is so good."
Many rogue instructors make the same point: While lessons cost hundreds of dollars for the guest, the instructor takes home a tiny slice of that. "The mountain gets all the money and the staff gets next to nothing," says Gucci.
Responds Byrd, "While ski lessons are an important revenue stream for ski areas, those revenues underwrite the far more expensive mountain operations required to make those lessons possible—from snowmaking, grooming, chairlifts, lodges, insurance  not to mention labor costs to do all of this. For the average ski instructor, I don't think they realize the enormity of the costs it takes to operate ski areas thousands of acres in size."
More from Instruction: Endless Winter with PSIA Alpine Team Coach Mike Rogan
Tahoe City–based writer Megan Michelson now regularly scans the bunny slopes for pirate ski instructors wearing eye patches.
Originally published in the January/February 2019 print edition of SKI Magazine.